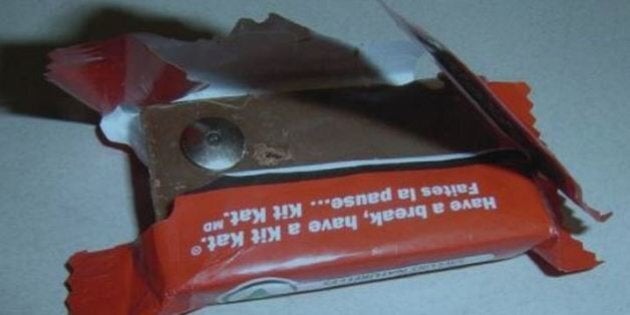 "It wasn't really visible," the mom of two told Inside Toronto. "I saw a gold circle and then I realized it was a tack. It's an urban legend come true."
According to Chapman, there was also another spot on the chocolate where it looked as if another tack was pushed in and removed.
Before reporting the incident to the police, Chapman called Nestle's customer service line since the wrapper did not appear to be tampered with. However, the company assured her that all their products are scanned with a metal detector to prevent incidents like this from happening.
While the child was not injured by the thumb tack, police are reminding parents to continue checking their kids' candy.
Unfortunately, this isn't the first case of its kind this year. In Thorold, Ont., a child found razor blades in a Kit Kat bar and in Niagara Falls, another teen found a razor in an O'Henry bar. Both cases are now under investigation by Niagara Regional Police.