It started as a way to raise money, to pay down the debt on a local recreation centre.
But a calendar featuring photos of topless Prairie farmers in Pilot Mound, Man. is exceeding expectations, with hundreds sold in the span of a week.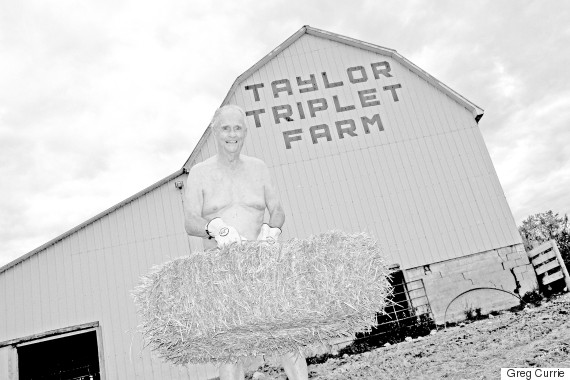 The 2016 calendar, titled "Baring It All for the Community," features images of older topless farmers from the community of just under 700 people, about 200 kilometres from Winnipeg.
Volunteers with the Pilot Mound Millennium Recreation Complex launched the calendar on Oct. 22, after an ad in the Sentinel Courier newspaper sought nominations for people who should feature in it, said a news release.
And nominees were only too happy to partake. The calendar shows farmers baring their skin in places such as a corn field, a tractor and even a hockey arena, in photos that were taken by Greg Currie.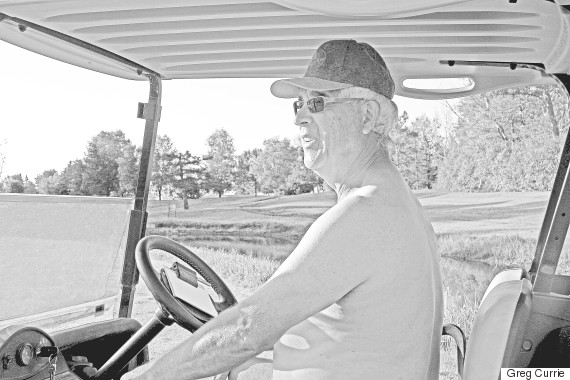 "Some were found 'dressed' in little more than a bow tie or a tool belt and even the hand cuffs came out," the news release said.
The community sold out of 500 copies in a week, and another 500 have been ordered.
"We haven't even really hit the local scene that much," Ginger Collins, head of the complex's fundraising committee, told The Huffington Post Canada. "We've got a couple of craft sales to go to. I'm thinking we'll do another 500, and we're hoping for more."
Collins estimates that the calendars, which are going for $25 each, could bring in as much as $10,000, which would be put toward a debt of approximately $700,000 on the recreation complex, which cost about $3 million to build in total.
"The government chipped in, but this has all been done pretty much by volunteers," Collins said.
The complex, which includes skating and curling arenas, began construction in 1999, and the community has been paying it off since, CBC News reported.
Last year, someone floated the idea of doing a calendar featuring men, and the fundraising committee jumped on it.
The effort reminds us of the 2003 film "Calendar Girls," in which Helen Mirren played a member of a Women's Institute chapter who posed nude to raise money for a hospital.
"These good natured gentlemen will be forever treasured," said a news release. "They are to be commended, they will go down in history as our first ever 'Calendar Boys.'"
Anyone who wishes to buy a calendar can contact Yvette at 204-825-2128, or email dougcoll@mymts.net or ycmglenn@gmail.com.
Here are some more photos from "Baring It All for the Community":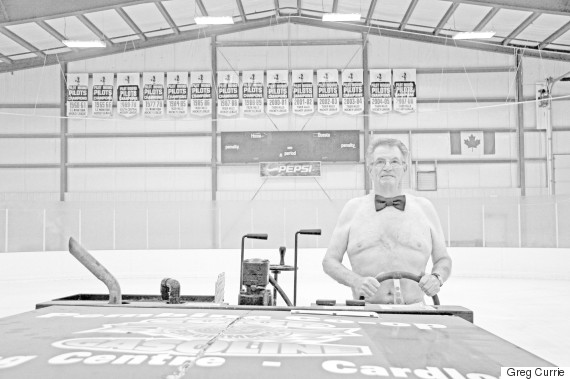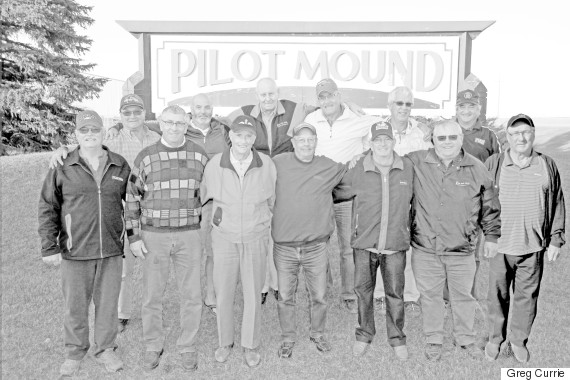 Like Us On Facebook

Follow Us On Twitter

ALSO ON HUFFPOST:
Scotland's Oldest Calendar Girls