Twitter
Kids come up with all sorts of crazy excuses as to why they can't go to bed. That's why it takes parents nearly 20 minutes to get their little ones to hit the hay, according to a new Netflix survey.
The poll, conducted by Ipsos Public Affairs on behalf of the streaming company, surveyed over 7,000 parents with kids aged two to 10 in seven countries. The results varied in each nation and revealed the most common lollygagging methods kids use.
In Brazil, for instance, kids are negotiating machines, with 51 per cent of them using the "just five more minutes" tactic. In Mexico, on the other hand, 60 per cent of kids use cute tactics to persuade their parents to let them stay up a little longer.
Interestingly, while Canadian kids use both cute and clever tactics, 61 per cent of parents say they can't be persuaded either way. But that doesn't mean the kids won't try!
Here, Netflix has determined the top bedtime stalling methods kids use and matched them with a cartoon character from the streaming site.
Which bedtime staller is your kid?
Top Bedtime Stalling Tactics Kids Use
Along with the bedtime survey, Netflix also launched a series of "5 Minute Favourites" to help parents motivate their little ones to get to bed. Starting Wednesday, parents can play one of three five-minute clips from Dreamworks' "Dinotrux" as a quick and easy way to bribe kids to go to sleep.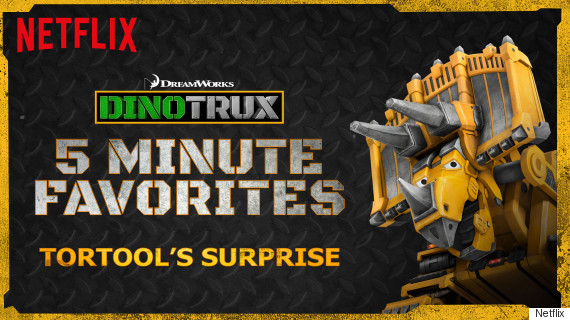 Since 40 per cent of Canadian parents say they've fallen victim to the "just five more minutes" tactic, the new Netflix series will help appease both parties and make bedtime quick and easy!
Watch the trailer for Netflix's "5 Minute Favourites" below.