Red dresses have been displayed all over Canada in memory of missing and murdered indigenous women.
They've hung in locations such as the University of Winnipeg, and the Museum for Human Rights.
But on Tuesday, activists brought red dresses to the steps of Parliament Hill.
They served as a memorial, and a gesture of support for indigenous women who allege that police abused them in Val-d'Or, Que., The Ottawa Citizen reported.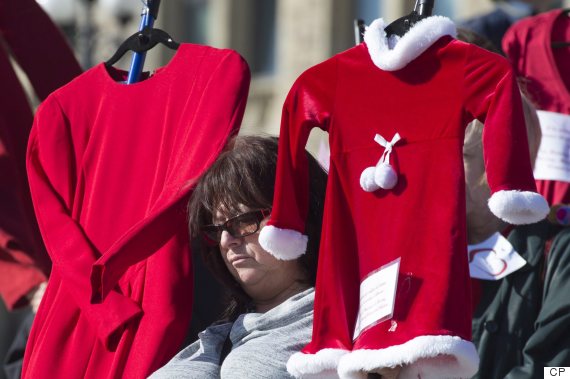 Dresses laid on the steps leading up to Centre Block as a ceremony took place to honour the memories of indigenous women who have been killed, abused or have disappeared, CBC News reported.
"No more are we going to turn our backs," Kitigan Zibi band councillor Claudette Commanda said. "No more are we going to be silent about the violence."
Metis artist Jaime Black started the REDress Project in 2010, as an "aesthetic response" to indigenous women who have been murdered or gone missing.
The project has seen red dresses hang in a number of public spaces to remember the women.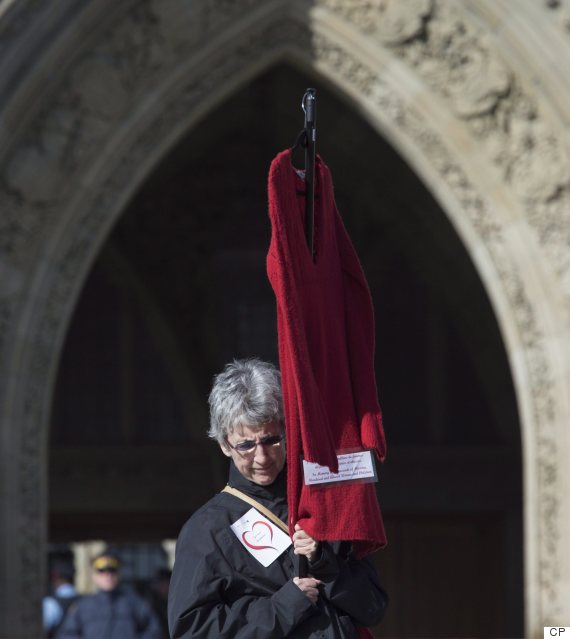 But Tuesday's ceremony also came as controversy flared in Quebec over the treatment of indigenous women by members of the Sûreté du Québec (SQ), a provincial police force.
Women have alleged that police in Val-d'Or offered them drugs and alcohol in exchange for sexual acts, among other allegations, CBC News reported last month.
Eight officers have been suspended following allegations of sexual misconduct, abuse of power and assault, said CTV News.
Quebec Premier Philippe Couillard has pledged to appoint a woman to look into the allegations.
Meanwhile, Lise Thériault, Quebec's minister of public security, who oversees the SQ, has taken a health leave for six weeks.
She has been replaced by Pierre Moreau, the minister of municipal affairs.
Almost 1,200 indigenous women in Canada are estimated to have gone missing or been killed in the past three decades, with 224 cases in 2014, the RCMP said.
Aboriginal women are three times more likely to encounter "violent victimization" than non-indigenous women.
Earlier this year, the force reported that 174 indigenous women are missing "across all police jurisdictions," and that 111 of them disappeared in "suspicious circumstances."
Here are more photos of the red dresses on Parliament Hill:
One last song to close out the vigil, red dresses being left on the steps pic.twitter.com/yWSJK8dQ7Q

— Coimín (@KimberleeTaylor) November 3, 2015
Pretty big turnout. Lots brought red dresses, to symbolize missing + murdered indigenous women. pic.twitter.com/wGQHIFAcnD

— Justin Ling (@Justin_Ling) November 3, 2015
Red dresses placed on the Hill to remember missing, murdered aboriginal women https://t.co/txXMM6rHj3 #ottnews pic.twitter.com/MZv0uzcGQS

— CBC Ottawa (@CBCOttawa) November 3, 2015
Like Us On Facebook

Follow Us On Twitter

Also on HuffPost:
Canada's Missing Aboriginal Women