When 89-year-old Chuck Esterly went on stage to perform his very first stand-up routine last month, he joked that while his wife told him to break a leg, the manager told him to break a hip.
A video of his set uploaded to YouTube in October shows Esterly pacing the stage, one hand in his pocket, delivering acerbic jokes about horny widows and senior scams.
"I got scammed on eBay," he told the audience.
"I paid $150 for a penis enlarger and they sent me a magnifying glass."
Prior to taking the stage at Cincinnati's Go Bananas Comedy Club, Esterly reportedly was the top student enrolled in the local senior centre's Comedy 101 class.
As for why he decided to sign up for comedy classes, the senior's explanation sounded more like a humbling meditation on aging.
"I think it's because I'd like to prove to you and to myself that just because you get old," he said. "You don't have to stop having fun."
He then proceeded to joke about using his last words to punk friends and family, and lampooned technophobe senior stereotypes with a toy phone.
Watch his full set above.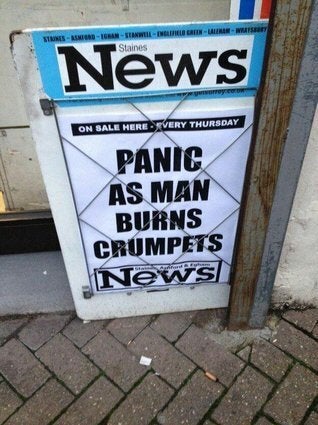 Britain's Funniest Ever Local News Headlines