mastermaq/Flickr
On Oct. 3, 17-year-old Kylee Goodine jumped to her death from Edmonton's High Level Bridge.
The teen stood on the span just a month after work began to install suicide prevention barriers. There is no exact number to how many others chose to end their lives at the century-old bridge, but it could be as high as a few dozen, according to the Edmonton Journal.
Looking up from a small memorial of white roses left at the bottom of the bridge for Goodine, passerby can glimpse the ongoing construction — a stark reminder much more remains to be done for Albertans struggling with mental health issues.
Suicide rates in Alberta are significantly higher than the national average. Alberta Health does have a strategy for tackling mental health issues, but it has been a "failure" so far, according to Alberta's Auditor General Merwan Saher, who has been calling for improvements to the program since 2008.
"The delivery of ... mental health services remains unintegrated and allows ongoing gaps in service continuity," Saher told the Calgary Sun in July 2015.
Funding for primary health care, addictions, and mental health has beencut to $280 million in the 2015 budget, $46 million less than 2014's budget, which was criticized as inadequate at the time.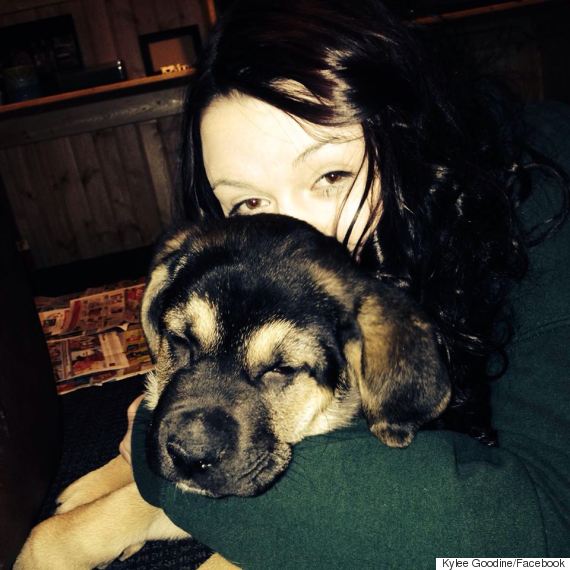 Kylee Goodine in an undated photo with her dog.(Photo: Facebook)
Goodine's mother, Kelly Slifka, feels that the system certainly failed her daughter. "I felt unheard," Slifka said in an interview with Global News.
Police visited Goodine twice before her first suicide attempt at the bridge, said Slifka. Each time, Goodine told them she was fine, and the officers left. The police allegedly told the girl that a mental health worker would call to check up on her.
On Oct. 2, Goodine was hospitalized after bystanders prevented her from jumping off the bridge again. She was released after staff said she seemed fine.
The hospital said no beds were available, Global reported, despite Slifka pointing out that the Mental Health Act requires a 72-hour-hold of patients considered at-risk of suicide.
The next day, Goodine stepped off the bridge.
Two days later, a mental health worker called to check up on her.
Slifka feels if only a bed had been open, or if the health-care worker had gotten in touch with Goodine sooner, things might have been different.
A shortage of beds plagues the entire province. From 2014 to 2015, there was a 4.5 per cent increase in mental health discharges from acute care hospitals in Calgary, Metro News reports. Patients waited an average of nine hours before being admitted to a bed.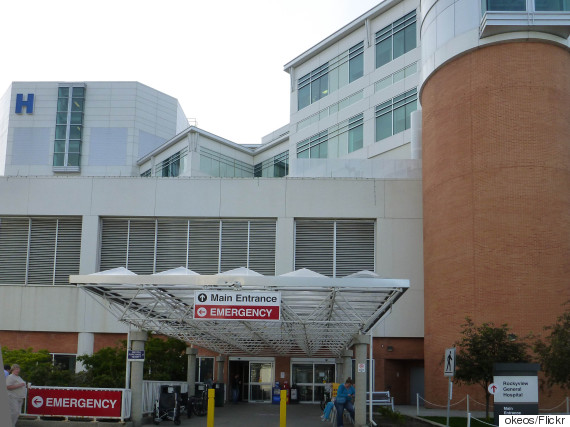 A shortage of beds plagues Alberta including the Rockyview General Hospital in Calgary. (Photo: Okeos/Flickr)
In Edmonton, the Cornerstone Counselling Centre experienced a 12 per cent increase in clientele over the past summer alone, according to CTV News.
"[People] can't find help. They need counselling support. They don't know where to find it or they can't afford it, if they can find it," Sheila Stauffer, who works at the Edmonton counselling centre, told CTV.
Things are not improving. A $1-million annual provincial government grant that allowed the University of Alberta to hire more psychologists has not been renewed. The campus has seen three suicides in the past year, CBC News reports.
About 25 per cent of calls to Edmonton's Support Network distress line go unanswered, due to lack of resources, according to Global.
A primary voice for mental health advocacy in the province has disappeared. The Progressive Conservative government appointed Dr. Michael Trew as chief mental health officer after the 2013 floods to provide psychological assistance to people who were affected. His contract was not renewed and the position ended in September.
Alberta Health Minister Sarah Hoffman defended the cut as the work helping flood victims was "largely complete" and the position was no longer necessary — despite the increased number of patients accessing mental health services.
"If there isn't somebody in that role then that tells me it's not necessarily a priority for the government, but I don't know that for sure," said Nancy Calder, executive director of the Support Network, to the Edmonton Journal. "I don't know what their plan is to replace that."
Trews continues to be an outspoken advocate of suicide prevention, especially about deaths on the High Level Bridge.
Alberta's government called for a review of how the province deals with mental health in June 2015. "Alberta's current mental health system is not good enough," said Premier Rachel Notley in a release.
Recommendations from that review are slated to be released at the end of the year.
If you or someone you know is feeling suicidal, please contact a 24-hour distress line in your area.
Like Us On Facebook

Follow Us On Twitter

Also on HuffPost:
9 People Who Have Changed The Conversation Around Mental Health