It's the day fashionistas and fashionistos have had marked on their calendar for the past six months -- Thursday, Nov. 5th saw the release of H&M's highly-anticipated collaboration with French design house, Balmain.
Now, if you know anything about the Swedish fast-fashion giant's annual collaborations, which sells designer creations at high street prices, you know they cause mayhem. Pure and utter chaos. Shoppers are known to camp out for hours, even days, ahead of the launch and once inside the store, everyone is left to fend for themselves in an apocalyptic-type environment.
This launch was no different.
The release caused H&M's website to crash due to the excessive amount of visitors on the site, and Fashionista is reporting that nearly "everything is sold out" and pieces are already up on eBay for over $1000.

The instant success is due to the cleverly-planned hype that was built leading up to the launch. From the initial announcement at the Billboard Music Awards, to the star-studded campaign with Kendall Jenner, Gigi Hadid and Jourdan Dunn and a surprise performance by The Backstreet Boys at the collection's fashion show, Rousteing and H&M made us all want to be part of the #HMBALMAINATION.
Don't believe us? Check out some of the insane shopping moments that ensued around the world below. (Warning: the following will leave you speechless....)

From Florence, Italy...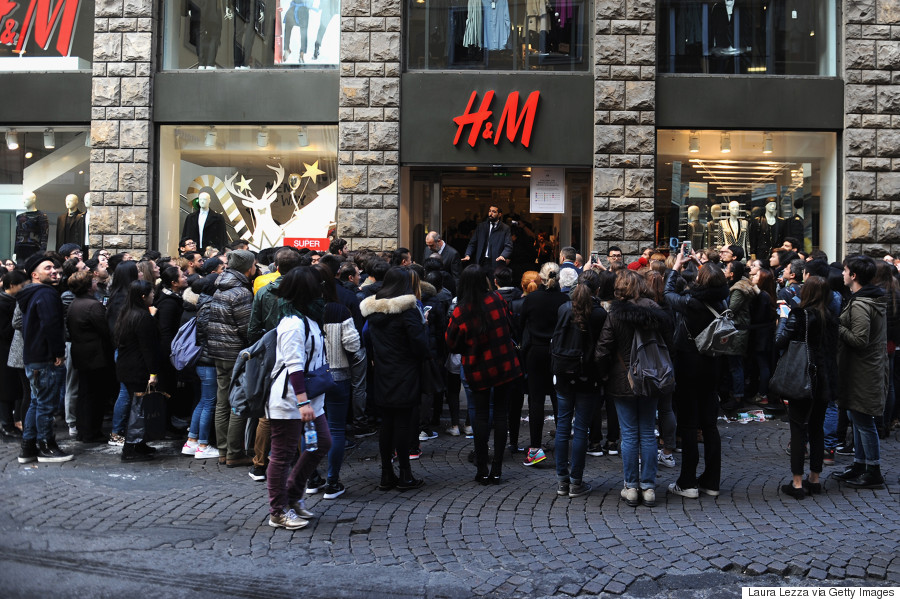 Notice the security guard manning the entrance.

From Dubai...
Even that metal door can't keep shoppers out!

Still in Dubai...
GUYS. IT'S A HUMAN SHIELD.

You guessed it! Dubai...
STAMPEDE!

In New York City...
Like we said, pure and utter chaos.

In Utrecht, Netherlands...
Notice the amount of male shoppers!

In Moscow, Russia...
BACK. THE. EFF. OFF.

In Kuala Lumpur....
"Guys, guys, this is not the way to do this!"

In Israel...
THAT POOR OLD LADY!

In Bratislava, Slovakia....
At least that security guard is finding humour in the madness!

In Toronto....
Much more tame than the other cities!

And we don't even know where this is but it looks very scary...

And this madness in Turkey...
HORRIFYING.

GIRLS, PLEASE! DON'T RIP THE JACKET.

Yup, it's safe to say everyone is Balmain-obsessed.
Follow Huffington Post Canada Style on Pinterest, Facebook and Twitter!
Also on HuffPost