More than 30 years ago, First Nations leader Bill Wilson told a prime minister named Trudeau about the dreams of his young kids.
"I have two children in Vancouver Island, both of whom for some misguided reason, say they want to be a lawyer," Wilson said. "Both of whom want to be the prime minister. Both of whom, Mr. Prime Minister, are women."
"Tell them I'll stick around until they're ready," Pierre Trudeau replied, without skipping a beat.
It all happened during the nationally televised constitutional conferences. Wilson and other native leaders would successfully convince Trudeau to formally entrench aboriginal and treaty rights in the 1982 Constitution Act.
It's a moment that has taken on added significance because of the historic events of this week.
On Wednesday, Wilson's second-eldest daughter — Jody Wilson-Raybould — was named the first aboriginal federal justice minister and attorney general in Canadian history. She was appointed by another prime minister named Trudeau — Justin —who has expressed a desire for "repairing and renewing" the federal government's relationship with Canada's aboriginal communities.
Trudeau has also vowed to call a national inquiry into missing and murdered indigenous women. The recommendations from that report will ultimately land on the desk of the new justice minister.
Here's a quick clip of Wilson's exchange with Pierre Trudeau, shared to Facebook Wednesday.
1987........ Bill Wilson who is the father to Jody Wilson-Raybould, our new Minister of Justice.......here he is going head to head with Pierre Trudeau and letting him know that his daughter wanted to be Prime Minister...... Trudeau says he'll stick around till they're ready........ Guess what?? We are ready!!!!!

Posted by Josie Marie on Wednesday, November 4, 2015
And a longer look from CBC News:
Wilson-Raybould, who is in her early 40s, is a member of the We Wai Kai Nation. A former B.C. Crown prosecutor, she served for six years as regional chief for the Assembly of First Nations.
Her appointment was celebrated widely and lauded by Donald Worme, a founding member of the Indigenous Bar Association of Canada. Worme recounted to APTN National News the words of Wilson-Raybould's father, all those years ago.
"(He was) speaking with a great deal of emotion and a great deal of hope in his voice about the future of this country that someday his daughter would become prime minister," Worme said. "That is certainly our hope for Jody Wilson-Raybould."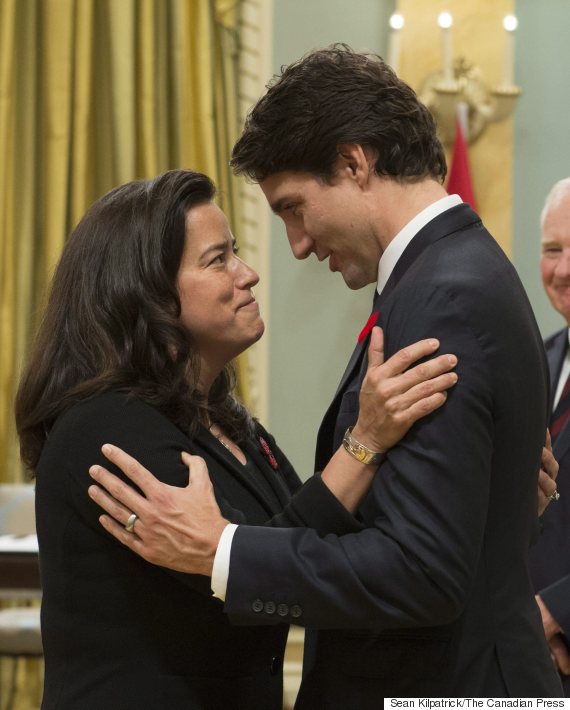 Minister of Justice and Attorney General of Canada Jody Wilson-Raybould is congratulated by Prime Minister Justin Trudeau (Photo: Sean Kilpatrick/CP)
Also on HuffPost
Meet Canada's Indigenous MPs