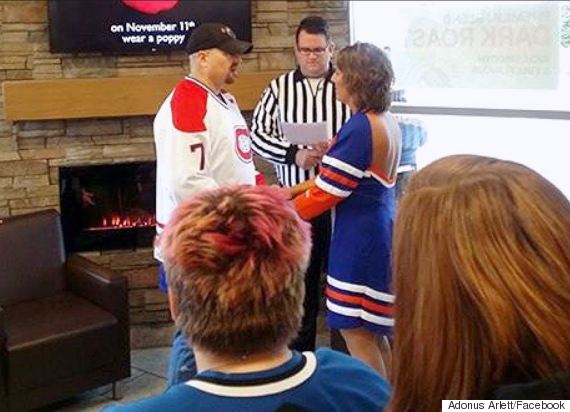 The officiant was dressed as a referee. (Photo: Adonus Arlett/Facebook)

In what might be the most Canadian wedding ever, an Alberta couple tied the knot in a Lethbridge Tim Hortons wearing rival hockey team jerseys.
Proving that opposites attract, Edmonton Oilers fan Greg Arlett is and Montreal Canadiens fan Adonus Wiseman wed on Saturday in front of an officiant dressed as a referee and 50 guests in hockey jerseys, Global News reported.
Tthe couple exchanged sweaters, and Wiseman unveiled a wedding dress custom-made from an Oilers jersey.
"I took off my Habs jersey and put it on Greg... so it just kind of shows that love can conquer all," Wiseman told CBC News.
However, Greg did cheat by keeping his Oilers jersey on under the Montreal Canadiens jersey, TSN BarDown noted.
A live performance of "The Hockey Song" by Stompin' Tom Connors serenaded the couple after the ceremony.
Guests received Tim Hortons gift cards and customized hockey pucks reading "The puck dropped. We played, we scored, always and forever Mr. & Mrs."
Congratulations!
Like Us On Facebook

Follow Us On Twitter

Also on HuffPost:
Unconventional Wedding Foods