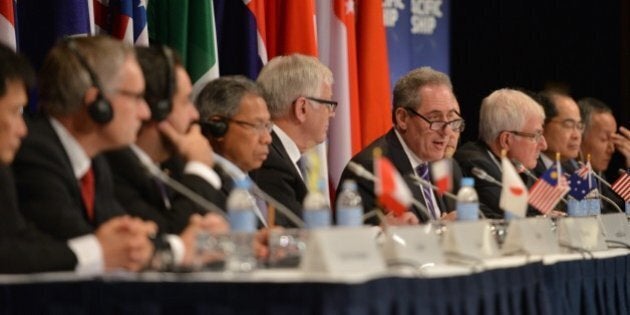 OTTAWA — Canada has signed almost two dozen side letters with its trading partners in the Trans-Pacific Partnership, including an agreement with the United States to combat illicit trade.
Canada also has a side agreement with Japan that appears to protect the exports of British Columbia logs, a key sticking point between the two countries.
The letters were released as the text of the broader TPP agreement, finalized Oct. 5 by a dozen Pacific Rim countries, was released Thursday by the New Zealand government.
Several watchdog groups expressed a wide range of criticism of the deal, saying it would hurt workers in poor countries and deprive poor people of access to cheaper medicine.
Canada plans to release its own copy of the text once it is translated into French, said Trade Minister Chrystia Freeland.
She said the government will solicit public comments on its website and is committed to a full parliamentary debate. But the consultation wouldn't happen overnight, in part because she just had her first briefing and the text is 6,000 pages.
"A real leitmotif of the Trudeau government is going to be openness and consultation,'' she said.
"I'm going to take that seriously. I'm going to review it.''
The complex deal covers a vast range of goods and services and encompasses 40 per cent of the global economy.
Canada released a series of side letters that cover bilateral issues with specific countries spanning several sectors.
Canada and the U.S. traded a letter on border enforcement and information sharing, to "address illicit trade in counterfeit trademark and pirated copyright goods.''
The letter says Canada and the U.S. are committed to "using appropriate risk management, as determined by each government, to address the challenges that this illicit trade poses at their respective borders.''
They pledge to share information on goods that infringe copyright and trademarks in an attempt to target the "organizations engaged in this illicit activity'' and "target future illicit shipments and to investigate trade in counterfeit trademark and pirated copyright goods.''
Another letter between Canada and Japan appears to confirm that the current Canadian regime on the export of B.C. logs remains in place. The export of logs is heavily controlled by the federal and provincial governments, similar to the protections afforded to Canada's dairy farmers under the supply management system.
Timber had become a sticking point between Canada and Japan. Canadian government documents previously obtained by The Canadian Press said Japan was pushing Canada to eliminate or modify the export controls.
"For greater certainty, Japan and Canada confirm that nothing in this letter shall have any other implications with respect to Canada's existing practices and procedures relating to its existing measures concerning the export of logs of all species,'' the new side letter states.
"In respect of the export of logs, Japan and Canada maintain their rights and obligations under the WTO Agreement and any dispute regarding a matter relating to the export of logs shall be settled under the WTO.''
The letter between Canada and Japan also formalizes the creation of a bilateral committee on forest products to help settle disagreements.
"Either Japan or Canada may raise a matter relating to the understandings set out in this letter to the committee and the committee shall seek to resolve that matter,'' the letter states.
Several groups renewed their criticism Thursday of the secrecy surrounding the negotiation of the deal.
The Council of Canadians urged the government to ask the parliamentary budget officer to review the deal.
The Trade Justice Network called on the government to make changes to a deal it said would compromise the sovereignty of Canadian Crown corporations and exploit low-paid workers in south Asia.
Doctors Without Borders said the TPP text confirms that millions will be deprived of affordable medicines because it extends patent protections to pharmaceutical companies, which delays access to lower-priced generic drugs.
NDP trade critic Don Davies said Trudeau should not accept a bad deal negotiated by the previous Conservative government.
"Prime Minister Trudeau can't promise open consultations here and then tell others behind closed doors that he'll be able to push the deal through,'' Davies said in a statement, referring to a conversations Trudeau has had with U.S. President Barack Obama and Japanese Prime Minister Shinzo Abe.