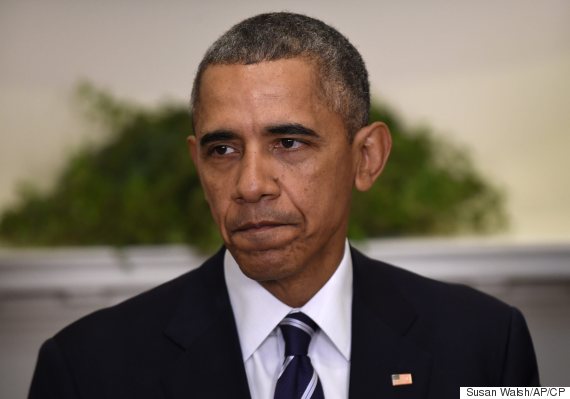 President Barack Obama pauses while making a statement on the Keystone pipeline on Nov. 6, 2015. (Photo: Susan Walsh/CP/AP)
OTTAWA AND WASHINGTON - U.S. President Barack Obama officially rejected TransCanada's application on Friday to build a massive pipeline to transport, what he called, "dirtier crude oil" across the United States-Canada border.
Obama made the announcement from the White House after meeting with Secretary of State John Kerry, whose department oversaw the seven-year review.
"The State Department has decided that Keystone XL pipeline would not serve the national interests of the United States. I agree with that decision," Obama said.
The president said he called Prime Minister Justin Trudeau earlier that morning to communicate his decision. "While he expressed his disappointment, given Canada's position on this issue, we've both agreed that our close friendship on a whole range of issues, including energy and climate change, should provide the basis for even closer co-ordination between our countries going forward," Obama said.
Senior members of Obama's White House will be meeting with Trudeau's senior advisers in the coming weeks to deepen that co-operation, the president added.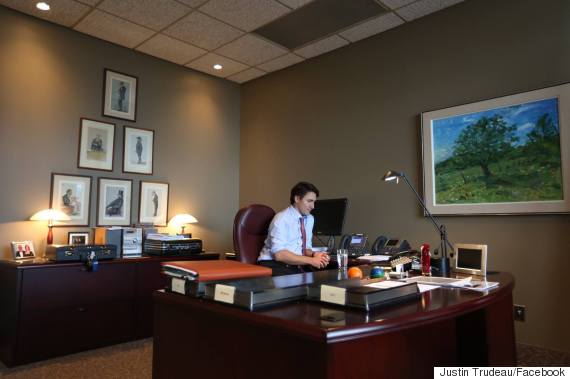 Prime Minister Justin Trudeau, seen during his first phone call with U.S. President Barack Obama last month, said he was disappointed with the Keystone rejection.
In a statement, Trudeau said he was "disappointed" by the U.S. government's decision but respects its right to make it.
"The Canada-U.S. relationship is much bigger than any one project and I look forward to a fresh start with President Obama to strengthen our remarkable ties in a spirit of friendship and co-operation," Trudeau said.
"We know that Canadians want a government that they can trust to protect the environment and grow the economy. The Government of Canada will work hand-in-hand with provinces, territories and like-minded countries to combat climate change, adapt to its impacts, and create the clean jobs of tomorrow."
TransCanada submitted its permit application for the 2,600-kilometre, $7-billion project to the State Department in 2008. It proposed to shuttle up to 830,000 barrels of oil per day from Canada's oilsands to U.S. refineries.
In 2010, the National Energy Board approved the company's bid to build and operate the Canadian portion of the project saying the proposed pipeline from Alberta to the U.S. Gulf Coast was in the public interest.
But the president pointed to State Department findings that the pipeline would not make a meaningful contribution to the U.S. economy or to lower gas prices, adding that "shipping dirtier crude oil into our country would not increase America's energy security."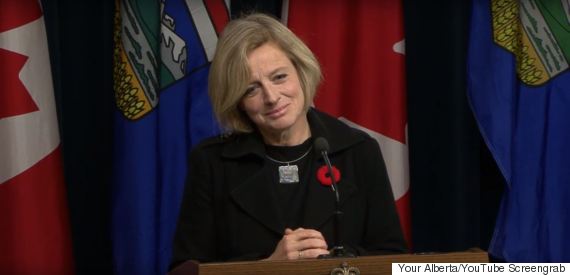 Alberta Premier Rachel Notley spoke to reporters after the U.S. president's decision.
Alberta Premier Rachel Notley told reporters she was not surprised by the decision, but was disappointed by Obama's description of the oilsands.
"It was not necessary to be quite so critical in the way they described our energy product," Notley said. "The U.S. relies on our oil. They currently import already over 300 million barrels a day, and so I don't think it is a particularly logical explanation for why they would reach this position."
While the premier stressed the need to have "careful, drama-free conversations" on energy infrastructure, she said Obama's decision underlines the fact Alberta needs to do a better of job of convincing the world of its genuine effort to combat climate change.
"The U.S. makes decisions on the basis of their internal domestic policies… but I do think that one thing that would have made this decision better was ensuring that our record was a better one."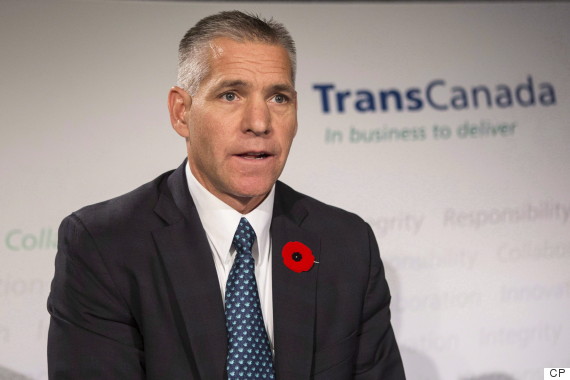 TransCanada executive Russ Girling said 'rhetoric won out over reason' in the Keystone rejection. (Photo: Canadian Press)
TransCanada's president and chief executive officer Russ Girling said Friday that Obama's decision dealt a damaging blow to jobs on both sides of the border.
Girling noted that several State Department studies concluded that approving Keystone XL would not significantly exacerbate greenhouse gas emissions, and that pipelines were a safer more of transportation than rail and road.
"Today, misplaced symbolism was chosen over merit and science. Rhetoric won out over reason," he said in a statement, adding the decision means the loss of 42,000 new jobs in the U.S. and millions in annual payments to communities along the proposed pipeline route.
The Canadian Chamber of Commerce said the pipeline's rejection underscores Canada's urgent need to tap into new international customers. Relying solely on the American market means "Canadian oil and gas are sold at a discount that we estimate to cost the Canadian economy about CAD$18 million each day," said president and CEO Perrin Beatty, who is also a former Conservative cabinet minister.
Not surprisingly, Obama's decision was praised by environmental groups.
The Pembina Institute said the move was proof that addressing climate impacts is "the new normal" for major energy infrastructure projects, while the Environmental Defence called it a lesson for Canada to "rethink our failed economic strategy" which is focused heavily on exporting fossil fuels.
'White flag on a political decision'
Former Calgary Conservative cabinet minister Jason Kenney, a likely leadership contender, said in a tweet that the Liberals were waving a "white flag on a political decision that will cost the Canadian economy $ billions & thousands of jobs."
The Conservatives' interim leader, Rona Ambrose, said the party was "extremely disappointed" that Obama had "succumbed to domestic political pressure" in rejecting the pipeline.
"It has been clear for some time that — despite the facts, economic benefits and environmental safeguards — the White House's decision was a fait accompli," she said in a press release.
Ambrose, who like Notley, had spoken to Trudeau, said she pressed him to continue advocating for greater market access and more pipelines on both sides of the border.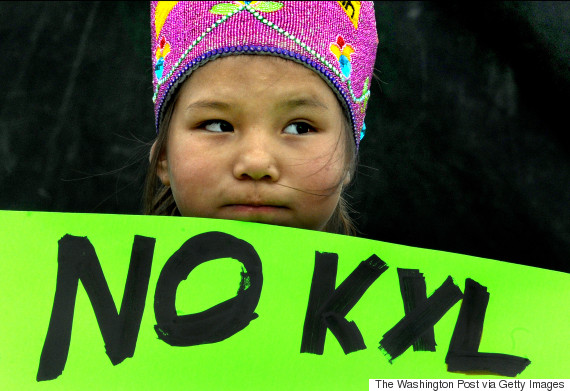 Shawnee Rae, aged 8, was with a group of Native American activists from the Sisseton-Wahpeton tribe who protested the Keystone XL pipeline project in Waterton, S.D. on May 8, 2015. (The Washington Post via Getty Images)
Rumours about a possible presidential veto have been circulating since August but the previous Conservative government expected the White House to stay politically neutral and wait until after the Canadian federal election to render a decision.
In August, Harper tried to distance himself from a negative decision, telling reporters that Obama had "never linked" the Keystone decision with a particular Canadian government policy.
"They have not asked for a particular government policy in order to approve that pipeline. That is the fact," he said.
Defiant attitude
Harper's government lobbied extensively for the project in Washington. But Harper presented a defiant attitude that some say annoyed the Obama administration.
In an interview with Bloomberg in 2011, Harper called Keystone approval a "no-brainer" that made economic and environmental sense and he threatened to "seek out" other partners, such as China, for energy exports. (The United States imports more oil from Canada than from any other country.)
In 2013, Harper told a gathering of business leaders in New York that even if the White House denied the pipeline a permit, Keystone would be built. "My view is you don't take no for an answer," he said while on Obama's turf.
At the same time, however, the Conservatives did little to assuage the Obama administration's concerns that the pipeline project would increase carbon emissions. It also never moved on a 2007 promise to enact oil and gas emission reduction targets.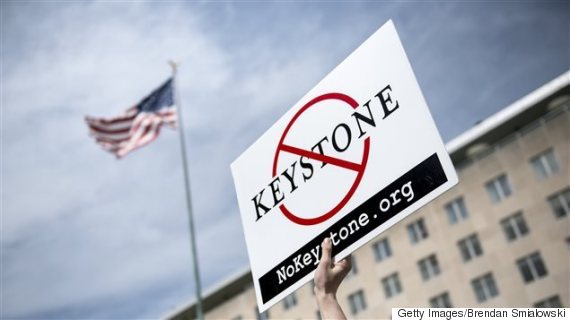 Tensions over the proposed Keystone XL pipeline have been high for years, with Obama's environmental base pressuring him to reject the project and Republicans in Congress voting repeatedly to force its approval.
Obama said on Friday that the Keystone pipeline had taken on an "over-inflated role" in American politics. "This pipeline would neither be a silver bullet for the economy, as was promised by some, nor the express lane to climate disaster, proclaimed by others," he said.
He said he is looking forward to joining other world leaders at the UN climate change summit in Paris later this month to work on an ambitious framework to protect the "one planet that we've got while we still can."
Three years ago, Obama set a target to reduce oil exports into the U.S. by half by 2020 — a goal that was accomplished last year, five years early.
"America is now a global leader when it comes to taking serious actions to fight climate change and frankly approving this project would have undercut that global leadership," he said.
"Today we are continuing to lead by example, because ultimately if we are going to prevent large parts of this earth of becoming not only inhospitable but uninhabitable in our lifetimes, we are going to have to keep some fossil fuels in the ground rather than burn them, and release more dangerous pollution into the sky.
Reviewing all options
TransCanada said Friday it would review "all of its options," including filing a new application for a presidential permit for a cross-border crude oil pipeline, likely hoping a Republican will take the White House in 2016.
"TransCanada and its shippers remain absolutely committed to building this important energy infrastructure project," Girling said.
Hillary Clinton, who is lobbying for the Democrats' nod as their presidential candidate, has already said she opposes the Keystone pipeline.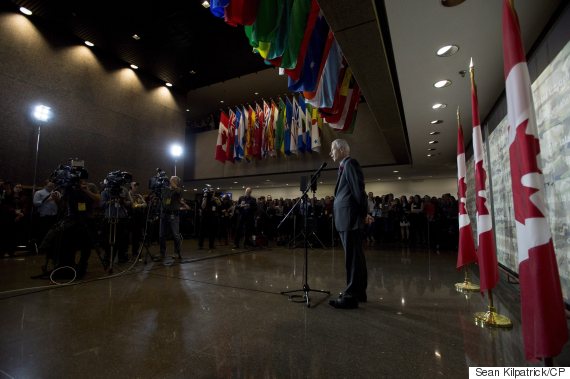 Minister of Foreign Affairs Stephane Dion speaks to the media in Ottawa on Friday. (Photo: Sean Kilpatrick/Canadian Press)
Foreign Affairs Minister Stéphane Dion seemed to suggest in a press conference Friday that the Canadian government would stop lobbying for the project.
Canada had been making the point that it would get its product to market, "and if it is not through a pipeline, it will be otherwise, and these other ways may not be very good for the environment and for the security of people," he said.
"The U.S. decided otherwise, and now we need to move on," Dion said. "We need to have a fresh start and to be sure that ... nobody will question the fact that Canada has a strong environmental assessment, strong science, strong clean energy deployment, strong clean infrastructure.... Then our products and goods will be welcomed everywhere."
With files from Kate Sheppard
Also on HuffPost