The Canadian Press reached out to veterans across the country to ask what Remembrance Day means to them. Here are their reflections on Nov. 11: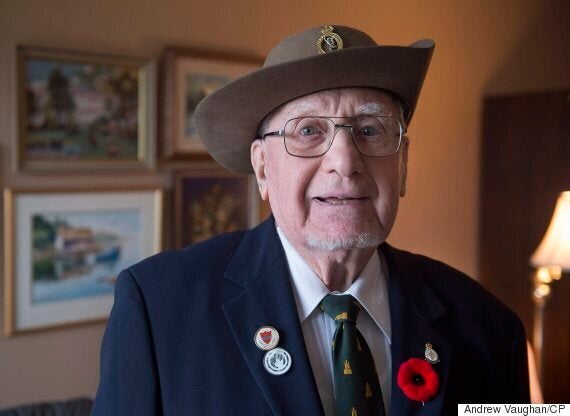 David Seager, 91, at his home in Halifax on Nov. 5, 2015.
When David Seager left the British army all he wanted to do was forget the Second World War.
Seager, now 91, moved to Canada and he says it took several decades before he was able to openly talk about his experiences during the campaign against the Japanese in Burma.
For Seager, opening up about his military experience was a gradual process that began in 1987 in Merrickville, Ont., when a neighbour who had served as a nurse during the Allied campaign in Africa asked him to join her in the town's Remembrance Day parade.
"She wore her medals and said, 'Why don't you wear yours?' "
As a consequence of his friend's encouragement, Seager says he gradually developed an interest in telling his own story to the point where he regularly gives presentations to school-aged children in Halifax, where he now lives.
He's had 26 speaking engagements in elementary, junior and senior high schools since 2002.
"The feedback from the kids has encouraged me to keep on doing it," he says. "As a result, things come back to you which you have forgotten."
Seager says Remembrance Day itself has also been key in keeping his memories alive.
"That's always been a critical day for me, an emotional day," he says. "I lost a lot of friends, relatives and buddies in the army during the war."
On Nov. 11, Seager says he wears a regimental blazer and his medals, and observes quietly at home with his wife Helene because they are "both getting older."
Although people can now watch war almost in real time, Seager says there are things modern technology can't convey and that he can't forget.
"The thing about watching television or about listening to stories on wars is that there's no smell. One of the things which still lives with me is the smell."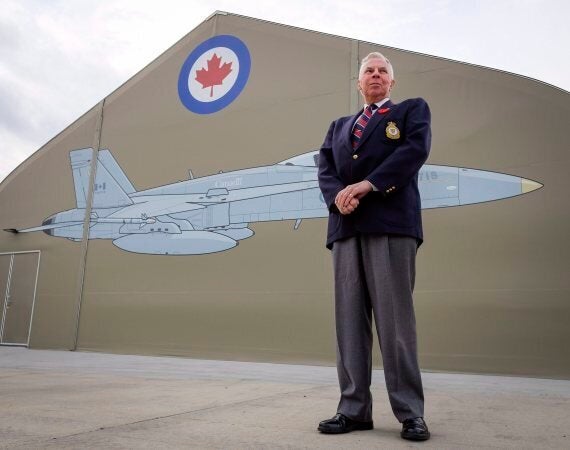 Retired RCAF officer John Melborne poses at The Military Museums in Calgary on Nov. 5, 2015.
John Melbourne says Remembrance Day isn't just about those who died in Canada's wars.
The retired Royal Canadian Air Force search-and-rescue pilot, who finished his military career as a flight lieutenant, joined the military in the 1950s after growing up during the Second World War.
The Calgary-based Melbourne, who turns 80 later this month, says Remembrance Day is about comrades lost.
"I'm referred to as a Cold War Warrior and of course we did lose a lot of Air Force people especially in those days and people we lost in peacekeeping missions," Melbourne said.
"It hits home because I have lost personal friends over the years -- not necessarily in combat but flying and they were part of the military. They lost their lives and knew what they were facing -- we all did."
Melbourne is heartened by the renewed interest from younger Canadians. He said Canada's participation in Afghanistan has brought the meaning of loss home to many new Canadians.
But Melbourne, who was the honorary colonel of the 410 Tactical Fighter Operational Training Squadron in Cold Lake, Alta., is saddened by the diminished numbers of Second World War veterans.
"They've lived through very horrific times and as a human being you try to block that out from your memory. At this time of year some of the stories start coming out," he said.
"They don't get up and brag about what they did. They were there. They had to do it. It was a job and that's all there was to it."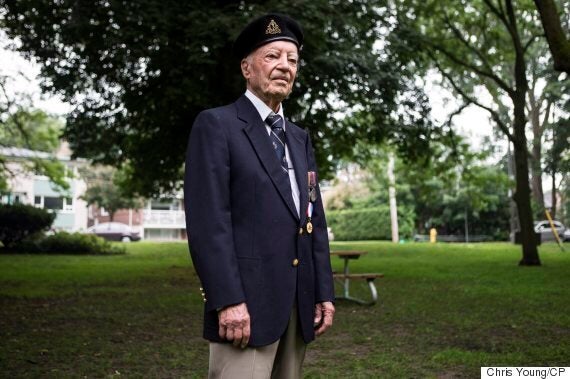 Al Stapleton, a veteran of the World War Two Allied Forces' Sicilian campaign, outside his Toronto home in 2013.
For Sgt. Al Stapleton, Remembrance Day brings back memories of the Second World War, but at age 95 he feels lucky to be able to remember.
"I first went to England in 1939 and we were stationed just south of London," recalls Stapleton. "Finally due to politics we went to Italy for the campaign there, I went personally from Malta to Sicily and the campaign there was pretty rigorous, to say the least."
Stapleton served throughout Italy and Holland, then found himself back in England when Germany surrendered.
"It's sort of a blank in your total life," said the Toronto resident. "It does nothing to provide you with living after you come back from a war."
Remembrance Day is important for the continuation of the military, so the next generation wants to serve and sees what it takes, he said.
"The military depends upon volunteers in our country," Stapleton said.
"There's no draft here like other countries and to keep that going it requires a recognition of veterans. It came to me when I visited Holland, where the people turned out en masse to shake your hand. They remembered and the mothers were holding up their children so that the child could touch the hand of a veteran. They remembered."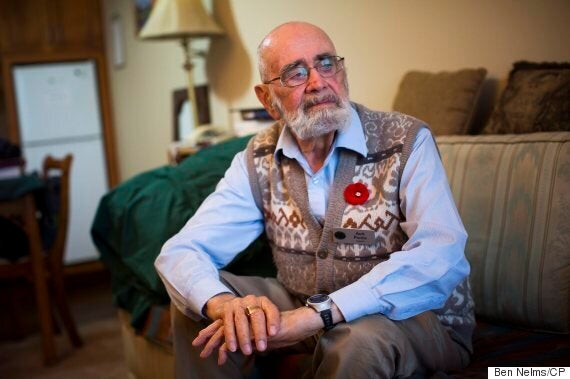 Jack Purdie, a Second World War veteran, is pictured at his home in Vancouver, B.C. in November 2015.
An image of a dark-trimmed telegram comes to Jack Purdie's mind when he thinks back to the Second World War.
The 90-year-old veteran remembers working as a telegraph messenger in Edmonton as a teenager during part of the war. He would occasionally be tasked with delivering a telegram with a black border.
"In that case we were told, 'Just give it and leave,'" he said. "'This telegram is telling somebody that a member of their family has died.'"
It wasn't long before Purdie joined the Royal Canadian Air Force. He was 17 years old.
Though he never saw active combat, Purdie trained as a tail gunner and travelled to and from Europe by sea during the war.
He remembers being in the middle of the Atlantic Ocean, en route back to Canada, when the Allies declared victory.
"We had a great celebration," he said. "They gave me an orange and a bottle of beer and I was able to trade my bottle of beer for a second orange because oranges were very scarce in Britain."
These days, the retired Baptist minister spends Remembrance Day reciting Flanders Fields at a ceremony organized in his retirement home in Vancouver.
But leading up to Nov. 11 Purdie visits elementary schools in the area to talk about his experience in the military.
"I like to talk to the kids about what a hero is," he said. "I like to ... help them to realize that heroes come in all sizes."
As for the most powerful element of the Remembrance Day celebration: the Last Post, he said.
"It's a sad, sad bugle call," said Purdie. "I'm still silenced as I hear that."
He said when he joined the military he wanted to give his life for Canada but that ultimately it wasn't needed.
"I'm so grateful that I've been allowed to go on and live."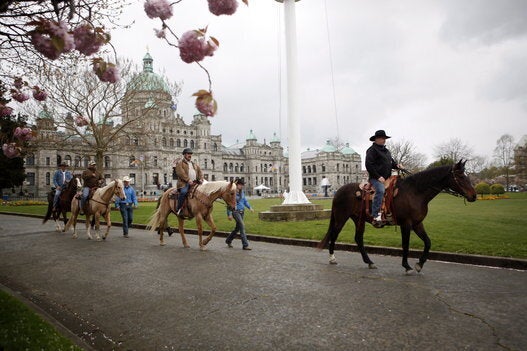 Veterans Ride Across Canada