Mundo Por Terra/Facebook
A pair of Brazilian travellers stopped in Edmonton this week as part of their second trip around the world.
Michelle Weiss and Roy Rudnick quit their jobs in 2007 and set out on a three-year journey around the world. The pair visited five continents and 60 countries, documenting the whole experience on their blog, "Mundo por Terra." After publishing a book about their experience, Weiss and Rudnick were able to fund a second trip.
Their first trip covered mostly the southern hemisphere, so this time the couple is tackling the north, and they've been in Canada for nearly three weeks.
"Canada is great. It's big, it's huge," said Weiss to Global News. "We are having great experiences. It's a beautiful country. We are being very well received here. All the people here in Edmonton are friends, they are offering their house to us to work, to stay warm. All the people are very kind to us."
The map below shows Weiss and Rudnick's planned route in black. The white line shows the route the pair took in 2007.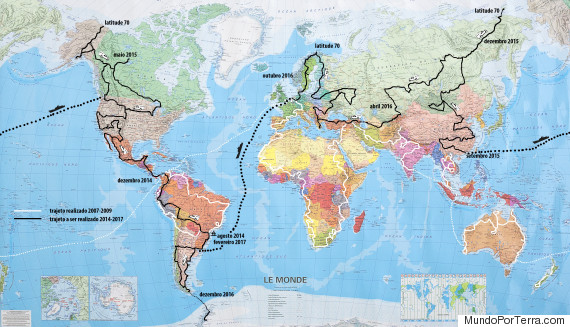 Michelle Weiss and Roy Rudnick's planned itinerary for their second trip around the world. (Photo: Mundo Por Terra)

The trip to Canada has required some unique preparations. The couple are travelling in the same vehicle they used to visit hot climates like Egypt, Laos and India. When the pair stopped in Edmonton, they took a few days to install heaters in their car.
The installation was just in time, as snow hit the city on Monday.
The pair's next stop after Canada? Russia. Weiss and Rudnick are hoping to catch a glimpse of something they have yet to see in their travels — the aurora borealis. The two hope to spot the phenomenon from Siberia, near the North Pole, Santa Catarina Globo News reported.
"They say we are crazy — two Brazilians in winter!" Weiss joked to CTV News.
Like Us On Facebook

Follow Us On Twitter

Also on HuffPost:
Photo gallery

Lonely Planet's Ultimate Travel Top 10 List

See Gallery