Edmonton photographer Natalie D'Aoust has found a touching way to honour a couple's dead son.
Jodi and Ted Parent's son, Cole, passed away from brain cancer in December 2012. He was eight years old, and is survived by a sister, Makenna, who is now nine.
Without Cole, the couple felt that their family wasn't complete — Makenna missed her brother terribly, D'Aoust said — and they decided to try for another baby.
The couple was initially given only a six per cent chance of conceiving, according to D'Aoust. After three rounds of in-vitro fertilization (IVF) and a reversed vasectomy, Jodi became pregnant with daughter, Isla.
The Parents approached D'Aoust to take photos of Isla just two weeks after she was born.
After hearing Cole's story, D'Aoust suggested that they include an old photo of him in the new pictures. The photo, pictured above on Parent's Facebook, was taken by Cara Butt.
"When they told me about Cole, I asked if we could do this for them and they were thrilled by the idea of having Cole in their photos with them — where he belongs," D'Aoust told The Huffington Post Alberta.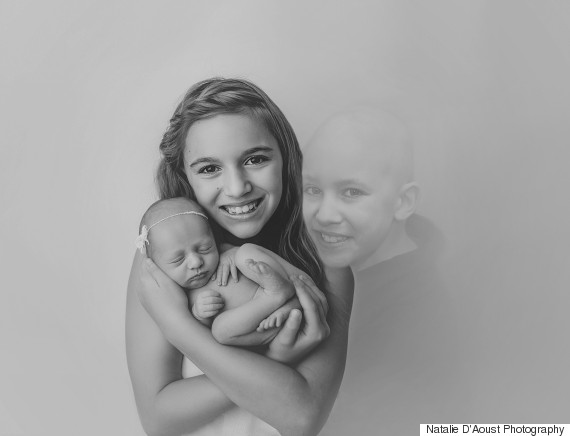 Makenna, Cole and Isla. (Photo: Natalie D'Aoust Photography)
She called the project was an incredibly emotional experience.
"The day of the newborn shoot I was just so focused on getting the pictures, but afterward talking to the mom about how her daughter's eyes lit up ... I get emotional just talking about it.
"It made me really happy to be a part of it."
The photos have received plenty of attention online, and D'Aoust admitted she's been overwhelmed by the attention.
But she's also been moved by an outpouring of support for the family. And Cole's mom and dad are also happy that so many have reached out to them.
"Everyone who has lost someone wants to believe that they are still present in their lives. They don't want their memory to fade. I know from experience, we lost a baby when I was six months pregnant," D'Aoust said.
D'Aoust hopes she can continue doing memorial photography for those who have lost loved ones.
"I've heard from a lot of people whose grandparents have passed away, or their sibling," she said.
"It'll be interesting to see the different projects that come out of this."
Like Us On Facebook

Follow Us On Twitter

Also on HuffPost:
Newborn Photos Every Parent Needs To Take