A Calgary couple has come up with a genius method for keeping strollers from getting stuck in snow and slush during the winter.
Kelly Patterson and her husband Glenn love the outdoors. The pair lives near Fish Creek Provincial Park, and they weren't about to stop enjoying wintertime walks there once their first child was born in 2013.
After failing to find a solution on the Internet, the couple came up with the idea for the "Polar Stroller," a kid transporter on skis.
Glenn, a design engineer by trade, put the couple's plan into action, Kelly told the Calgary Sun.
The Polar Stroller is a set of skis that parents can attach to a stroller's wheels.
They can fit a variety of wheel sizes, they work on bike trailers, and they can handle everything to from light slush to deeper snow.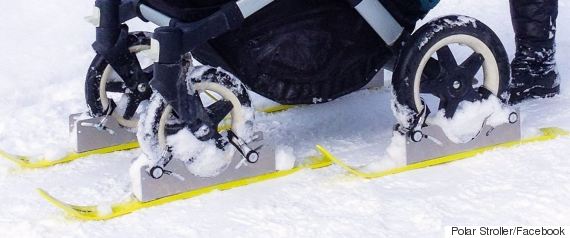 A set of Polar Stroller skis in action. (Photo: Polar Stroller/Facebook)

The skis also have safety features such as added traction on their bottoms and a leash to ensure the stroller won't slide away, CBC News reported.
"I don't think we could be in a better part of the world to launch this," Kelly told CTV News. "All the paths are snow covered, but it doesn't matter because I just pop my skis on and off, I go for a nice walk with my little guy and some fresh air."
The ski sets are being sold for anywhere from $150 to $170 on the Polar Stroller website.
Like Us On Facebook

Follow Us On Twitter

Also on HuffPost: