A powerful Remembrance Day display is stirring solemn memories on one of Toronto's busiest streets.
Last week, employees at Manulife Financial Corp.'s headquarters on Bloor Street East began carefully setting up a garden of 11,843 Canadian flags, Maclean's reported.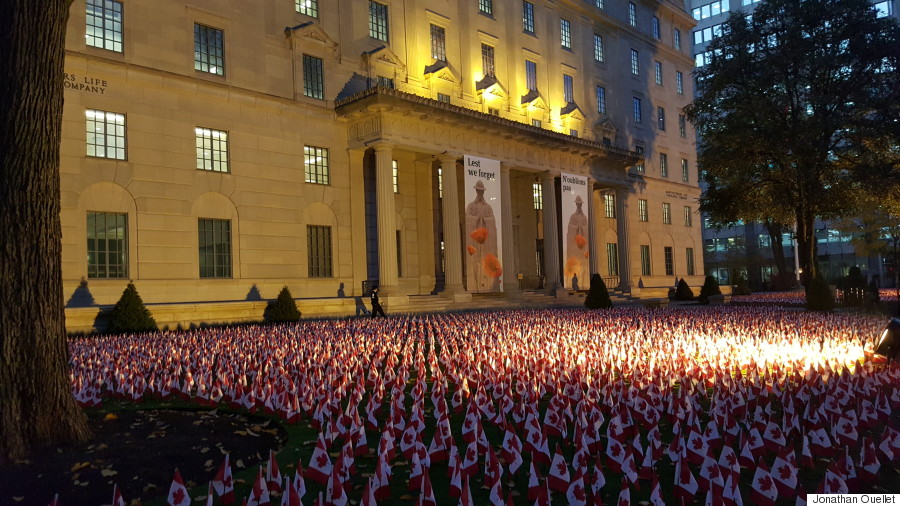 (Image via Jonathan Ouellet)
SUBSCRIBE AND FOLLOW
Get top stories and blog posts emailed to me each day. Newsletters may offer personalized content or advertisements. Learn more
Each flag represents 10 Canadian troops who were killed in war or during a peacekeeping operation since the Boer War.
The idea for the garden came from Lisa Thomson, wife of Warren Thomson, Manulife's chief investment officer.
"Canadians owe a great deal to those who serve our country in the armed forces," Manulife president and CEO Donald Guloien said in a news release.
"As a gesture of thanks and remembrance, we have created a flag garden in front of our head office, and we hope that people will have the opportunity to see this tribute to those who made the ultimate sacrifice."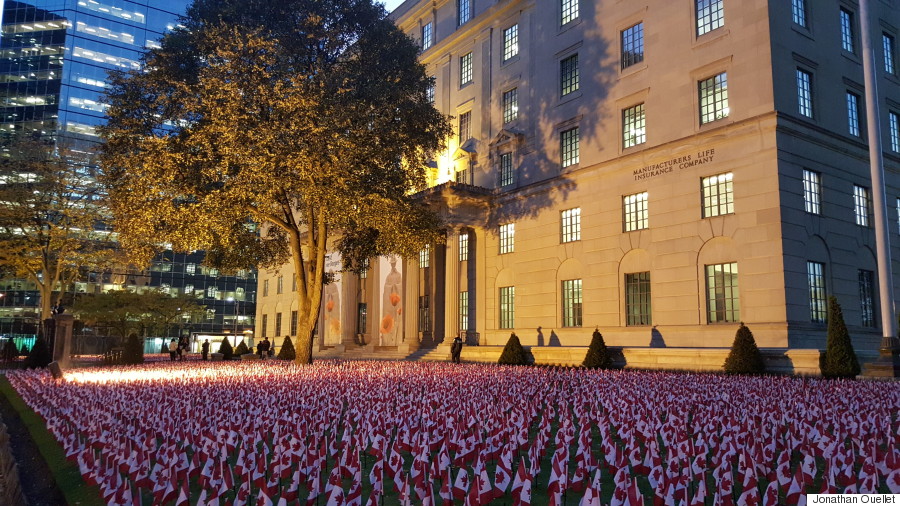 (Image via Jonathan Ouellet)
The company has also donated $50,000 to the True Patriot Love Foundation, a non-profit that fundraises for mental health programs that support members of the armed forces.
Manulife's memorial is provoking strong reactions, with one passerby telling CityNews that it "takes one's breath away."
#RemembranceDay tribute 11843 Canadian flags to honour Canada's fallen. #LestWeForget Thank you! @Manulife pic.twitter.com/kxjAalL40C

— Shelley Mantei (@ShelleyMantei) November 10, 2015
#Toronto #RemembranceDay Epic sight @ Manulife Financial building 200 Bloor pic.twitter.com/YZJe0JIX4l

— Jim RichardsShowgram (@JIMrichards1010) November 8, 2015
Across the street, 11,800 Canadian flags have been planted on #Manulife's front lawn. #RemembranceDay pic.twitter.com/l938at6nOc

— St. Paul's Bloor St. (@stpaulsbloor) November 8, 2015
Manulife unveiled the completed display on Nov. 6, and it will remain until Remembrance Day (Nov. 11).
John Hancock, the company's U.S. unit, has installed similar displays for Memorial Day.
Like Us On Facebook

Follow Us On Twitter

Also on HuffPost:
Remembrance Day 2013 In B.C.