gak/Flickr
The prestige of Vancouver's richest areas just isn't enough to draw luxury homebuyers on its own anymore.
Real estate trends show that people on the hunt for single-family homes are turning away from traditionally wealthy areas such as Kerrisdale and Arbutus on the west side.
Instead, they're gravitating to emerging neighbourhoods further east, according to a report by Sotheby's International Realty Canada.
Fraserview in East Vancouver saw single-family home sales increase by 37.66 per cent between 2014 and 2015, for the highest jump of all the neighbourhoods surveyed in the report. Mount Pleasant East followed with 32.08 per cent.
Shaughnessy, a traditionally affluent area, came third with an increase of 30.95 per cent.
In September, the benchmark price of a typical detached single family rose above $1.16 million in Vancouver East and $2.74 million in Vancouver West, according to the Greater Vancouver Real Estate Board
While the rising cost of real estate is a factor, Sotheby's said the trend is "more indicative of the priority that generation X places on community engagement and diversity over exclusivity."
Robyn Gunn and her husband, for example, recently sold their duplex on the west side and moved with their three young children to a single-family home in East Van.
"Although we could likely afford to live further west, with the lifestyle we enjoy it would definitely be more of a stretch. Saving some money on housing allows us to invest in other areas of our life whether that be our children's education, vacations or other investments," Gunn told The Huffington Post B.C. in an email.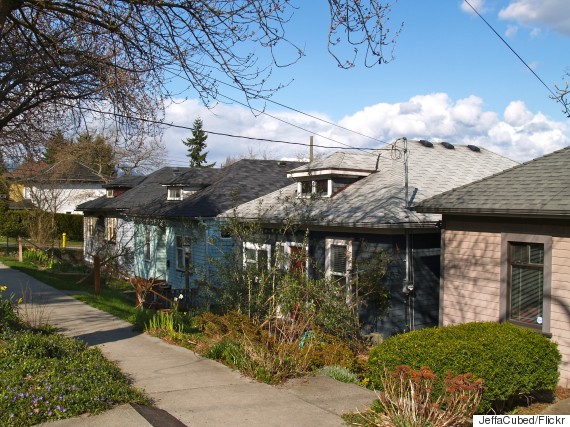 St. Catherines Street in East Vancouver. (Photo: Jeff Arsenault/Flickr)
And getting more for their money isn't the only reason behind the move east.
"The neighbourhood feel is different from any other area we have resided in. It's not unusual for the person next to you at the local coffee shop to strike up a conversation, something that I've rarely experienced in Vancouver in the 15 years I've lived in the city," said Gunn, a social worker and coach.
"As well, there is a diversity that didn't exist in our last community. Although there is a definite trend in families like ours moving into the neighbourhood, it is diverse in terms of age and culture."
Wealthy areas take longer to sell
Those motivations are confirmed in the Sotheby's report released this fall.
Using MLS data for several Vancouver neighbourhoods between January and September 2015, Sotheby's analyzed the number of single-family home sales, their closing prices, and how many days the properties spent on the market.
The report also compared those stats to the same period for the previous year.
While Shaughnessy ranks high when it comes to home sales, residences there have also been taking longer to sell than in any other neighbourhood for the last two years — 58 days in 2015, for example, compared to Grandview where homes sold in an average of 14 days.
Buyers — in particular Generation Xers born approximately between 1965 and 1979 — aspire to live in "emerging, top-tier neighbourhoods that reflect broad, socioeconomic, ethnic and linguistic diversity as compared to their baby boomer counterparts," said Sotheby's analysts.
That means they're concentrating their money in areas like Grandview and Cambie, rather than more affluent Point Grey or Kerrisdale.
Gunn points out that that the layout of East Van neighbourhoods helps too: "The houses being fairly close to one another facilitates neighbours knowing and interacting with one another."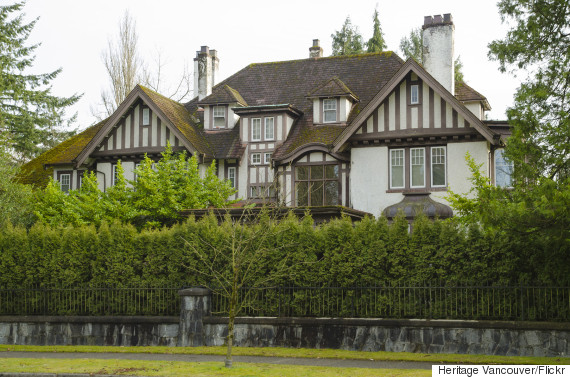 The Fleck Mansion in First Shaughnessy. (Photo: Heritage Vancouver/Flickr)
The Sotheby's report comes amid renewed debate over absentee owners, particularly on the west side.
A Globe and Mail story highlighted residents' complaints of foreign buyers purchasing homes and leaving them empty, The Globe and Mail reported last week.
One local told reporter Kathy Tomlinson that it's given her neighbourhood an "eerie feel," with fewer cars, and no one to answer the door when kids go trick-or-treating on Halloween.
"There's a slight feeling that it's almost unsafe, too — like if I suddenly run into trouble in the street, whose house would I knock on?" resident Clare Cullen told the newspaper.
Sales trends are illustrated year-over-year in the following infographic.
Like Us On Facebook

Follow Us On Twitter

Also on HuffPost:
Most Expensive Homes For Sale In Canada, October 2015