An Alaska mom creates special Disney princess wigs to bring magic to kids with cancer.
Holly Christensen, a former oncology nurse and mom of three, knits long, flowing wigs out of soft yarn for kids who have lost their hair to chemotherapy while battling cancer. The wigs are modelled after the kids' favourite Disney princess and past designs include the luscious locks of Ariel, Jasmine and of course, Elsa.
Disney Princess Wigs For Kids With Cancer
Christensen was originally inspired to make the Disney wigs after she fashioned a Rapunzel hairpiece for her friend's three-year-old daughter Lily, who was diagnosed with lymphoma last year. The 31-year-old mom hoped the wig would bring Lily some comfort.
"I knew she would be going through a difficult time, and that no one would be able to take her suffering away," Christensen told Babble. "I also knew that losing her long, curly blonde hair at not even three years old would be difficult for her, so I figured that the yarn wig could help bring a little magic and fun to a difficult time in her life."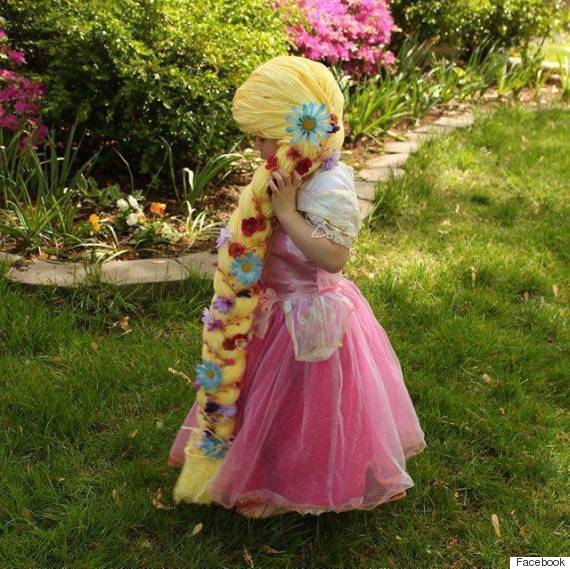 Because Lily's wig was such a hit, Christensen decided to launch the Magic Yarn Project to bring wigs to kids battling cancer all across the country.
"[Lily's experience] lit a little fire inside me and I thought that perhaps I could start making these princess wigs and sending them to cancer centres around the country," the mom told Mashable.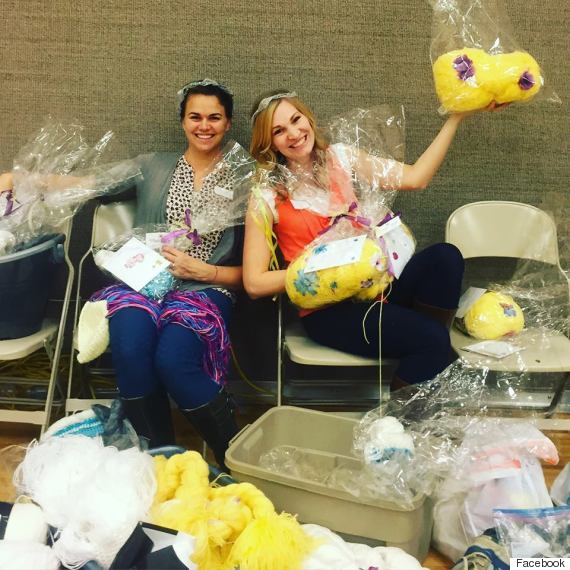 The Magic Yarn Project is run by Christensen, her friend Bree Hitchcock and a team of volunteers. Together they create custom Disney Princess wigs and distribute them to hospitals and families in need for free.
In order to make the operation possible, the Magic Yarn Project relies entirely on volunteers and donations from their GoFundMe page. So far, the project has raised over $6,500 in one month.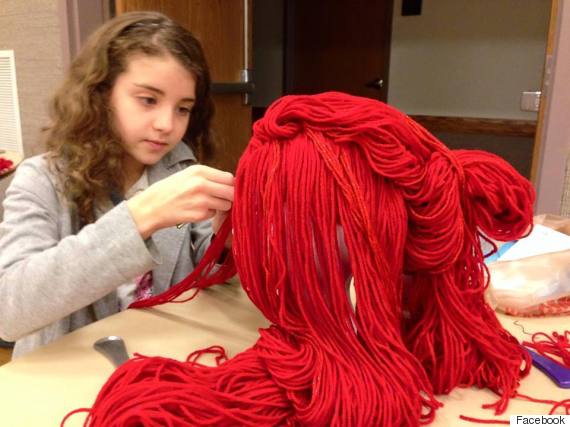 While Disney Princess wigs are not a new invention, Christensen says many kids with cancer can't use the ones for sale because their scalps are too sensitive due to chemotherapy. To avoid this issue, the Magic Yarn Project uses extra-soft "baby yarn" and crocheted beanies to ensure the kids can wear them comfortably.
Since Christensen started the project, she has heard from dozens of people looking to volunteer. In response to the support, the mom told ABC News: "To bring a little bit of magic into such a difficult time in [a kid's] life is so rewarding. It's almost equally been so rewarding and magical to meet people who want to help."