CP
Thousands of Canadians descended upon the nation's capital Wednesday to pay tribute to the fallen who gave their lives for Canada.
It's a simple gesture, to stand and be silent, a minuscule effort in tribute to the monumental sacrifice men and women have made for the country they love.
And on Nov. 11, Canadians all over remember that love, and do their best to match it.
They remember, no matter the weather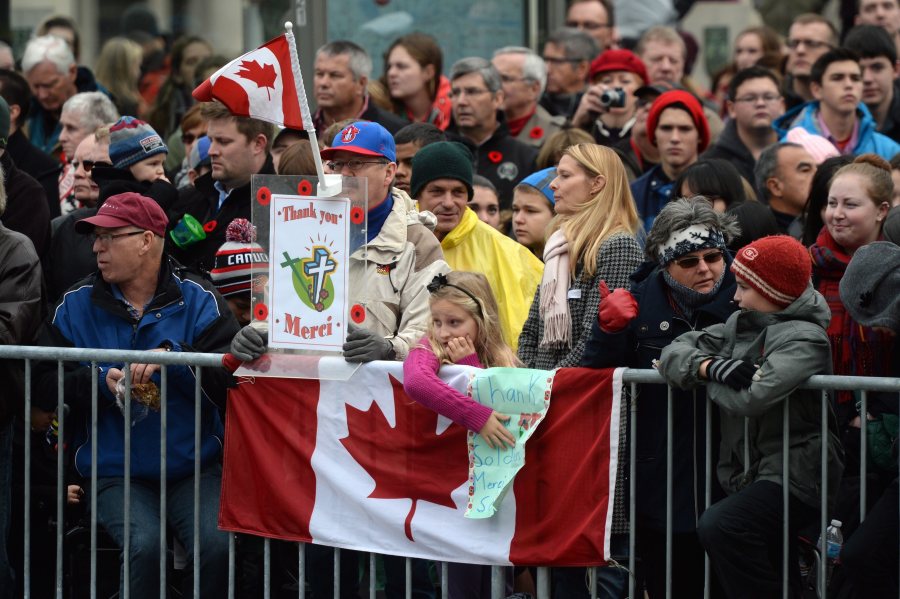 SUBSCRIBE AND FOLLOW
Get top stories and blog posts emailed to me each day. Newsletters may offer personalized content or advertisements. Learn more
People observe the Remembrance Day ceremony in Ottawa on Nov. 11, 2015. (Adrian Wyld/The Canadian Press)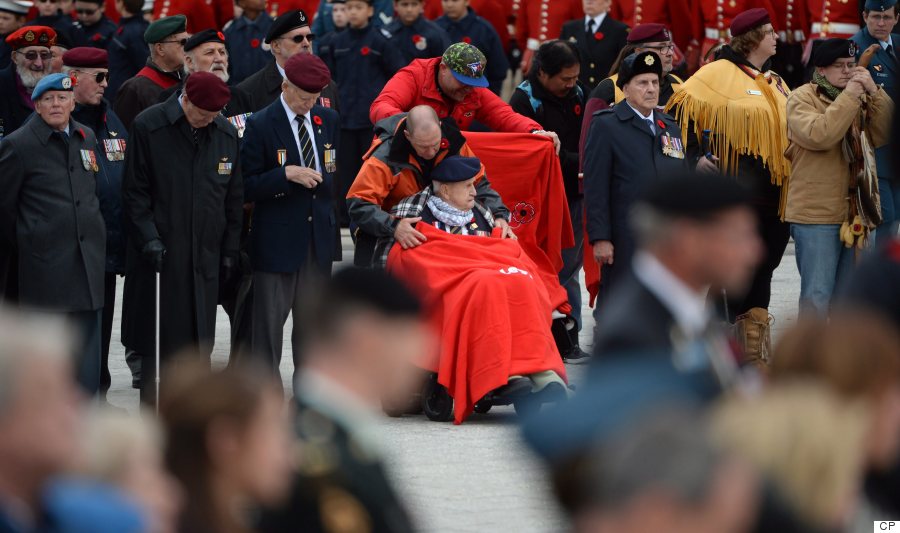 A caregiver covers a veteran with a blanket during the Remembrance Day ceremony in Ottawa, Nov. 11, 2015. (Photo: Sean Kilpatrick/The Canadian Press)
They remember, no matter their role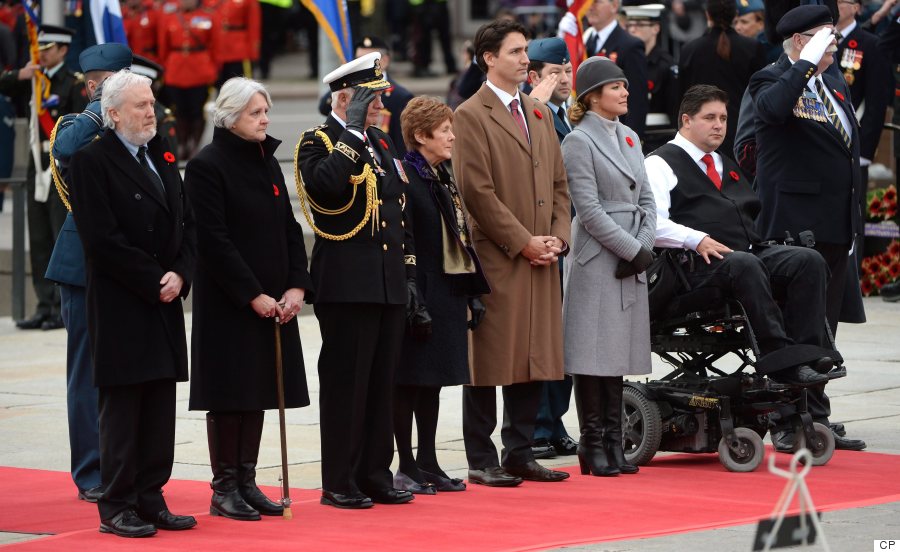 James Anderson, left to right, Royal Canadian Legion's Silver Cross mother Sheila Anderson, Governor General David Johnston, Sharon Johnston, Prime Minister Justin Trudeau, Sophie Gregoire-Trudeau and Veterans Affairs Minister Kent Hehr take part in the Remembrance Day ceremony in Ottawa on Nov. 11, 2015. (Sean Kilpatrick/The Canadian Press)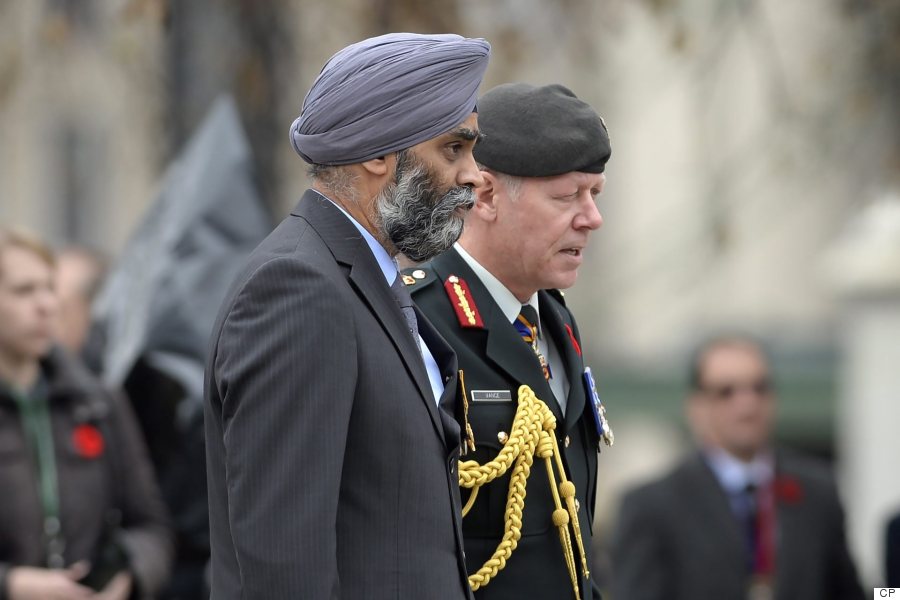 Defence Minister Harjit Singh Sajjan, left, and Chief of Defence Staff Gen. Jonathan Vance attend the Remembrance Day ceremony in Ottawa on Nov. 11, 2015. (Photo: Adrian Wyld/The Canadian Press)
No matter their age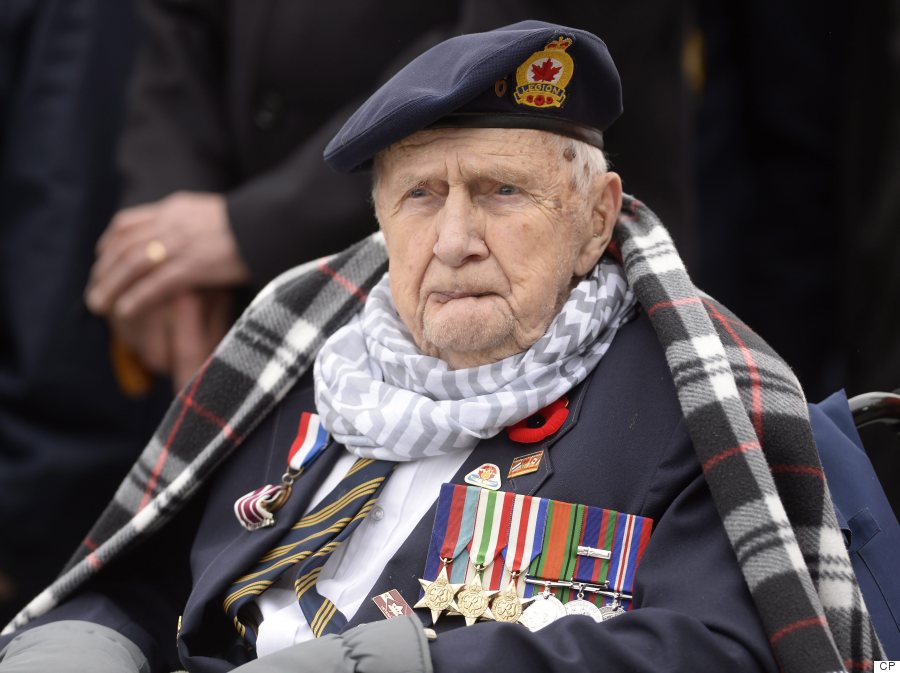 A veteran looks on during the Remembrance Day ceremony in Ottawa on Nov. 11, 2015. (Adrian Wyld/The Canadian Press)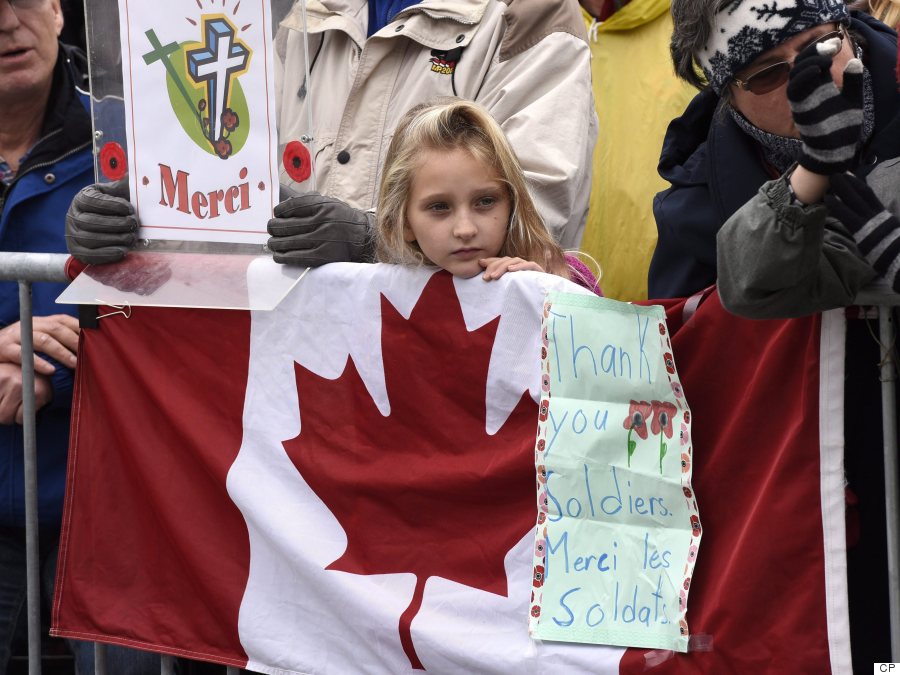 A young girl holds a sign of thanks for soldiers at the Remembrance Day ceremony at the National War Memorial in Ottawa, on Nov. 11, 2015. (Justin Tang/The Canadian Press)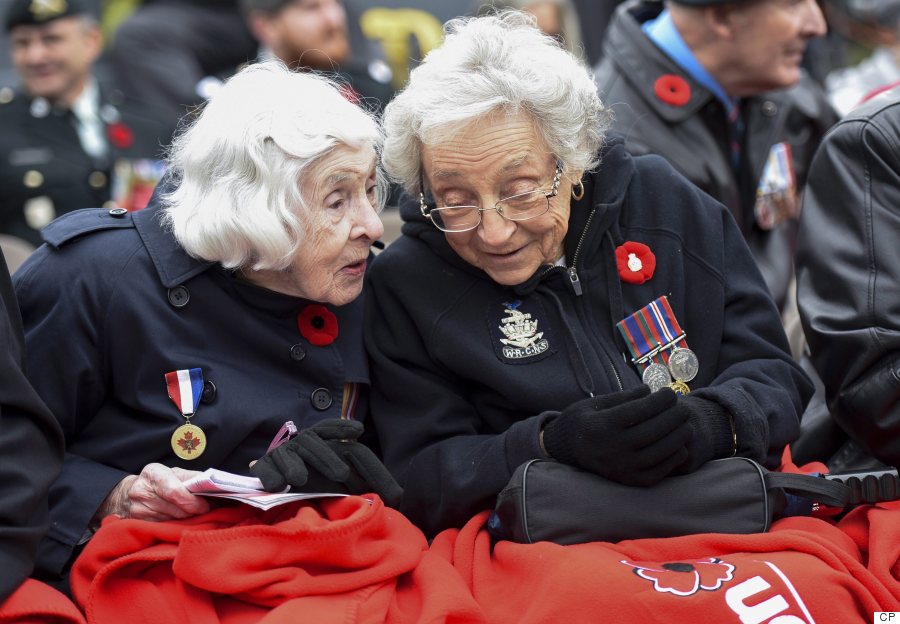 Naval veterans Jean MacDonald (left) and Doris Hope chat before the Remembrance Day ceremony at the National War Memorial in Ottawa on Nov. 11, 2015. (Justin Tang/The Canadian Press)
No matter how hard it is, they remember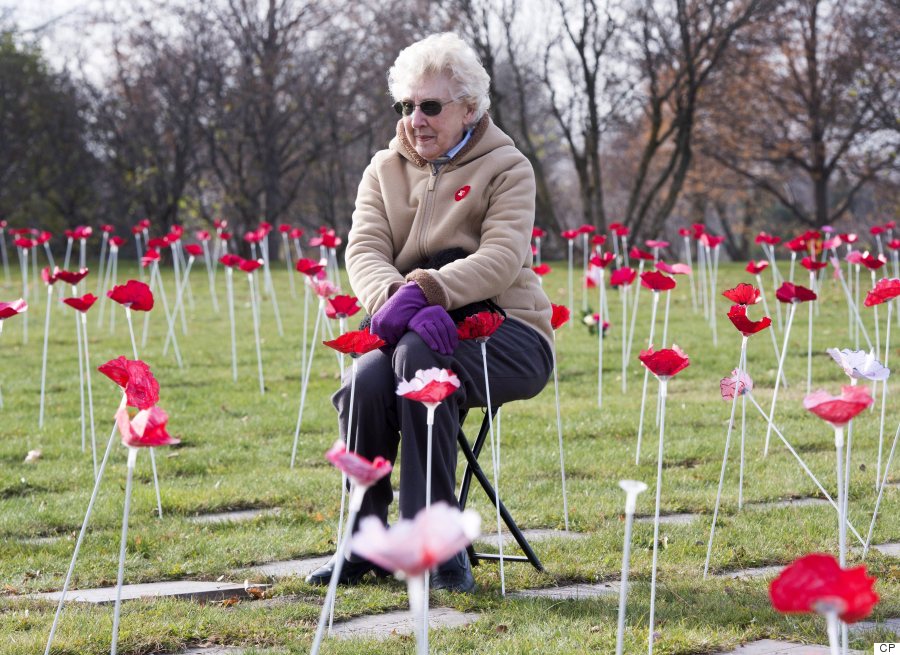 Helen Pitre sits among the graves of soldiers as she watches Remembrance Day ceremonies, Nov. 11, 2015 in Pointe-Claire, Que. (Ryan Remiorz/The Canadian Press)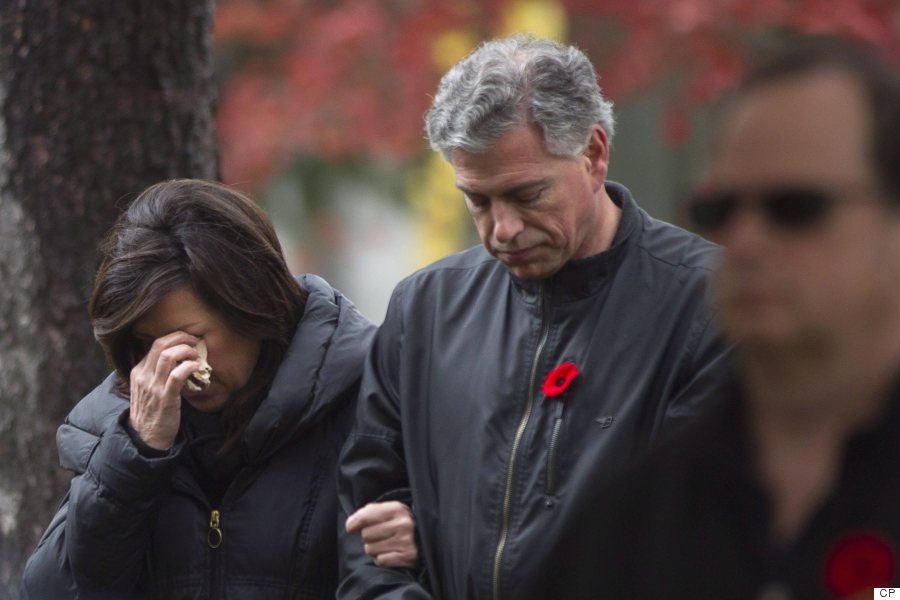 People listen to the playing of the "Last Post" during a Remembrance Day service at Toronto's Mount Pleasant Cemetery on Nov. 11, 2015. (Photo: Chris Young/The Canadian Press)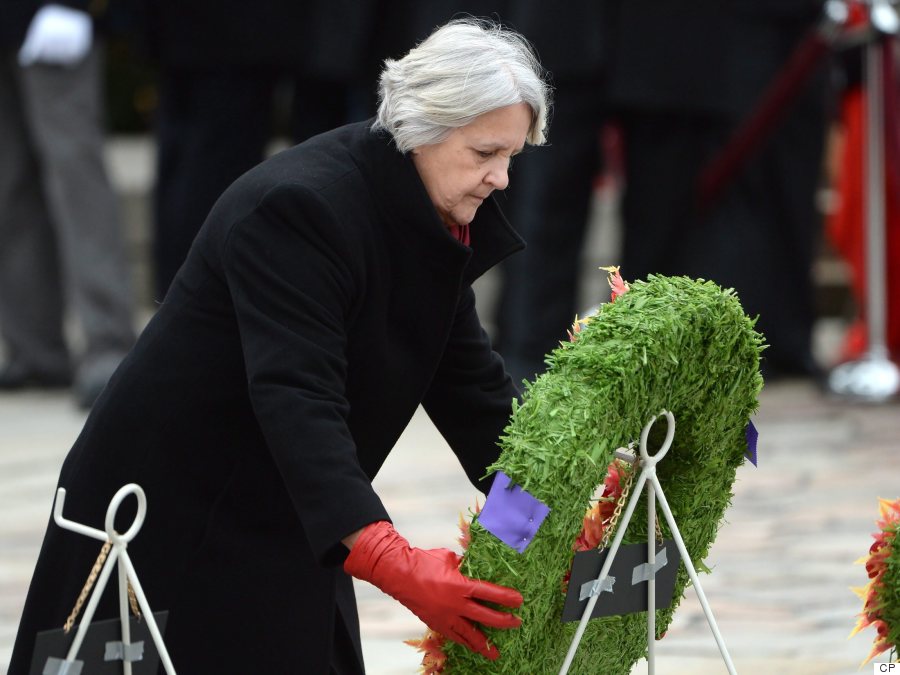 Royal Canadian Legion's Silver Cross mother Sheila Anderson places a wreath during the Remembrance Day ceremony in Ottawa on Nov. 11, 2015. Anderson's son, Jordan, was killed by a roadside bomb in Afghanistan in 2007. (Sean Kilpatrick/The Canadian Press)
Check out more photos of Wednesday's ceremony in the slideshow below: