VANCOUVER — The memory of how fortunate he was to come home from the Second World War has prompted Charlie Lee to faithfully attend every Remembrance Day ceremony held at Vancouver's Victory Square for the last 70 years.
He used to help organize the city's Remembrance Day events, but at 92-years-old, he watched this year's events from an area reserved for veterans, huddled under a red fleece blanket with his two daughters.
"I like to carry on and try to remember those fallen who never did come back,'' said Lee, who served as a special operations executive in southeast Asia during the war.
The row of gleaming medals pinned to Lee's neatly-pressed jacket attracted well-wishers after the ceremony. Several people offered their thanks and a handshake, or asked to pose for a picture with him in front of the Cenotaph.
The veteran obliged, his white-gloved hand gripping a cane for support.
He said it's important people recognize the men and women who fought to make Canada what it is today.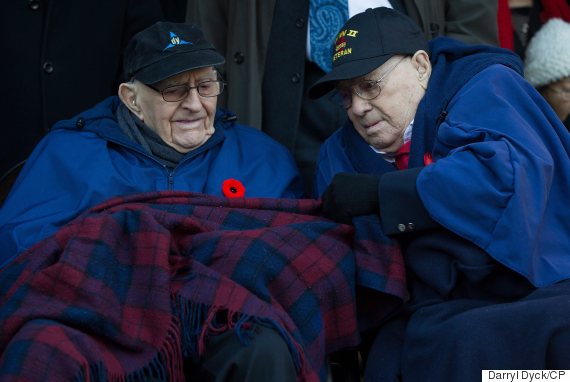 Second World War Veteran Robert Chartier, right, 92, covers fellow veteran Michael Malapert, 95, with a blanket during a Remembrance Day ceremony in Vancouver, B.C., on Nov. 11, 2015.

"You have to remember those who were there. They're the ones who brought you the freedom,'' Lee said. "That's what we were fighting for, right? So I think they should be thankful, for being Canadian, be proud of it.''
Hundreds of current and former troops took part in Wednesday's ceremony under clear, crisp skies. For minutes at a time, the claps of boots marching in sequence was the only sound reverberating throughout Victory Square.
Later, the booms of a 21-gun salute could echoed as several Royal Canadian Air Force planes did a commemorative flypast overhead.
Maj.-Rev. Jim Short read the prayer of remembrance, recalling those who died at home and abroad, but also those who came home injured.
"May we faithfully embrace the sacred task of care for those who have been wounded in war, in mind, body or spirit,'' he said. "And to especially embrace the loved ones of those who have taken their own lives in or after their military service.''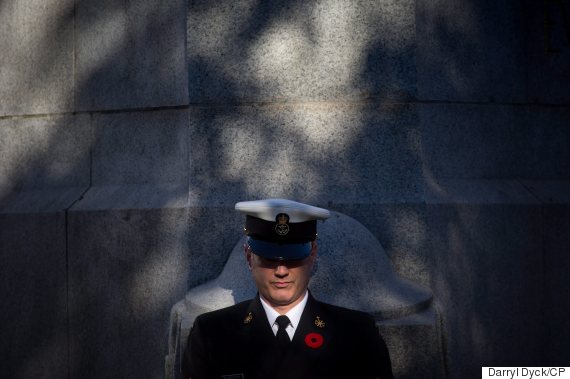 Royal Canadian Navy Leading Seaman Westley Blackstock, of HMCS Discovery, bows his head while standing as a part of the vigil guard at the cenotaph during a Remembrance Day ceremony in Vancouver, B.C.

Short also urged Canadian leaders to look solve international disputes peacefully and welcome with open arms people who are fleeing war and looking for a new home.
"Remember that to a country much is given, much must be shared with others,'' he said.
Several officials, including the new federal Liberal Justice Minister Jody Wilson-Raybould, placed wreathes on the Cenotaph during the ceremony.
Being part of the Remembrance Day event was incredibly moving, Wilson-Raybould said.
"It's always a tremendous honour to come out on Remembrance Day to honour our veterans who are here and those that are not,'' she said.
Pinned to her jacket was a beaded poppy that she said was made by a Mi'kmaq woman on the East Coast and given to her by a national chief about six years ago.
She wore the same poppy last week when she was sworn into cabinet. The clerk at the ceremony remarked about how much he liked the poppy and asked where he could get one.
Wilson-Raybould said she plans to send him hers in thanks for officially making her a member of Parliament.
Also on HuffPost
Remembrance Day 2015 In Vancouver, B.C.