Canadian Forces
When Sheila Anderson placed a wreath at Ottawa's National War Memorial on Wednesday, she did so on behalf of a group "no one wants to join."
Chosen by the Royal Canadian Legion, Anderson was named Canada's Memorial (Silver) Cross Mother for 2015 — becoming the first-ever recipient from the Northwest Territories since the award's inception 79 years ago.
Anderson carried a wreath, one marked with "The Mothers of Canada" in gold type, to represent military mothers and families who have lost children to war. It's a part of a new crop of responsibilities she agreed to shoulder for the next year, honouring all fallen soldiers in ceremonies across the country during her term as Silver Cross Mother.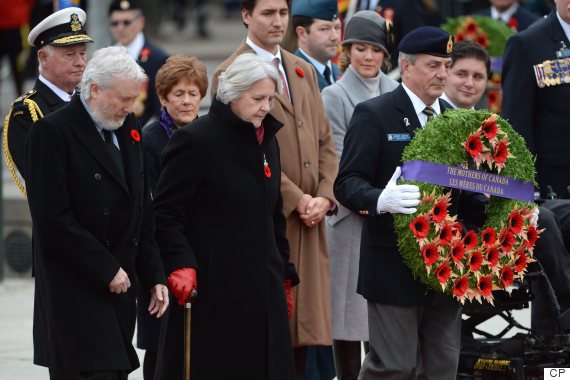 James Anderson and wife Sheila, Royal Canadian Legion's Silver Cross mother, look on during the Remembrance Day ceremony in Ottawa on Nov. 11, 2015. (The Canadian Press/Sean Kilpatrick)
The honour is given annually to the mother of a soldier killed in the line of duty. Anderson's son Jordan was killed eight years ago during a tour in Afghanistan. He was 25.
Cpl. Jordan Anderson, 3rd Battalion Princess Patricia's Canadian Light Infantry was killed on July 4, 2007. (Photo: Canadian Forces)
Jordan, the eldest of four brothers, was a "non-conformist" and had surprised his family when he signed himself up to join the Canadian Armed Forces on the eve of his 19th birthday.
The decision came as a surprise to Anderson and her husband because at the time, Jordan was chasing a degree at the University of Manitoba, enrolled in classes in political science and Mandarin.
Jordan had barely been married for two years before he was killed on July 4, 2007 when the vehicle he was travelling in hit a roadside bomb. He, along with five other soldiers and an Afghan interpreter, died.
The bodies of Cpl. Jordan Anderson, Captain Matthew Dawe, Cpl. Cole Bartsch, Pte. Lane Watkins, Captain Jefferson Francis, and Master Corporal Colin Bason on transport back to Canada in 2007. (Photo: Canadian Forces)
Highway of Heroes from Trenton to Toronto on July 8, 2007. (Photo: Canadian Forces)
The body of Cpl. Jordan Anderson brought to Ottawa's National Military Ceremony for burial on July 14, 2007. (Photo: Canadian Forces)
Anderson, born and raised in Toronto, moved to the Northwest Territories nearly four decades ago with her husband James. There, she raised four sons. And only one, Jordan, joined the military.
In an interview with CTV News, the Yellowknife government worker with the province's Department of Justice says she still grieves for her son eight years after his death. It's a shift in emotions that has been quickly noticed by her granddaughter Maddie.
"How come grandma's sad? Because I'm thinking about Uncle Jordan you never even met," she said of how she explains her grief to Maddie.
"We all have similar pain," Anderson told Maclean's about the tumult of emotions that follow the loss of a child.
"It's kind of sad to be a member of a group that no one wants to join."
In the lead-up to Remembrance Day, Anderson also spoke with CBC News, saying she was "very surprised but deeply honoured" to be considered for the award, to be given an opportunity to "represent everyone."
When asked what she would likely be thinking of when placing the ceremonial wreath at the steps of the country's National War Memorial, Anderson said both the war dead and living veterans, men and women currently serving in the military, will be on the top of her mind.
"For all the families that have lost loved ones, that you're not alone," she said. "People in Canada care."


Also on HuffPost:
Veterans Ride Across Canada