The man inside the Chewbacca costume has as big a heart as the Wookiee himself.
When actor Peter Mayhew got wind that a "Star Wars" fan, 7-year-old Sam Miller, had recently passed away, he sent this letter to Sam's best friend Liam.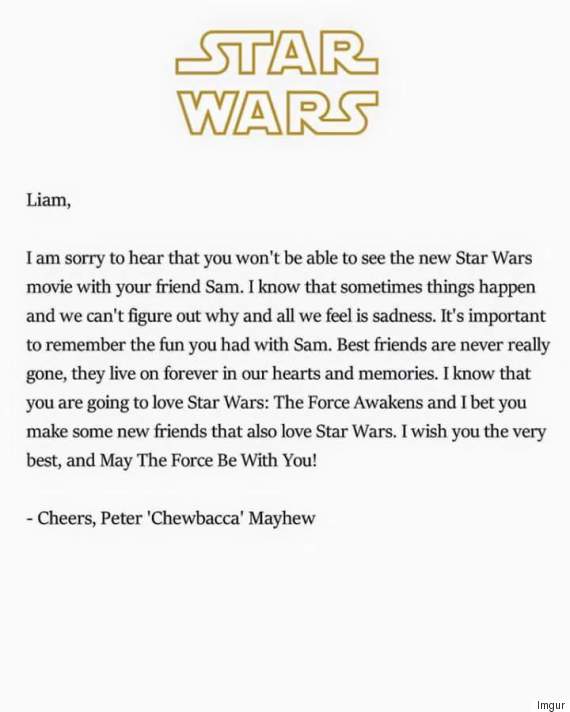 It seems the two youngsters from Texas made playground plans to see the newest installment of the franchise together. According to a Facebook post by Trina Miller, a family member of Sam's, Liam had been upset that his friend is no longer around to go. Liam's mother then got in contact with the 71-year-old actor through a family friend, and he wrote back a heartfelt response.
In the note, Mayhew assures Liam, "Best friends are never really gone, they live on forever in our hearts and memories."
Sam was in an ATV accident in late October, according to a GoFundMe campaign that was started to help cover his medical expenses. Sadly, the 7 year old passed away shortly after. The page has raised nearly $15,000 as of Thursday.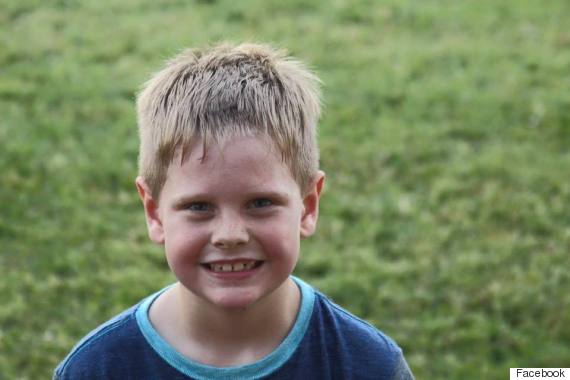 Chewy's letter was originally shared on Imgur and Reddit by Sam's father Scott Miller. In just three days, the note went viral with more than 200,000 views on the image-sharing site alone. Sam's dad thanked Mayhew over Twitter, and a Reddit user identifying herself as Sam's older sister, wrote: "I know Sam would have loved to know that Chewy knows who he is."
Mayhew confirmed to RadioTimes.com that the letter is genuine. He said, "My wife's sister reached out to me with his story. I hope my words were of some comfort to him."
There has been a myriad of support for the Miller family online. Their Facebook group, "I am Sam, Sam I am," has more than 1,700 members and is filled with warm messages and thank yous from Sam's family.
The two friends may not get to see "Star Wars: The Force Awakens" together, but their families are certain they're both happy to be on Chewbacca's radar.
Also on HuffPost
Star Wars The Force Awakens