Chapters/Two Peas and their Pod
Cuddling up and reading together with your kids is a fantastic way to connect and encourage literacy. To extend the fun, try adding an activity that's related to an element in the story. Check out this list of books that we've paired with related recipes to keep the fun going!
1. Each Peach Pear Plum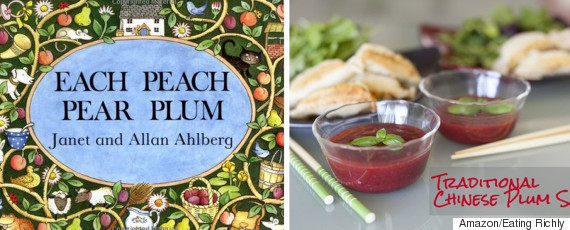 "Each Peach Pear Plum" was written and charmingly illustrated by the same team that brought the world "Peepo!" This book allows readers to play I spy by hunting for an interlinking cast of nursery rhyme characters. At the end of the poem, everyone enjoys a slice of plum pie together!
Recipe: Bake a plum pie together, or try this traditional Chinese plum sauce that makes a perfect match with breaded chicken strips.
Get the book: Amazon
2. How to Eat Fried Worms

One crazy bet leads Billy to come up with a lot of creative ways to eat some creepy crawly creatures. Find out if Billy eats all of the worms in the bet so he can collect $50 from Alan.
Recipe: Make these "How to Eat Fried Worm" sandwiches, which substitute the wriggly bugs for sliced zucchini and yellow squash. You can also slice up hot dogs lengthwise to achieve a similar effect.
Get the book: Amazon
3. James and the Giant Peach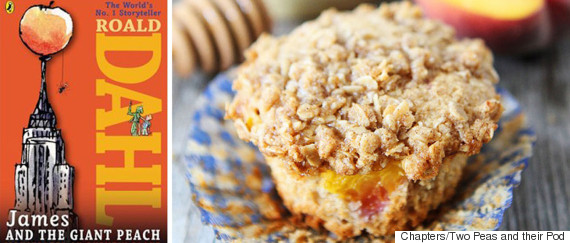 Follow the adventures of young James Henry Trotter and his critter pals as they make their way across the Atlantic Ocean to New York City on a giant peach! This Roald Dahl classic was the first tale the author ever wrote for children.
Recipe: Bake up a batch of honey peach muffins with oat streusel topping to celebrate James' creativity and ingenuity, as well as the deliciousness of peaches.
Get the book: Chapters
4. The Ugly Vegetables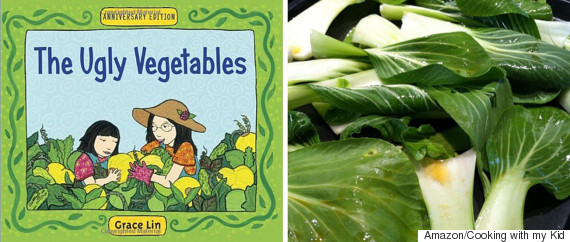 This is a beautifully illustrated story about a girl who feels her neighbour's flowers are much more appealing than her family's plot of "ugly vegetables." It is a tale that touches on the values of looking beyond appearances and appreciating differences.
Recipe: This book actually comes with a recipe for "Ugly Vegetable Soup," along with a pronunciation guide for the Chinese vegetables' names. However, you could also make this roasted baby bok choy, which is packed with nutrients like vitamin A, vitamin C and calcium.
Get the book: Amazon
5. Tales of a Fourth Grade Nothing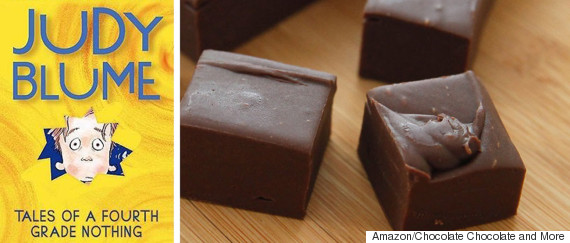 This is the first book of five in Judy Blume's "Fudge" series. "Tales of a Fourth Grade Nothing" introduces us to fourth grader Peter Hatcher and Fudge, his endearing, yet frustrating younger brother.
Recipe: There's nothing wrong with a classic, so whip up a batch of this delicious three-minute fudge.
Get the book: Amazon
6. Mabel Murple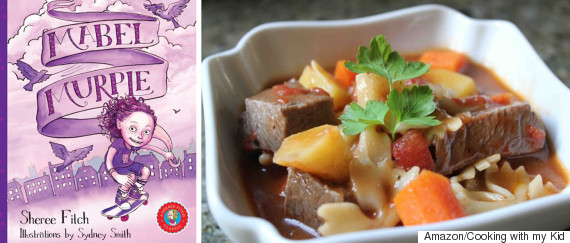 Mabel Murple is a gal who comes from the mind of treasured Canadian author Sheree Fitch. Mabel's really into purple (she has a purple poodle named Pierre), does all sorts of fun things and gets into the best types of mischief (there's a reason she's called a Skateboard Scallywag). Readers get to follow her adventures in this rollicking poem.
Recipe: Mabel makes Murple's Super Duper Purple Stew in the story, which she serves alongside Mabel Murple's Purple Maple Syrple and purple ketchup. Mabel adds all kinds of veggies (and fruit) to her stew, like asparagus and carrots. Let your kid experiment with this beef & bowtie stew recipe and choose veggies that he or she would like.
Get the book: Amazon
7. Wild Berries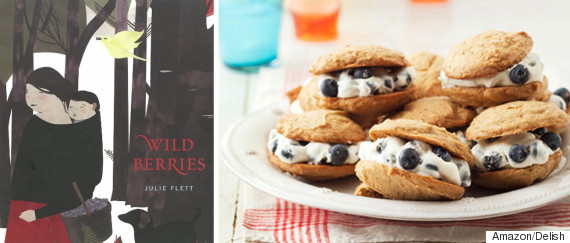 A little boy and his grandmother spend a day collecting wild blueberries in this beautiful book by Julie Flett. "Wild Berries" is written in English and Swampy Cree, and includes a pronunciation guide to the indigenous language.
Recipe: A wild blueberry jam recipe comes with this book, but these blueberry-spice whoopie pies look delicious and intriguing.
Get the book: Amazon
8. Bread and Jam for Frances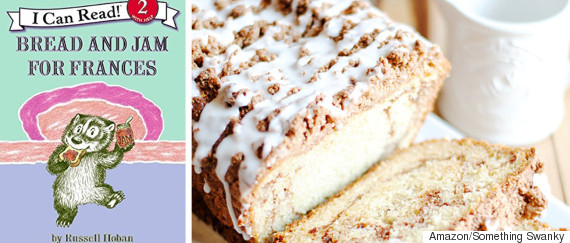 Parents of kids who insist on eating the same thing every day will appreciate this book. In the story, a kid (OK, a badger) named Frances only wants to eat bread and jam, so her parents decide to serve her favourite food for each meal. Will she come around to trying other foods, too?
Recipe: All bread is delicious, but this cinnamon swirl quick bread is sure to win hearts.
Get the book: Amazon
9. Little Pea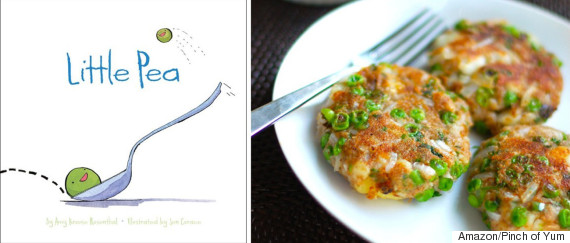 "Little Pea" is another tale of a particular eater who, in a reverse-psychology-type twist, loves "healthy" food and refuses to eat the candy his parents offer as a main dish.
Recipe: Aloo tikki is a pancake dish made with potatoes, peas, onion, flour, bread crumbs and seasonings. Skip the jalapeno pepper if you're serving this to little kids.
Get the book: Amazon
10. The Stinky Cheese Man: And Other Fairly Stupid Stories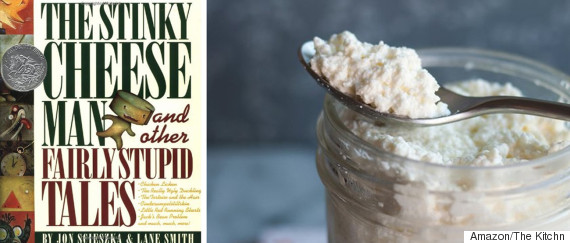 This irreverent take on fairy tales has been cracking kids up since it was first published more than 20 years ago!
Recipe: While ricotta cheese isn't really stinky, it is fairly simple to make yourself with this homemade ricotta cheese recipe, and it's really satisfying to go DIY on something you'd normally buy.
Get the book: Amazon
11. Yoko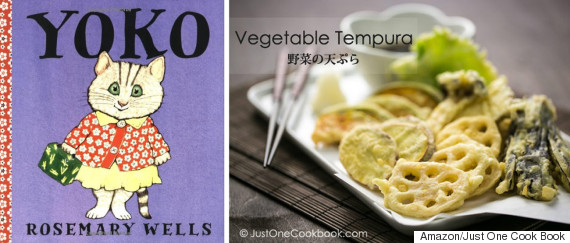 School can be tough, especially if you eat something "different" at lunch. One day, Yoko brings her favourite food (sushi and red-bean ice cream) to school and gets taunted by her classmates. But her teacher has an idea that may help teach everyone that "different" can be a wonderful thing.
Recipe: Try making vegetable tempura. It's a great way to get kids to eat vegetables. If you can't find the ingredients listed here, you can substitute with regular sweet potatoes, broccoli, sweet peppers and many others!
Get the book: Amazon
12. The Carrot Seed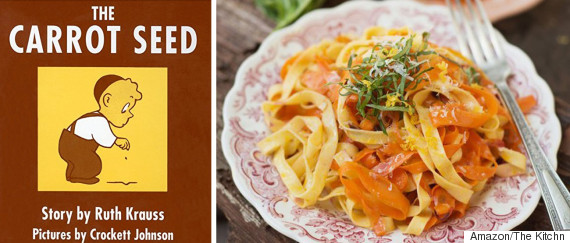 A little boy plants a carrot seed and cares for it despite the naysayers who say it won't grow. But thanks to his hard work, it does grow!
Recipe: This carrot ribbon fettuccine recipe combines thin strips of carrot with pasta for a colourful and filling vegetarian dish.
Get the book: Amazon
ALSO ON HUFFPOST: