CP
An online petition is calling on Justin Trudeau to appoint former NDP MP Peter Stoffer to the Senate.
Stoffer, who lost his Nova Scotia seat to the Liberals, is a "most respected" politician, highlights the petition. "Prime Minister Trudeau, it is indeed a privilege and an Honour to nominate Mr. Peter Stoffer to be considered for the appointment of Senator of the House," it states.
Stoffer told The Huffington Post Canada Thursday that "it's nice" of people to consider him for the Senate, but he believes there are others more fit for the task.
"It's very thoughtful of people to consider me in that regard, but to be honest with you it's extremely premature for me to talk in any way, shape or form on an issue of that nature," he said.
"There are literally thousands of Canadians out there much more qualified than myself to do that, and at the end of the day, it's always up to the prime minister to determine."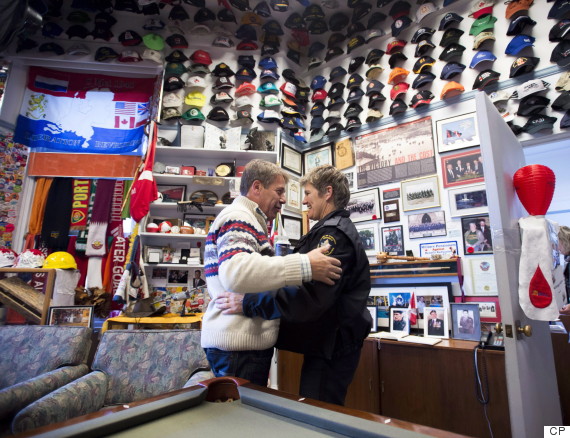 Friends and colleagues drop by to wish Peter Stoffer good luck as he packs up his office in the Confederation Building on Parliament Hill in Ottawa on Oct. 27, 2015, after he lost his seat in the election. He had more than 8,000 hats on the walls of his parliamentary office. (Photo: Sean Kilpatrick/The Canadian Press)
CBC News reported in October that Trudeau would appoint new senators with the help of a panel. Those chosen would sit as independents, according to The Globe and Mail.
Trudeau kicked out senators from the Liberal caucus in 2014.
The petition, which was launched on Oct. 28, has a target of one million signatures. It has 515 so far.
John Labelle, a veteran who started the campaign, told The Chronicle Herald he is optimistic it will gain traction.
"We're going to do everything we possibly can," Labelle said. "Once people read it, I'm sure they'll sign."
NDP critics
Meanwhile, NDP leader Thomas Mulcair named his party's critics Thursday, and Stoffer said he believes he made a "wise choice." Mulcair has selected several veterans such as longtime party member Nathan Cullen from B.C., who will tackle the environment file and democratic reform, for his team.
Northern Ontario MP Charlie Angus has been named critic for indigenous affairs, Quebec MP Guy Caron will take on the job of finance critic and B.C.'s Don Davies will focus on health.
On the current government
Stoffer said he likes the makeup of Trudeau's cabinet, as well as his "it's 2015" comment on why a gender-equal cabinet was important. He has high hopes for the government, and expects the "Gretzky" Conservatives — they have 99 seats — and the NDP to hold them accountable.
"One of the things they can do is make Question Period much more answerable, make it much more reflective of what Question Period should be," Stoffer said. He also wants the government to take the recommendations of various committees more seriously.
"At the end of the day, what will happen is Parliamentarians will be respected on the hill, and if they're respected on the hill, then they'll be respected off the hill, and then maybe future generations of people will look at politics as a noble profession."
What's next?
Stoffer said he's now focused on spending time with his wife and figuring out his future plans, but added that he would be available to assist, either in public or private, when it comes to areas like veterans affairs.
As for running again: "I can give you a hint: all my [campaign] signs now have been recycled."
"The chances of me running again are extremely nil, very slim. But in politics, though... you never say never in politics. But I can assure you the chances of me running again are highly, highly unlikely."
With files from The Canadian Press
Also On HuffPost:
Key NDP MPs Defeated In 2015 Election