For two months, Aalia Adam's fiancée lived a life in secret. She was told he was busy studying, working or finishing a paper for law school.
In August, the 26-year-old Montreal native found out only one piece of his cover-up was true.
Yes, Fahad Diwan, 26, did have a paper to write, but he was also busy coming up with an elaborate proposal, one that required at least 20 people to put together.
"We had talked about getting married eventually, but I had no idea he was planning such an elaborate proposal," Adam tells The Huffington Post Canada. "Usually in our culture, a wedding proposal involves the guy's parents coming over to the girl's house with an official proposal, after the couple tells their parents they're interested in someone. "
In many South Asian cultures, families often meet for tea and get to know each other as soon as marriage is a possibility. Adam says it's still considered romantic, but there's no element of surprise in the tradition.
"Fahad knows what a romantic I am and how much I love surprises, so I think that's why he took this route instead!" she said.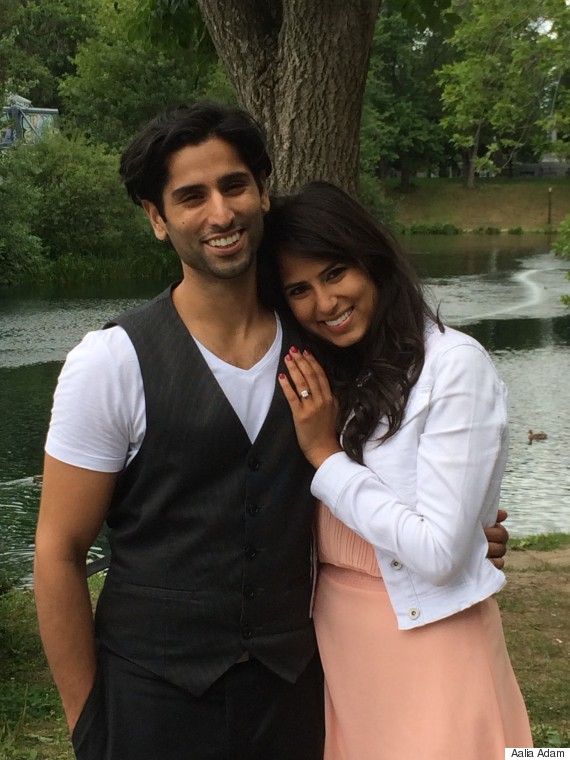 The proposal ended up being one of the most romantic moments in Adam's life.
Set up to represent Adam's past, present and future, the couple's friends had a role acting out the couple's favourite dates, hobbies and goals. Adam's room and university were brought to life with cardboard cutouts, while a flash mob brought comic relief with a salute to the Backstreet Boys (Adam is obsessed with the '90s boy band).
For their part in the romantic overture, Adam's parents acted in a small scene to offer a glimpse into the couple's happy life together.
"He wanted them to be involved in the actual proposal so convinced them to delay their flight to Africa and asked if they could play the old couple.' Seeing them there was one of my favourite parts of the proposal."
Watch video of the proposal below:
Fahaalia Proposal!

For two months Fahad was lying to me. He was lying about where he was, what he was up to and who he was with. Little did I know, for those 2 straight months he was planning the most elaborate, romantic wedding proposal ever. He and our amazing friends put on a skit playing out different moments in both our lives from the past, present and the future - leaving out no details!People still ask me what I was thinking in the moments leading up to the love of my life getting down on one knee and asking me to spend the rest of my life with him....to be honest I thought I was going to have a heart attack. Thank you so much to everyone involved. I will remember this for the rest of my life.Stayed tuned for the wedding....AUGUST 2016! Xox <3

Posted by Aya Adam on Wednesday, November 11, 2015
The couple officially met five and half years ago, but first knew each other through mutual friends in high school. They started talking more when they got to university.
"I still remember that moment we crossed each other near the Tim Hortons at Concordia," she says, noting they didn't jump into each other's arms like the video above suggests.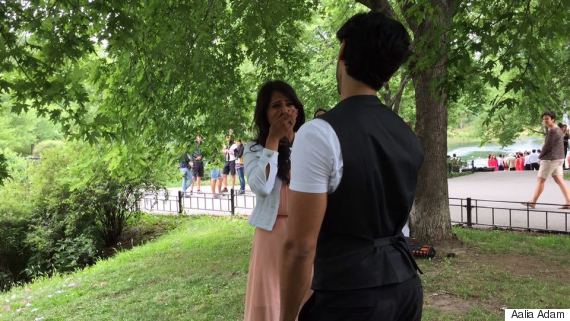 The set up
Adam, who is a reporter for Breakfast Television Montreal says Diwan convinced her employer to send her out on a fake assignment to a Montreal escape room.
But after looking at clues that pointed to her relationship with Diwan, Adam says was left confused. She ended taking a ride on the back of a bike — blinded-folded with noise-cancelling headphones — thinking it was still a part of the activity.
"I was terrified and I thought I was being kidnapped," she says. "They just made a playlist of romantic songs for me to listen to along the way and I said 'you know what I'm just going to go with it.'"
Adam wound up in Montreal's La Fontaine Park, where she was greeted by friends and some over-the-top romantic gestures. Now, the couple is beginning to make plans for a August 2016 wedding.
"I just remember my whole body feeling really strange," said Adam. "I was feeling every possibly emotion all in one shot."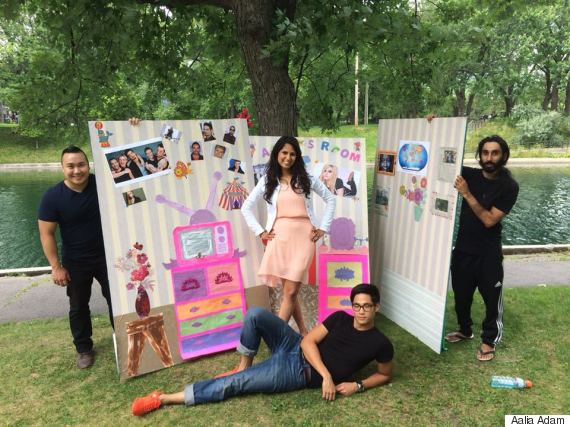 ALSO ON HUFFPOST:
Best Marriage Proposals Of All Time