Prime Minister Justin Trudeau and other Canadian politicians are expressing sympathy for victims of a series of violent attacks in Paris on Friday.
Trudeau issued a statement on Friday night, saying he was "shocked and saddened" at the violence that killed about 120 people.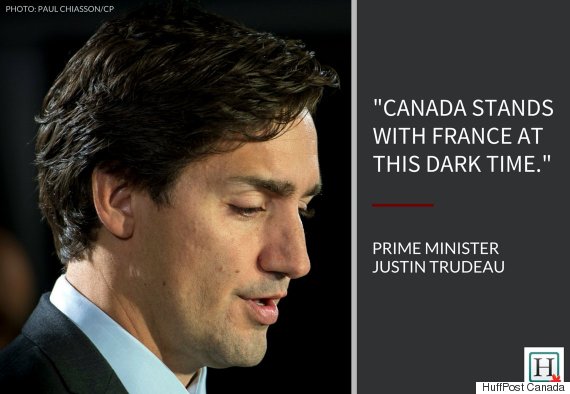 Here is his full statement:
"I am shocked and saddened that so many people have been killed and injured today in a number of terrorist attacks in Paris, France, and that many others are being held hostage.

"As the situation continues to unfold, Sophie and I join all Canadians in extending our deepest condolences to the families and friends of those killed. It is our sincere hope that the hostages are freed unharmed as soon as possible. We also wish a speedy recovery to all those who have been injured.

"Canada stands with France at this dark time and offers all possible assistance. We will continue to work closely with the international community to help prevent these terrible, senseless acts.

"Our thoughts and prayers are with the people of France and we mourn their loss."
Trudeau also spoke to media later in the evening, moments before boarding a plane to attend the G20 summit in Turkey.
"I've been speaking with our national security team to ensure everything is being done to keep people safe," he said.
Several other Canadian politicians also stood in solidarity with France.
Justice Minister Jody Wilson-Raybould expressed her sympathies on Twitter:
My thoughts and prayers go out to the victims and the people of #Paris in the face of this tragic attack and unfolding situation.

— Jody Wilson-Raybould (@Puglaas) November 13, 2015
Conservative Interim Leader Rona Ambrose issued the following statement on her own account:
My heart goes out to the victims of these attacks. We stand with the people of #Paris.

— Rona Ambrose (@RonaAmbrose) November 13, 2015
In a party statement, she said, "Let there be no mistake, Canada and Canadians stand with France on this tragic day. We call for swift action to bring those responsible to justice."
And so did NDP Leader Thomas Mulcair:
Catherine and I are shocked by news of the horrific attacks in #Paris. We pray tonight for the victims, their families, & all Parisians. –TM

— Tom Mulcair (@ThomasMulcair) November 13, 2015
Political leaders in Quebec sent their messages as well:
Toute notre solidarité envers nos amis français, nos pensées sont avec les vôtres, vos familles en ces moments d'horreur.

November 13, 2015
Translated, this says: "We stand in solidarity with our French friends. our thoughts are with you and your families at this horrific time. @partiquebecois"
En guise de solidarité pour peuple français.J'annonce que nos drapeaux seront en berne. Ce soir nous sommes tous Parisiens #PorteOuverte

— DenisCoderre (@DenisCoderre) November 14, 2015
Translated, this says: "We stand in solidarity with the people of France. Our flags will fly at half mast. We are all Parisians tonight #porteouverte"
Le #Québec condamne fermement les événements tragiques à Paris. Nos pensées accompagnent le peuple français durant ces moments difficiles.

— Philippe Couillard (@phcouillard) November 13, 2015
The translation reads: "Quebec condemns these tragic events in Paris. Our thoughts are with the French people in these difficult moments."
Gov. Gen. David Johnston weighed in as well:
As unspeakable attacks are unfolding in #Paris, all our thoughts and prayers are with #France.

— David Johnston (@GGDavidJohnston) November 13, 2015
Former prime minister Stephen Harper offered the following statement on social media:
Tonight our thoughts and prayers are with the innocent victims of these savage terrorist attacks in Paris.

— Stephen Harper (@stephenharper) November 14, 2015
Also on HuffPost
LOIC VENANCE via Getty Images

David Ramos via Getty Images

David Ramos via Getty Images

LOIC VENANCE via Getty Images

ASSOCIATED PRESS

Christophe Ena/AP

Manu Fernandez/AP

Lionel Cironneau/AP

Jerome Delay/AP

Marc Piasecki via Getty Images

JEAN-SEBASTIEN EVRARD via Getty Images

Kamil Zihnioglu/AP

JEAN-SEBASTIEN EVRARD via Getty Images

ASSOCIATED PRESS

ASSOCIATED PRESS

ASSOCIATED PRESS

ASSOCIATED PRESS

ASSOCIATED PRESS

ASSOCIATED PRESS

LOIC VENANCE via Getty Images

KENZO TRIBOUILLARD via Getty Images

KENZO TRIBOUILLARD via Getty Images

KENZO TRIBOUILLARD via Getty Images

Adam Pretty via Getty Images

KENZO TRIBOUILLARD via Getty Images

Xavier Laine via Getty Images

JACQUES DEMARTHON via Getty Images

FRANCK FIFE via Getty Images

KENZO TRIBOUILLARD via Getty Images

LOIC VENANCE via Getty Images

LOIC VENANCE via Getty Images

KENZO TRIBOUILLARD via Getty Images

LOIC VENANCE via Getty Images

KENZO TRIBOUILLARD via Getty Images

LOIC VENANCE via Getty Images

LOIC VENANCE via Getty Images

Anadolu Agency via Getty Images

LOIC VENANCE via Getty Images

LOIC VENANCE via Getty Images

KENZO TRIBOUILLARD via Getty Images

LOIC VENANCE via Getty Images

KENZO TRIBOUILLARD via Getty Images

LOIC VENANCE via Getty Images

KENZO TRIBOUILLARD via Getty Images

KENZO TRIBOUILLARD via Getty Images

LOIC VENANCE via Getty Images

TOBIAS SCHWARZ via Getty Images

LOIC VENANCE via Getty Images

DOMINIQUE FAGET via Getty Images

DOMINIQUE FAGET via Getty Images

KENZO TRIBOUILLARD via Getty Images

Xavier Laine via Getty Images

FRANCK FIFE via Getty Images

FRANCK FIFE via Getty Images

ASSOCIATED PRESS

ASSOCIATED PRESS

ASSOCIATED PRESS

ASSOCIATED PRESS

ASSOCIATED PRESS

ASSOCIATED PRESS

ASSOCIATED PRESS

KENZO TRIBOUILLARD via Getty Images

KENZO TRIBOUILLARD via Getty Images

KENZO TRIBOUILLARD via Getty Images

KENZO TRIBOUILLARD via Getty Images

DOMINIQUE FAGET via Getty Images

KENZO TRIBOUILLARD via Getty Images

KENZO TRIBOUILLARD via Getty Images

KENZO TRIBOUILLARD via Getty Images

KENZO TRIBOUILLARD via Getty Images

PIERRE MONFORT via Getty Images

KENZO TRIBOUILLARD via Getty Images

KENZO TRIBOUILLARD via Getty Images

KENZO TRIBOUILLARD via Getty Images

ASSOCIATED PRESS

ASSOCIATED PRESS

ASSOCIATED PRESS

ASSOCIATED PRESS

VI-Images via Getty Images

MIGUEL MEDINA via Getty Images

MIGUEL MEDINA via Getty Images

MIGUEL MEDINA via Getty Images

FRANCK FIFE via Getty Images

VI-Images via Getty Images

ASSOCIATED PRESS

ASSOCIATED PRESS

DOMINIQUE FAGET via Getty Images

KENZO TRIBOUILLARD via Getty Images

DOMINIQUE FAGET via Getty Images

KENZO TRIBOUILLARD via Getty Images

DOMINIQUE FAGET via Getty Images

ASSOCIATED PRESS

ASSOCIATED PRESS

ASSOCIATED PRESS

ASSOCIATED PRESS

KENZO TRIBOUILLARD via Getty Images

DOMINIQUE FAGET via Getty Images

KENZO TRIBOUILLARD via Getty Images

ASSOCIATED PRESS

David Wolff - Patrick via Getty Images

David Wolff - Patrick via Getty Images