The Eiffel Tower normally turns its lights off at 1 a.m. every day to save energy, but its eerie darkness on Friday symbolized so much more.
I have dreamed of seeing Paris my whole life, it breaks my heart to see the city of love be shaken with such horror. https://t.co/7lw9KJvuho

— ALDUB | MAIDEN ♕ (@ALDUBTEAMBAHAY) November 14, 2015
A typical Friday night that could have unfolded in any city was shattered by unthinkable violence.
As Paris copes with its loss and shock, the world is shining its symbols in honour of The City of Lights.
From the darkness amid the 24-hour glitter of Las Vegas...
Tonight, our Eiffel Tower will remain dark in memory of the lives lost in the attacks in Paris. pic.twitter.com/FFr55bRnHE

— Paris Las Vegas (@ParisVegas) November 14, 2015
... to solidarity in Toronto ...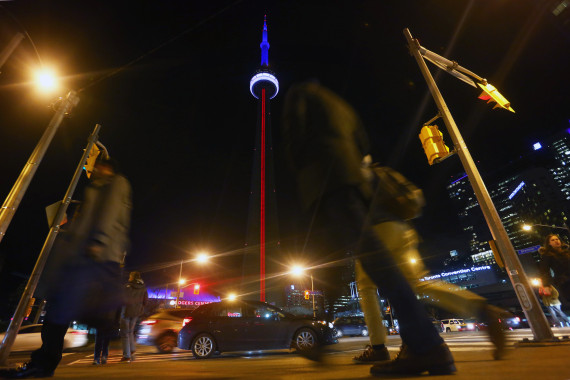 (Photo: Cole Burston/Toronto Star via Getty Images)
The Toronto sign now lit in the colours of #Paris France. pic.twitter.com/1TM3qdJdzQ

— Zaib Shaikh (@Zaib_Shaikh) November 14, 2015
... and Calgary.
The colors of France glow from Calgary tonight. pic.twitter.com/AFxEOm84JW

— Mike Morrison (@mikesbloggity) November 14, 2015
From a place that knows such pain too well...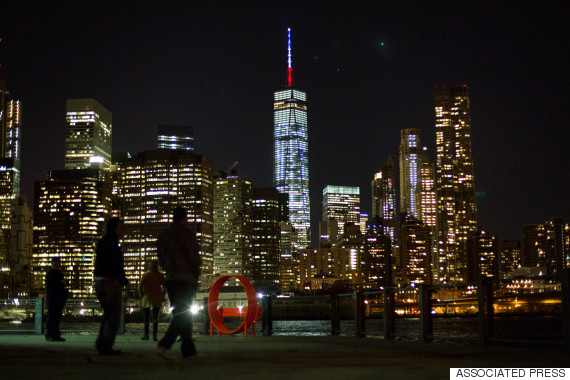 New York Gov. Andrew Cuomo announced the lighting of the One World Trade Center in honour of the victims in Paris. (Photo: Kevin Hagen/AP)
... to iconic landmarks around the globe.
Wembley stadium lit up in France colours. #PrayForParis pic.twitter.com/g3AkNqY7g3

— Historical Pics (@HistoricalPics) November 14, 2015
#Brazil Famous "Christ the Redeemer" statue in Rio is lit up in support of #france #Paris #PrayForParis #fusillade pic.twitter.com/9k6VsFkADO

— djvjgrrl (@djvjgrrl) November 14, 2015
Maybe you have seen it many times tonight. Here's my view of San Francisco standing with Paris. pic.twitter.com/R4LTkIihDc

— Parker Higgins (@xor) November 14, 2015
Dublin displays French colours in solidarity. #ParisAttacks pic.twitter.com/8nmVGJgCFo

— Her.ie (@Herdotie) November 14, 2015
The world is with Paris.
Like Us On Facebook

Follow Us On Twitter
Also on HuffPost
Paris Attacks: Newspaper Front Pages From Around The World