A fundraiser to help repair an Ontario mosque deliberately set on fire garnered over $20,000 in donations in just one afternoon, hours after its creation.
The Saturday blaze at Masjid Al-Salaam Mosque — the only religious site of its kind in Peterborough, Ont. — caused roughly $80,000 in smoke damage to the place of worship.
According to Peterborough police, the interior of the building was partially ruined, although the exteriors were mostly spared.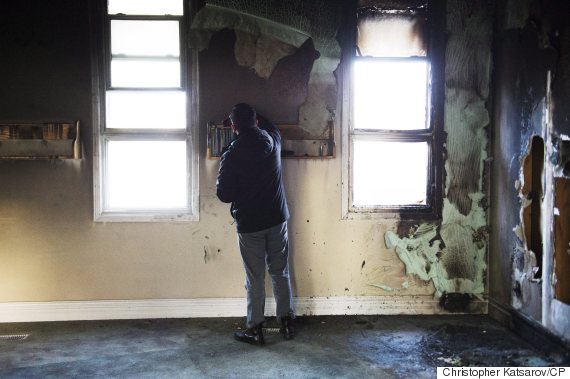 People begin to salvage what they can from the burnt mosque on Sunday afternoon. (Photo: Canadian Press)

Duane Rousselle, a Peterborough resident, quickly started a FundRazr page on Sunday to encourage those "of all or no faiths" to help the Muslim community rebuild the mosque.
Donations immediately started flooding in, totalling roughly $6,600 in two hours.
"It is heartwarming, to say the least," Rousselle wrote on his personal Facebook page, about these initial figures.
Four hours later, the campaign hit the $20,000 mark — and reached over 25 per cent of its total fundraising goal.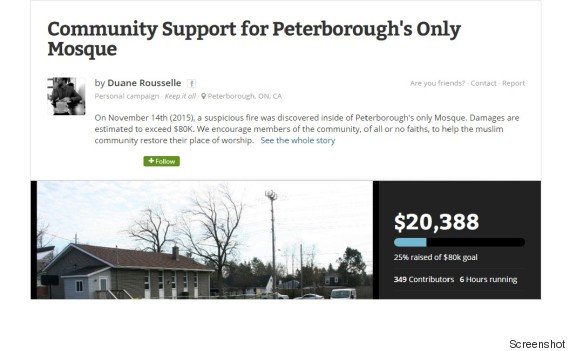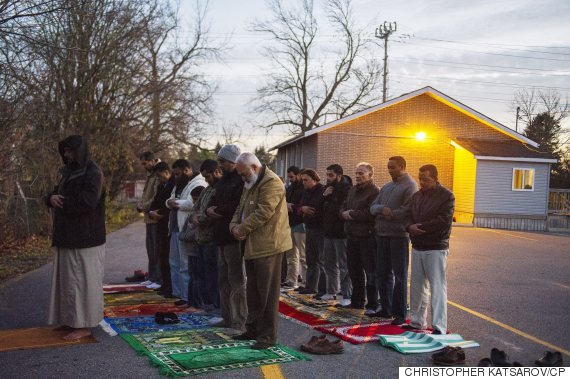 Congregation members hold prayer in the parking lot outside the burnt mosque. (Photo: Canadian Press)

Police have not yet determined a motive for the fire, but officials confirmed it was arson.
The incident comes two days after more than 120 people were killed and over 350 injured in a series of terror attacks in Paris orchestrated by the Islamic State. Peterborough police couldn't say if the alleged attack on the local mosque was connected to the events in France.
However, Peterborough Mayor Daryl Bennett denounced the suspected hate crime on Twitter Sunday.
Please see my statement on the fire at Masjid Al-Salaam on Saturday night. pic.twitter.com/ctvQDJwHND

— Daryl Bennett (@MayorBennett) November 15, 2015
Maryam Monsef, the Liberal MP for Peterborough-Kawartha and newly appointed Minister of Democratic Institutions, was also concerned.
"I know that the residents of Peterborough-Kawartha will be as upset as I am about this incident," wrote Monsef. "Together we will continue to demonstrate that these sorts of incidents are in no way reflective of our community as a whole."
Monsef's statement also notes officials, including the Ontario fire marshal, will continue to investigate whether the blaze was started with malicious intent.
Also on HuffPost: