Jason Franson/CP
Independent MLA Deborah Drever has proposed a private member's bill that could make it easier for victims of domestic violence to escape abuse in Alberta.
Bill 204 would allow domestic violence victims to break their lease without penalty, if they demonstrate that they or their children are in danger.
It would also allow victims to take the alleged abusers off the lease altogether.
Drever said the bill is designed to create "a way to support those who need to leave unsafe environments because of violence or the threat of violence.
"By giving survivors of violence a way to leave, and a platform to seek out supports, we will be working to break the cycle of domestic abuse and start a real conversation about violence in this province," the Calgary-Bow MLA wrote in her introduction to the bill on Nov. 5.
To break the housing agreement, victims would need to provide some sort of documentation — such as a restraining order, or a statement from police, a social worker, or an employee of an emergency shelter — that demonstrates the risk of the victim staying in the home.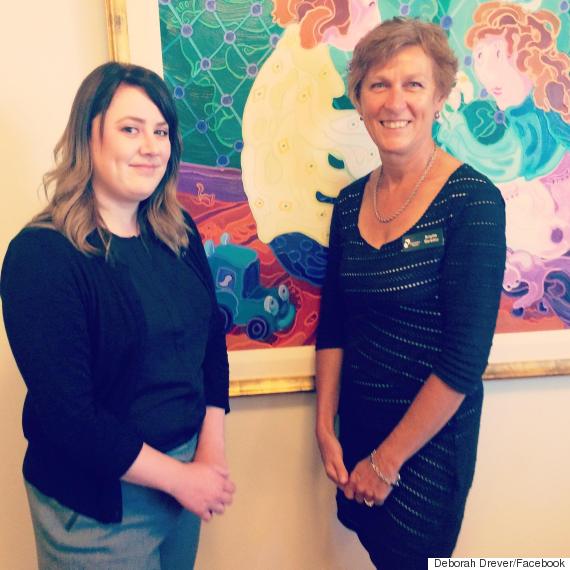 Deborah Drever poses with Brigitte Baradoy, Discovery House's executive director. Discovery House is a Calgary shelter that offers space for women and children fleeing domestic violence. (Photo: Deborah Drever/Facebook)

Alberta has some of the highest domestic violence rates in the country, according to Statistics Canada.
Nearly 10,000 women and children were housed in emergency shelters between April 2014 and March 2015, according to the Alberta Council of Women's Shelters.
Another 18,000 were turned away because shelters were full.
Premier Rachel Notley assigned Drever to tackle the issue of domestic violence and violence against women after the rookie MLA came under fire for inappropriate social media posts in May.
In a Facebook photo, Drever posed for the cover of a metal album, which some said glamorized violence against women.
The controversy eventually led to her suspension from the New Democrat caucus.
It has historically been extremely difficult to get a private member's bill passed, according to the Canadian Parliamentary Review.
Regardless, Drever is optimistic because the bill is aligned with the NDP's platform, according to the Edmonton Journal.
The bill is up for its second reading in the legislature on Monday.
Like Us On Facebook

Follow Us On Twitter

Also on HuffPost: