Walmart/Nongshim/Campbells
Digesting The Label is a series that takes a look at what exactly is in the food that we're buying and eating from a nutritional standpoint. Every two weeks, we'll examine a food and help determine whether or not it's all it's cut out to be .. or in some cases, even better for us than we thought. This week, we're looking at the sodium content in instant noodle packages.
It's a university student's favourite cheap meal and even a quick snack eaten uncooked — instant noodles are precooked, dried and packaged at your convenience.
Besides being inexpensive, instant noodles and ramen are also easy to cook. However, when they were first introduced to Japanese supermarkets, ramen, for example, was considered a luxurious dish. In 1958, Nissin ramen products invented the first cheap instant chicken ramen which became a huge hit in North America.
And although they aren't necessarily the same thing, instant noodles and ramen flavours these days are endless. From meat to seafood to vegetarian packages, a majority of flavours are also stimulated.
But is it any good for you? Most of us know instant noodle powder packages don't carry much of a nutritional punch — but they do often have high amounts of fat, sodium and sometimes, sugar. Sodium is often the enemy with these products, and according to the Toronto Star, one of Momofuku's famous ramen bowls has over 2,800 mg of salt.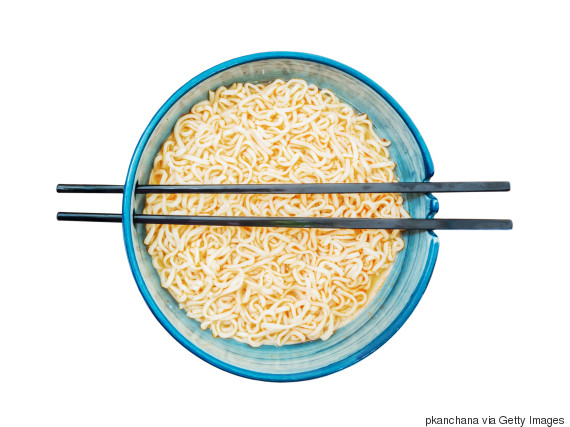 In this week's list, we took a look at all types of instant noodles and ramen. One thing to keep in mind is serving size. Since instant noodle packages and bowls differ in size, as well as any additional ingredients like meat or veggies people decide to add to their dish, the list doesn't truly represent an accurate ranking. However, when we are shopping for options, it does give a good idea on how much sodium each package contains.
Of course, since there are way too many instant noodle brands out there from country to country, we stuck with popular ones you can find in most North American grocery stores. Let us know, did your favourite package or bowl make the list?
Sodium In Instant Noodles