Tim Hortons has received some negative publicity of late over reports it sends recyclable materials straight to landfills. And now comes word the chain is removing china mugs from some of its locations, in favour of disposable cups.
The Globe and Mail reports the chain has removed china mugs mainly from some "non-traditional" locations, meaning locations such as inside schools or hospitals, and it's "probably" part of the parent company's efforts to cut costs.
The chain has traditionally used recyclable paper cups for take-out orders, and porcelain mugs and plates for dine-in orders.
3G Capital, which bought Tim Hortons last year, creating the new company Restaurant Brands International, "is known for swift layoffs, cost-cutting — and profit," in the words of Fortune magazine. (The layoffs at Tim Hortons came earlier this year.)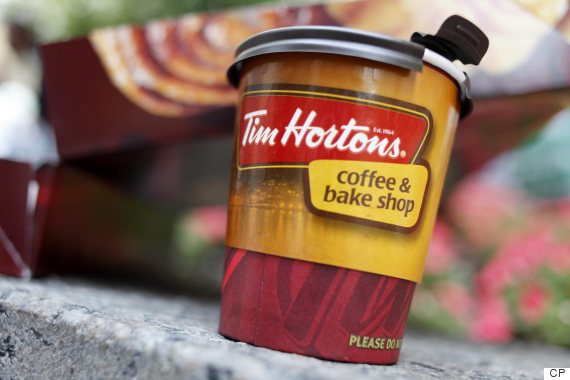 Tim Hortons' paper cups are now the only option at some locations.
The chain is apparently linking use of china mugs to heavy water consumption. Locations that are part of the experiment have posted signs thanking customers for "joining our efforts to reduce water usage and improve our recycling program."
But on its website, Tim Hortons touts china plates and mugs as part of its commitment to a better environment.
"Tim Hortons is one of the few quick service restaurants to offer china mugs, plates and bowls to guests eating in our restaurants. This helps to reduce paper waste being created in the first place," the chain says.
A Tim Hortons spokesperson told the Globe the company is "not considering removal of china chain-wide," noting that use of porcelain "differentiates the Tim Hortons experience."
Tim Hortons' recycling program has been a source of controversy in recent days, following a CBC investigation that found many Toronto Tims locations, along with Starbucks locations, are sending recyclable material straight to the landfill.
CBC's Marketplace put tracking devices on Tim Hortons and Starbucks cups, and found about half of them in bins for garbage pickup instead of recycling.
Following the report, some Starbucks and Tim Hortons employees said the practice of throwing recyclables in the garbage is widespread, and is often due to lack of space for recyclables.
Employees at the chains also drew attention to other environmentally questionable practices.
One Tim Hortons employee told CBC in an email that staff are urged to use paper cups even when a customer brings their own travel mug.
"We are encouraged to make their coffee in a paper cup and pour it in the travel mug... to make sure we are not giving more coffee than purchased," CBC quoted the employee as saying.
Tim Hortons has championed environmental causes in the past, including a program to install in-store blue recycling bins. The CBC says only one-quarter of Tims locations have blue recycling bins at this point. Starbucks has blue bins at roughly half its Canadian locations.
Also on HuffPost
5 Things You Didn't Know About Tim Hortons