A Spanish newspaper put a Sikh-Canadian journalist's life at risk on Saturday after publishing a doctored photo to make him look like a Paris terror suspect wearing a bomb vest.
Veerender Jubbal's original photo was a selfie he took last year in front of his bathroom mirror, holding an iPad and wearing a plaid shirt.
Instead, someone — it has not been confirmed who — changed the image to him holding up a Qur'an. In the background, a blurry image of a dildo was added to the bathtub ledge.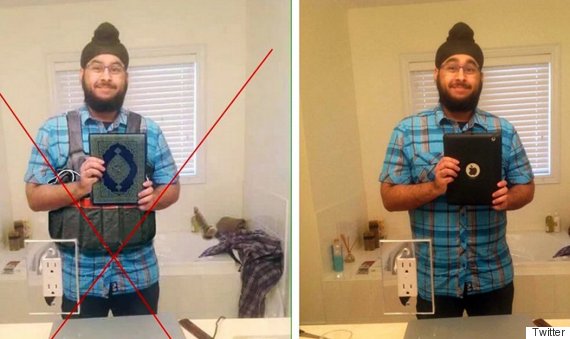 Photoshopped image of Jubbal on the left compared to the original selfie (right) posted in 2014.
La Razón published the Photoshopped image, naming Jubbal as "one of the terrorists" involved in Friday's deadly attacks in Paris.
The daily newspaper apologized for its mistake Sunday. But in a series of tweets, Jubbal explained the damage to his reputation had already been done.
Several European outlets picked up the image, and it even made its way onto the same unofficial social media channel ISIS used to claim responsibility for the Paris violence, according to CBC News.
Jubbal added he's considering taking legal action.
People are editing, and photoshopping my selfies as if I am one of the people causing the issues/problems in Paris.

— Veerender Jubbal (@Veeren_Jubbal) November 14, 2015
You can all check the last retweets.

Let us start with basics.

Never been to Paris.

Am a Sikh dude with a turban.

Lives in Canada.

— Veerender Jubbal (@Veeren_Jubbal) November 14, 2015
Well, just got a phone call from a cousin in India, and they know about it; and saw the whole thing in India Times.

We might sue, I guess.

— Veerender Jubbal (@Veeren_Jubbal) November 15, 2015
It's unknown who's responsible for the doctored photo of Jubbal, though the Toronto area-based freelancer was quick to blame to GamerGate critics.
Jubbal coined the Twitter hashtag #StopGamerGate2014 last year to change misogynistic missives that turned a story about sexism in the video game industry into a harassment campaign against female developers.
"Gamers are absolute garbage like I have been saying for a full year," said Jubbal.
Learn the difference between me being a Sikh, and a Muslim.

Cry in mug, while I use your tears to water my garden.

I am valuable, and rad.

— Veerender Jubbal (@Veeren_Jubbal) November 14, 2015
I hope everyone has caught up with what is going on with me.

I went viral due to a photoshopped image claiming I am a terrorist.

— Veerender Jubbal (@Veeren_Jubbal) November 15, 2015
He mentioned on Twitter that he's been inundated with thousands of messages and interview requests in different languages in the past 48 hours.
Jubbal did not respond to The Huffington Post Canada's request for comment before publication.
Also on HuffPost