There's a certain solemnity an Adele song brings to life's more mundane moments.
Autumn leaves caught in an updraft are suddenly enchanting and a typically infuriating commute, when synced to the sound of her vocals, can force untimely introspection into the laws of love and nature.
So when you're trapped at your desk when a new Adele song drops, you're screwed.
The British singer released her latest track "When We Were Young" on Tuesday, smack in the middle of the work day, triggering a quiet epidemic of office workers newly reminded of past heartbreaks.
"We were sad of getting older, made us restless. It was just like a movie. It was just like a song."

- Adele
Teased the day before in a clip of an upcoming interview, the new song wrestles timeless issues such as forlorn love (surprise) and the big bag of hurt maturation can throw in your face.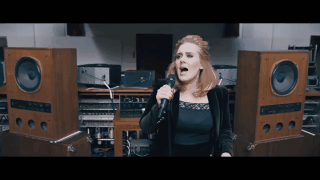 Adele's interview with "60 Minutes Australia" is scheduled to air on Nov. 22, two days after her new album "25" is released Friday.