I started buying vintage clothes the year I started watching "Mad Men," which are two entirely related facts. Like every other human on this planet with eyes, I embraced the early '60s style with the elegance of a person who was born over 20 years after it, interpreting pieces by H&M as "retro resurgence" and peppering new high-waisted skirts with items I found at Value Village, thinking I looked just like Betty. (There were neck scarves involved, and there's nothing I can do to take those back.)
And then I got serious. On a budget and hellbent on over-romanticizing the past, I bought only vintage and/or used clothes for about two straight years, dressing them for whatever era I felt they were akin to, and refusing to venture into the mall for fear it would disrupt my look. ("My look.") In short, I looked like a movie extra. Like a person who was cosplaying "Mad Men" all the time. It was extreme, offered no room for my personal style, and it was impossible to wear pants.
Mainly because I didn't own any.
So, here's how to prevent the same thing from happening to you.
There is room for vintage clothes, there is room for contemporary clothes. There is room for clothes of all colours, shapes and sizes. The landscape is vast and limiting yourself to a specific era, type of piece, or specific cut will only make you want to burn everything you own and dress exclusively in sheets. Wear a new coat with an old dress or try a pair of Chelsea boots with skinny jeans, and, say, a leopard print jacket. Vintage isn't another word for uniform — just because something's from 1976 doesn't mean the rest of your look has to be.
2. Keep an eye on vintage-inspired
It's okay to cheat. Not in terms of most things (or anything other than what I'm about to tell you, really), but especially in terms of vintage clothes. The best part of vintage shopping are the pieces that jump out and scream, "Buy me, you idiot!" and, because shopping should never make you sob in the fitting room out of frustration or agony, the last thing you should feel is stressed. For many moons, I wanted a leather motorcycle jacket that actually fit. (I had one from the 1980s, and it did not, unless you count "fitting" as "I nearly drowned in it" and in that case, it fit very well.) So: I saved up and bought a new one. First, because I'm a grown-ass woman who learned how to save up for things, and second, because it was no less a beautiful coat because I could buy it at the mall.
Chains and designers are creating pieces in the same spirit as vintage originals faster than most of us can name five reasons why we're so adverse to buying something from 2015, so why not be creative with what jumps out? Especially since there's no guarantee that specific piece you're looking for will exist.
3. Let pieces jump out at you
...but they don't, be assured they will eventually find you. Not to begin a paragraph with "namaste" (or its style equivalent) but the best vintage pieces I've found are the ones that are just hanging out, waiting for somebody to please. So for the love of all that is good, buy them. Ultimately, the basic rules of shopping still (nay, especially) apply to shopping vintage: if you love it, try it on and then buy it, if it's within reasonable asking price. If you don't, stay away because you'll never wear it and will regret making the buy every time you take a breath. There's no time to settle. Even if something's got its original tags on it from 1965.
And alas, another lesson learned only through the sands of time. About two years back, I insisted on wearing everything as originally intended. It didn't matter if the hemlines were too long or if the waist needed bringing in — I was doing a service to the pieces from a recently-deceased woman (probably), damn it, so I'd wear it exactly as she (likely) intended.
The issue is that everybody's built differently. Also, that it's a new dawn and a new day, and what may have been en vogue then may look dowdy or sloppy now. So this year, I found the greatest dress in the world, and got it hemmed so I wouldn't look like a woman in mourning. Then, I paired it with loafers of today, and ensured I was safe in the 21st century and/or spiritually on the set of "The Addams Family." (Where I belong.)
5. Save old pieces with new jewelry
What about two pieces that go together? Especially if they're unmixable with jackets of now or tops of tomorrow? (I should write copy for strange, futuristic clothes.) Two words: jewelry, friend. For my friend's baby shower, I had accepted that I'd walk in looking like Audrey Horne from "Twin Peaks," but it was the clearance necklace from Gap that made me looked shower-appropriate and not like the party could find me smoking in the church basement bathrooms. Often, you can pick up bold, contemporary pieces for even less than you can find something at Value Village (thank you, printable coupons, discount tables, and sales at Banana Republic), and then use those to bring yourself into 2015.
Remember: we are not extras on whatever show is inspiring us in this beautiful moment. "Vintage" isn't an absolute, it's a descriptor of a specific piece. And none of us are a piece. We're grown-ass women who get to dress however we please in 2015, thank you.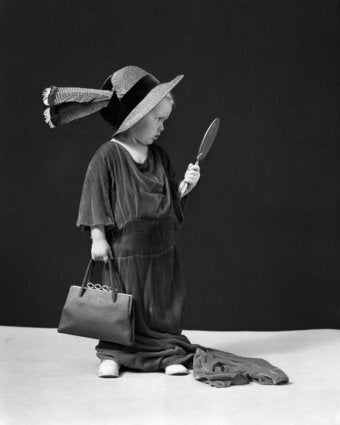 Vintage Clothing Shopping Guide