A Liberal MP is sorry for publishing pictures of herself wearing an inappropriate costume based on an Asian stereotype.
Linda Lapointe, who represents the riding of Rivière-des-Mille-Îles in Quebec, told CBC in an email that her Halloween costume was not intended to offend anyone.
"For me Halloween has always been a chance to celebrate with family and friends. It is in this spirit that I chose my costume," she told VICE.
Photos of the costume — which she said was purchased from China — were deleted on Monday, but got recirculated in a post from Lauren Liu, the former NDP MP who lost to Lapointe in the October election.
In her post, Liu said the costume was "unacceptable" and, in a follow-up email to the CBC, wondered whether Lapointe "understands how hurtful her actions were."
The social media backlash at Lapointe's photos harkens back to the more ridiculous times of the last election, when comments, videos and images on social media led to the demise of several candidates' campaigns.
Many aspiring politicians were asked or forced to drop out of the race because of stuff that was shared online, from making penis jokes about Auschwitz — then admitting to not knowing what Auschwitz was — to faking a mental illness on camera.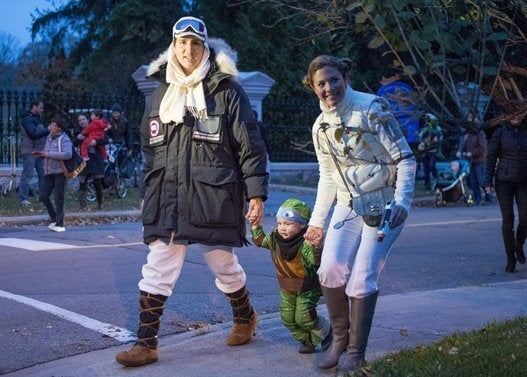 Justin Trudeau And Family, Halloween 2015