When YouTuber James Wright shared a video of himself trying Patti LaBelle's sweet potato pie, he had no idea it would result in Walmart selling out of the stock. But that's exactly what it did.
The pies, which are sold exclusively at Walmart for only $3.48, hit shelves in September. After Wright posted his review, sales kicked into overdrive. The New York Post reports that over the weekend, one pie was sold every second.
According to Kerry Robinson, Walmart's Vice President for bakery and deli, there are no more pies in stock. "We swept everything we had right into the stores to supply the demand, including our Christmas volume, so they have everything we've got," she said.
Unfortunately, this unexpected rise in sales means there might not be any pies left for American Thanksgiving, on November 26th.
Robinson says in order to meet the current pie demand Walmart would need to acquire two million pounds of sweet potatoes.
And Patti's reaction to all this?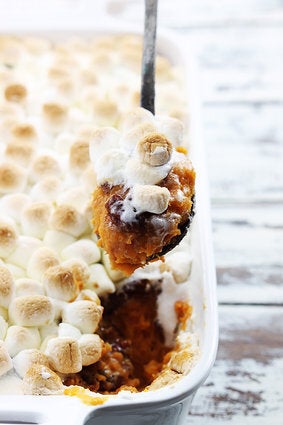 Sweet Potato Casserole Recipes