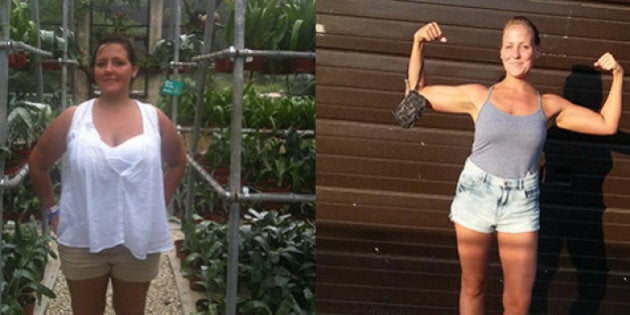 Who: Karen Elizabeth Vasconcelos
Occupation: Personal support worker
By The Numbers: 215 pounds at my heaviest, currently 134 pounds, for a total weight loss of 81 pounds.
The Weight Gain: From the age of nine up until high school, I was a chunkier kid and got teased about being heavier.
But the weight gain started after high school, during my first year in college. I gained weight rapidly due to stress and improper eating. My schedule was all over the place and becoming a personal support worker didn't help at this point — the shift work was definitely taking a toll on my body.
Final Straw: "I could no longer fit into a pair of jeans I had purchased a few weeks prior and I was feeling so uncomfortable in my own skin. I had avoided taking photos to face my weight gain, but I woke up and realized I needed to change."
The Plan of Attack: As cliché as this may sound, I started by clean eating and tracked my weight loss by taking a photo of myself every three to four weeks to track my progress. I ate more regularly and drank eight to 12 cups a day. My goal from the beginning of this process was to try and manage my nutrition on my own by following the food guide and clean eating.
I began my weight loss journey Feb. 22, and I've lost a total of 81 pounds.
Story Continues Below. Check out more of our inspiring weight loss stories: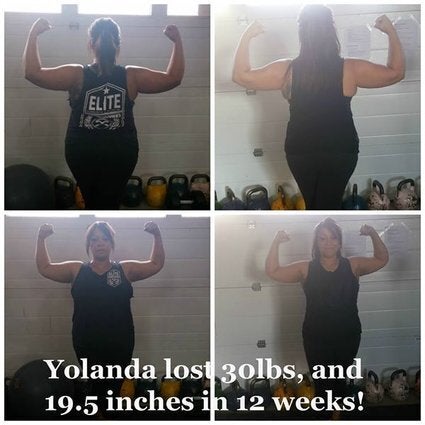 Lost It: Weight Loss Success Stories
The Exercise Factor: Besides working as a personal support worker, which is labour intensive, I didn't exercise outside my daily routine.
In February I joined a gym, but I found I wasn't getting the results I wanted in my overall physical appearance. And because I was losing weight rapidly, I wanted to tone and tighten my skin, as well as gain muscle.
I joined Toronto's Fit Factory Fitness and they really helped me to achieve my fitness goals. They have a military-style training that really focuses on pushing each individual to their personal limit. The trainers and team gave me the confidence and support I needed in order to successfully continue my new lifestyle.
I currently attend the boot camp and boxing classes at Fit Factory Fitness and run on my off days. I work out four to six times per week, for at least one to two hours.

Karen was recently featured as the gym's Makeover of the Month.
The Food Element: I started by eating lots of vegetables and protein. Vegetables like broccoli, carrots, Brussels sprouts, lettuce and spinach. For protein, I've been eating chicken, turkey, fish and beef. I cut out bread, pork and added sugars.
"You need to mentally prepare yourself for the hardships of committing to a new lifestyle, not a diet."
The hardest adjustment for me was the frequent eating — it's very hard to find time to fit in three square meals and snacks in between.
The Current Day-to-Day: I am currently studying and working, so I fit my workout routine and meal preparation throughout the week. My days start with eating breakfast, then I attend my fitness class, study, have my prepared lunch and attend my evening shift at the nursing home. Usually on Sundays I meal prep for the week ahead so I can avoid skipping meals and buying food outside.
"I am most proud of my personal motivation. I was able to put my mind to changing my lifestyle."
My advice for people struggling with weight is this: weight loss is not only a physical journey but a psychological one. You need to mentally prepare yourself for the hardships of committing to a new lifestyle, not a diet. When you have decided in your mind that you are ready for change, you need to believe in yourself. Nothing is stronger than willpower, and nothing is stronger then your commitment to being a better you.