The Elf on the Shelf is a Christmas tradition that kids look forward to every year. The idea is that a special scout is sent from the North Pole to help Santa keep an eye on children and to report back if they are being naughty or nice.
While the premise is quite simple, there's one question parents always ask: when does the Elf on the Shelf start?
According to the Elf on the Shelf's official website, your scout can arrive anytime during the holidays, "but typically he or she will arrive at the end of November or the beginning of December." It all depends on your family's holiday tradition and when your little elf feels ready to make his or her grand return.
It's only mid-November now, parents on Instagram have already spotted the elf in their home.
While the Elf on the Shelf has no exact arrival date, users in a Facebook group called "Elf on the Shelf Ideas" have shared their own holiday traditions.
"Our elf, Henry, comes the night we decorate the tree," one mom wrote. "He always appears somewhere the next morning. We read the book after the tree is decorated to let Henry know our house is ready for him!"
Another shared: "Our elf shows up for Black Friday, and random appearances throughout the year. You know, just to check up on them once in a while. He stays a few days then heads back home to Santa."
More Elf on the Shelf ideas from HuffPost Canada:
While users listed a number of different family traditions with the elf, the majority agreed that Santa's little helper arrives in their home every year on December 1.
"We start Dec 1st," one user said. "Sassy comes in overnight and is waiting on the kitchen counter [with] a 'you've done good so far this year' present."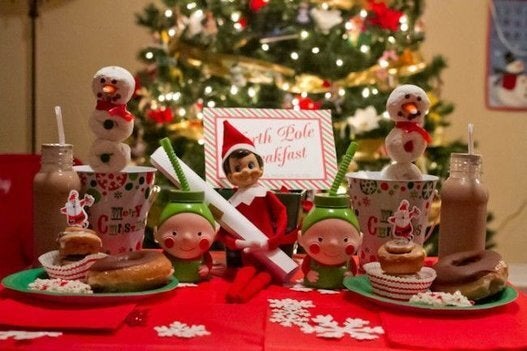 Elf On The Shelf Ideas For The First Day Back