Enerjet
A rental company and a charter airline are stepping up with offers to help Syrian refugees coming to Alberta with housing and transportation.
Calgary-based Enerjet has offered up its fleet of Boeing 737 aircraft and logistics personnel to help the federal government and agencies settle the newcomers.
The charter airline primarily transports workers to and from the oil sands. Since the economic slowdown, Enerjet has started offering "Jump On" seats on planes that would otherwise be sitting idle. The offer to the federal government is similarly motivated.
"We are here in Calgary in the heart of the recession. Enerjet has at times, relied on the oil patch for some of our business. So at this point, yes, we do have more aircraft available than we might otherwise have," Darcy Morgan, chief commercial officer with Enerjet, told CBC News.
We have committed to assist Canada with the relocation of Syrian refugees. Standing by for guidance from Ottawa and @JustinTrudeau

— Enerjet (@GoEnerjet) November 16, 2015
Enerjet can travel both internationally and within Canada, and the company felt it was important to pitch in, said Morgan.
To help with housing, Alberta-based Boardwalk Rental Communities has come forward to offer discounted rent for one year to 350 Syrian refugee families.
The company will be partnering with immigration and housing agencies in Alberta, Saskatchewan, Ontario and Quebec to slash rent by a minimum of $150 monthly. The 350 units make up approximately one per cent of Boardwalk's portfolio.
"We are anticipating a very warm welcome for these new residents of Canada."
"We are anticipating a very warm welcome for these new residents of Canada," said David McIlveen, Boardwalk's director of community development, in a statement.
He added that Boardwalk employees and residents have reached out to assist refugee families, as well as victims of natural disasters and family violence, in the past.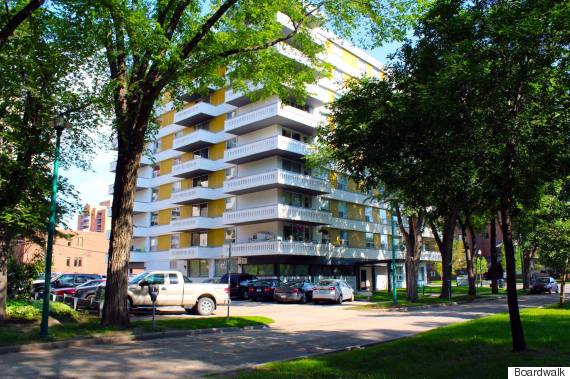 Boardwalk Rental Communities intend to offer inexpensive housing for incoming refugees. (Photo: Boardwalk)
Premier Rachel Notley said Monday that Alberta is ready and willing to take in between 2,500 to 3,000 Syrian refugees, in line with Prime Minister Justin Trudeau's plan to welcome 25,000 Syrians to Canada by the end of the year.
"The people who are desperate refugees are fleeing from the exact same people who perpetrated the kind of violence we saw in Paris and Beirut last week," said Calgary Mayor Naheed Nenshi, who urged Calgarians to "open our arms."
Resources for Albertans to support or sponsor Syrian refugees:

Like Us On Facebook

Follow Us On Twitter

Also on HuffPost:
Numbers That Show There's Much More To Do To Help Syrian Refugees