A Calgary non-profit is giving people visual proof of how domestic violence stretches into every area of Alberta's largest city.
HomeFront, an organization that works to save people from family abuse, has released a heat map that shows where incidents have taken place. The darkest areas on the map represent the highest concentrations of domestic violence.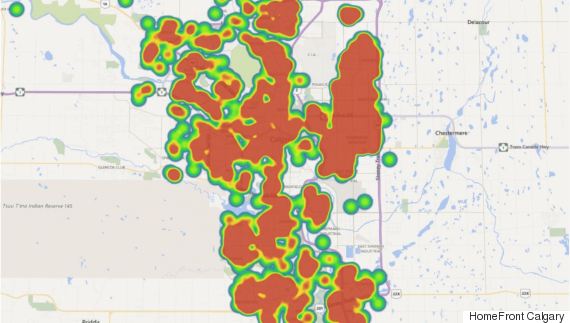 "It really just gives you that visual that domestic violence is everywhere," Maggie MacKillop, HomeFront's executive director, told Metro News. "It doesn't know any socio-economic place, gender, age, race, it's everywhere. And when you see that heat map that visual tells that story."
MacKillop said that Calgary police respond to about 18,000 calls per year — an average of two per hour, the Sun reported.
The police send victims directly to HomeFront for help. And, MacKillop added, 81 per cent of victims are female.
Four domestic homicides have taken place in Calgary this year, the Herald reported.
And police are recording an increasing number of domestic incidents. Assaults with weapons are also on the rise.
HomeFront's map comes as part of a fundraising campaign known as "Cool It, Calgary." The effort aims to "reduce the heat" and save lives.
The initiative had raised $19,000 toward a goal of $80,000 as of Wednesday afternoon.
Like Us On Facebook

Follow Us On Twitter

Also on HuffPost:
30 Shocking Domestic Violence Statistics