Jamie Foxx's daughter isn't so little anymore. Corinne Foxx is now 21 years old and was named Miss Golden Globes 2016.
Corinne was chosen by Hollywood Foreign Press Association, who announced the news Tuesday night on Twitter and Instagram. Miss or Mr. Golden Globe is usually the child of a highly-respected celebrity and is chosen to assist with the awards ceremony. In 2016, the Golden Globes will be held on Sunday, Jan. 10.
Following the announcement, Corinne posted an Instagram photo to share the news with her fans.
In a statement, she said: "Throughout the years I've grown up watching my dad establish himself as a well-respected actor. I'm honoured that HFPA has given me the opportunity to now share the same stage where he's been recognized for some of his greatest accomplishments."
Later, Corinne revealed to People that she wasn't the only one who was overwhelmed by this honour. "My dad, he's a little bit emotional," she explained. "He won't admit it, but he had tears in his eyes and he was so happy for me to kind of have my own thing now."
In his own words, the 47-year-old actor shared his joy on Twitter.
soo proud of my little one for being chosen as Miss Golden Globes. @corinnefoxx can't wait to see you on the stage! pic.twitter.com/jbicNl89eq

— Jamie Foxx (@iamjamiefoxx) November 18, 2015
The 2016 Golden Globes won't be Corinne's first red carpet appearance. The young model has actually been attending red carpet events with her dad since she was a child.
Here she is at 11 years old, attending the 77th Academy Awards with her father in 2005.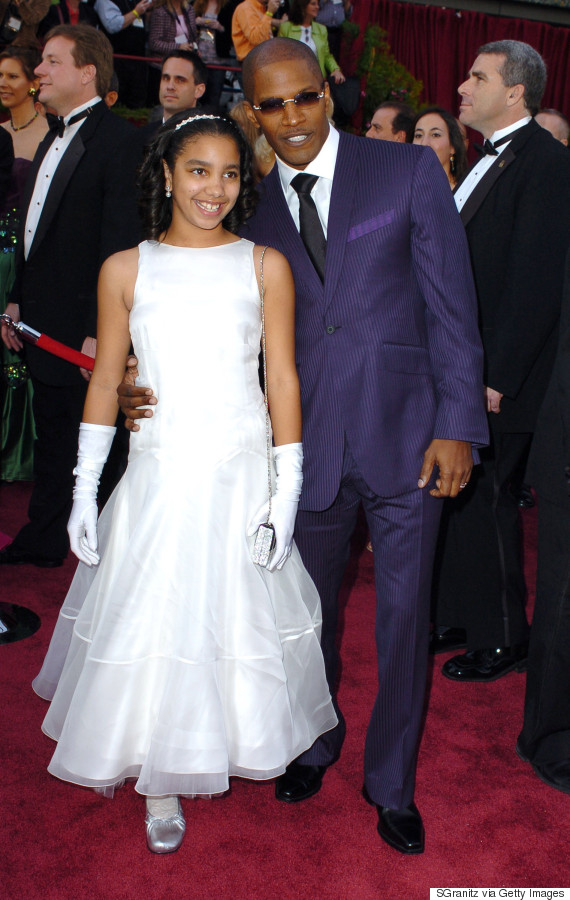 And here she is nine years later at the 86th Academy Awards in 2014.
Besides being a model, Corinne is also a student at University of Southern California. She is the eldest daughter of Foxx, who is also a father to 6-year-old Annalise. Foxx has never revealed who their mothers are.
But while Foxx likes to keep his home life private, he has never been shy to share photos of his kids on social media and post loving captions about them.
Jamie Foxx is certainly one proud papa!
Below are other celebrity kids who were once Miss and Mr. Golden Globe.
Past Miss & Mr. Golden Globe