A synagogue in Peterborough, Ont. is giving Muslims a place to pray after their mosque was set on fire in the wake of the terrorist attacks in Paris.
The Beth Israel Synagogue has offered up some space so that members of the Masjid Al-Salaam mosque, which serves hundreds, can worship there while they wait for their building to be repaired, The Canadian Jewish News reported.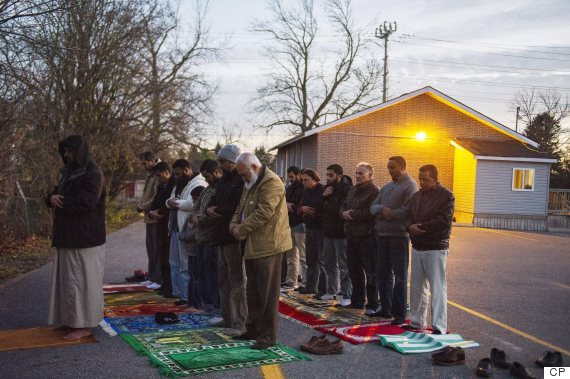 Congregation members pray in the parking lot on Nov. 15, 2015, after the only mosque in Peterborough, Ont., was deliberately set alight. (Photo: Canadian Press)
Beth Israel already shares space with the Unitarian Fellowship, said The Peterborough Examiner.
After learning that police are investigating the weekend fire as a hate crime, both the synagogue's board and the Unitarians agreed unanimously to share space with worshippers from the mosque.
"We're all in this together," synagogue president Larry Gillman told the Canadian Jewish News. "We may be different religions, but we're all one people and in times like this we have to stick together."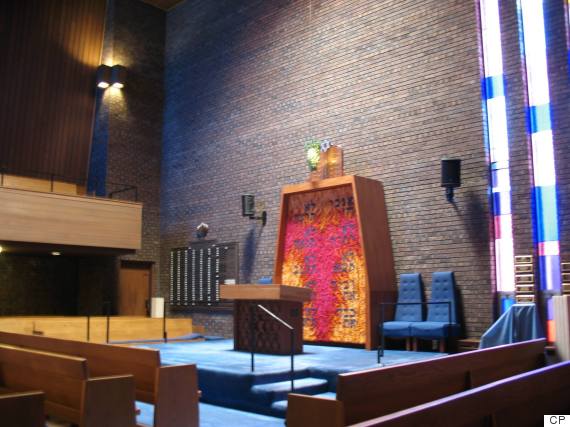 (Beth Israel Synagogue in Peterborough, Ont. (Photo: Facebook.)
An online fundraiser has collected more than $110,000 to help repair the only mosque in Peterborough.
"We know how people are in Peterborough and they've always been great," said Kenzu Abdella, president of the Kawartha Muslim Religious Association which runs the mosque.
He told the told the Canadian Jewish News, "If I go to the mosque right now, even though it is locked and there is no one from our community, you will find people there leaving letters and flowers."
Flowers are displayed outside the mosque Masjid Al-Salaam in Peterborough, Ont. (Photo: The Canadian Press)
Elsewhere in Canada, synagogues are stepping up to sponsor families fleeing the war in Syria.
Vancouver's Temple Sholom has raised $40,000 to support a family, and it may even sponsor a second one, while Toronto's Congregation Darchei Noam has raised $30,000 for a Syrian family.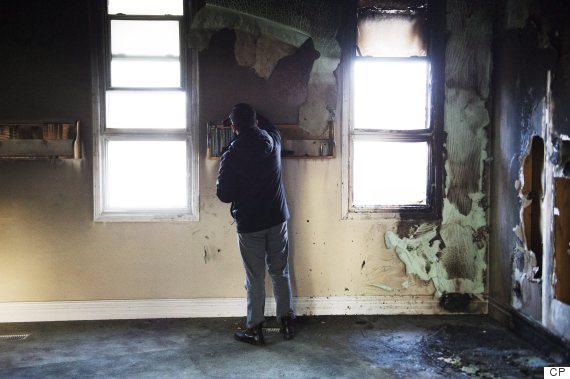 Usama Zahid removes the Quran and other books from shelves on Nov. 15, 2015 after the only mosque in Peterborough, Ont., was deliberately set on fire. (Photo: Canadian Press)
Like Us On Facebook

Follow Us On Twitter

Also on HuffPost