Over the weekend, a video surfaced on the Internet showing a Zara employee in Paris denying a woman wearing a hijab entry into the store.
In the clip, which was uploaded a day after the horrific terrorist attacks in the city, the security guard tells the woman people who wear anything on their heads, whether it be hats, baseball caps or hoods are not allowed in the store.
According to Complex, the woman asked if she could shop with a veil instead, to which the employee responds, "If things change, they'll change, but I don't make the rules."

People on social media were quick to respond to the video, voicing their anger towards the Spanish retailer and having sympathy towards the Muslim community.
@ZARA should be shamed and made accountable for its outrageous #islamophobia

— Pola Manzila Uddin (@baroness_uddin) November 16, 2015
#Zara stopped a women who's wearing #hijab from entering the store in #Paris #what a disappointment from a big company 😞👎🏼

— Faisal M (@faisal_fmas) November 17, 2015

The retailer took to social media to apologize, and also added the security guard and store manager had been fired.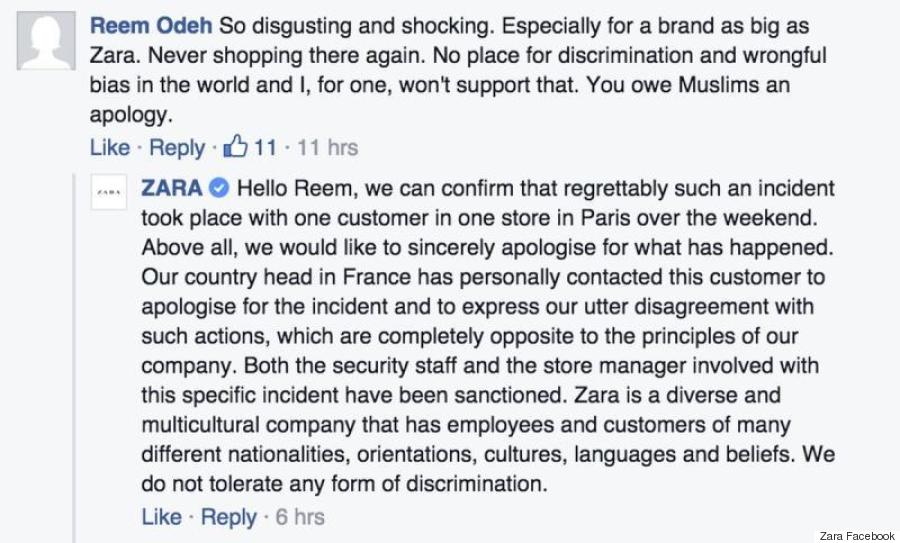 Jean-Jacques Salaun, head of Zara's French stores, told AFP, "This type of mentality is unheard of at Zara and there have never been instructions given out to act this way."
This isn't the first time Zara has been called out for its discriminatory practices. In June, a former attorney for the retailer filed a $40 million lawsuit claiming he was subjected to homophobic, racist and anti-Semitic harassment. Shortly after, the Center for Popular Democracy released a survey that found the company's New York City stores discriminate against its black employees and customers.
Zara also came under fire for selling a kids' shirt that resembled Holocaust prison wear, and handbags that featured swastika designs.
Follow Huffington Post Canada Style on Pinterest, Facebook and Twitter!
Also on HuffPost
Craziest Fashion Controversies & Feuds