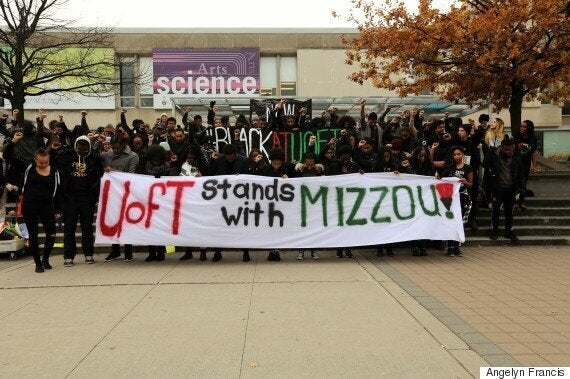 "T-Dot to Mizzou, we stand by you!"
Students at the University of Toronto, Ryerson University, University of Guelph and University of Ottawa gathered students, signs and megaphones, then planted themselves in a spot on campus and chanted their support for their peers across the border at Mizzou and Yale University.
The purpose of the rallies in Ontario was solidarity, but they also highlighted issues that aren't unfamiliar to black students in Canada.
But more than solidarity, these students shared their own stories of the microaggressions and anti-black racism they've experienced at their own schools.
Ahead of the actions, students posted their encounters online through Facebook and Twitter, and reiterated some in person.
At Ryerson, a student recalled a time another student asked if it was alright to wear cotton around her, worried she'd offend her because of her ancestors.
At Guelph, one recalled having racial slurs shouted at him by drivers as he walked home at night more than four times in a semester.
Along with these stories, students lamented a lack of black representation in faculty, administration and curriculum both in person and online.
"I was really happy that people were sharing their stories, but I was also sad that it wasn't a surprise to me," Savannah Clarke, one of the organizers at Guelph, tells HuffPost Canada. "That's not good."
Clarke and Yasmin Mumed, another organizer at Guelph, both say the community and connections they've formed with other black students on campus have helped them feel supported.
Following a series of similar reports from students were met with inaction from the university, students began to speak out in public places to draw attention to the issues. These incidents included cotton balls being scattered outside the Black Culture Center in 2010, several instances of hearing racial slurs and a swastika drawn in feces on a dorm bathroom floor last month.
"At Ryerson, a student recalled a time another student asked if it was alright to wear cotton around her, worried she'd offend her because of her ancestors."
According to one of the U of T organizers, Jessica Kirk, many of the organizers had met in March as a group called "Being Black at U of T," long before tensions in the States peaked in October. Kirk says they'd met to discuss the discrimination they'd experienced on campus.
"I think what's often said is that the experiences of anti-blackness that we hear about in the American context isn't something that's relevant to the Canadian students, but that's not necessarily true," she says.
Ellie Adekur, a graduate student at U of T's St. George campus and another organizer, says, "We're not having these conversations at U of T right now, and we haven't been for a long time."
But that's one of the reasons she felt so good about the rally and seeing black students speak up on a microphone.
"That's new here, that's revolutionary here," she says.
For Canada, U of T organizer Kirk calls the solidarity rally "a great first step." It opens the door to a conversation on these campuses.
She urges allies to speak up and call things out as well. Even if they can't speak from personal experience, she says they can take a closer look at their syllabus and "ask their professors why there isn't more literature that was written by black authors," for example.
Also being there as "a supportive body" she says, "and believing them when they say, 'this hurts.'"