Canadians' spending on gas lowest since 2009

Retail sales post unexpected drop

Economy may have stalled or shrunk in September
The collapse in oil prices has put big question marks over Canada's economy, but at least it's been easy on households' transportation costs.
The share of retail spending going to gasoline has fallen to its lowest level in six years, according to new data from StatsCan.
Fuel costs now eat up 10.5 per cent of all retail spending in Canada, down from more than 13 per cent last year, when oil was trading above US$100.
Still, Americans have it better in this regard. National Bank Financial economist Krishen Rangasamy notes U.S. consumers are putting 8 per cent of their retail spending into gas, the lowest share in 11 years.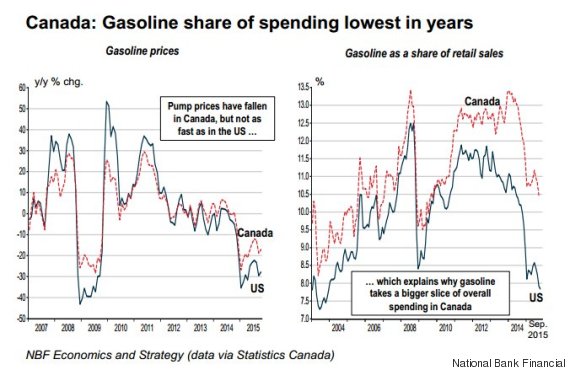 Lower gas costs are about the brightest spot in StatsCan's report on retail sales for September, which showed an unexpected 0.5 per cent decline, to $43.3 billion. Economists polled by Bloomberg had expected growth of 0.1 per cent.
The decline was widespread, with sales falling in eight of 11 retail subsectors. It was the first decline in five months, and it shook some economists' confidence in Canada's recovery from the recession in the first half of the year.
"The weakness in retail activity points to no growth in GDP for September," CIBC economist Avery Shenfeld wrote.
Bank of Montreal economist Benjamin Reitzes had a more pessimistic view, predicting that Canada's economy shrank 0.3 per cent in September, on the back of weak retail sales and temporary oil production shutdowns.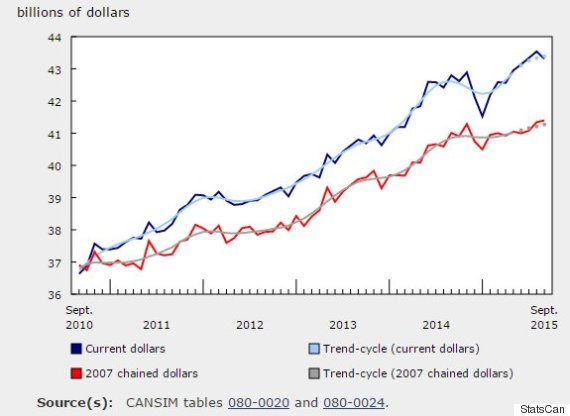 Retail sales have hit a soft patch, StatsCan data shows.
But National Bank economist Krishen Rangasamy sees a brighter picture. He notes much of the decline in retail was due to falling gas prices, and stripping that out, sales volumes are largely flat (up 0.1 per cent in the month).
He credits lower gas prices with being part of the reason consumers were able to withstand the economic slowdown earlier this year.
"The savings from low pump prices, a resilient labour market and the cheques sent out to households by Ottawa starting July (expanded Universal Child Care Benefit) seem to have supported Canadian consumption spending in Q3," he wrote.
"That suggests the Canadian economy returned to growth in the third quarter after a difficult first half of the year."