OTTAWA -- Lower gasoline prices continued to weigh against a rise in the cost of food in October as the consumer price index rose 1.0 per cent compared with a year ago.
The result matched the expectations of economists surveyed by Thomson Reuters.
Statistics Canada said Friday prices were up in seven of the eight major components measured on a year-over-year basis, led by higher food costs.
The Bank of Canada's core index, which excludes some of the most volatile components, was up 2.1 per cent from a year ago, matching the increase in September. Economists had expected an increase of 2.0 per cent.
Food prices were up 4.1 per cent compared with a year ago, boosted by the cost of food bought in stores, which increased 4.6 per cent compared with last year.
The cost of fresh fruit was up 13 per cent compared with a year ago, while fresh vegetables increased 13.9 per cent and meat gained 5.0 per cent.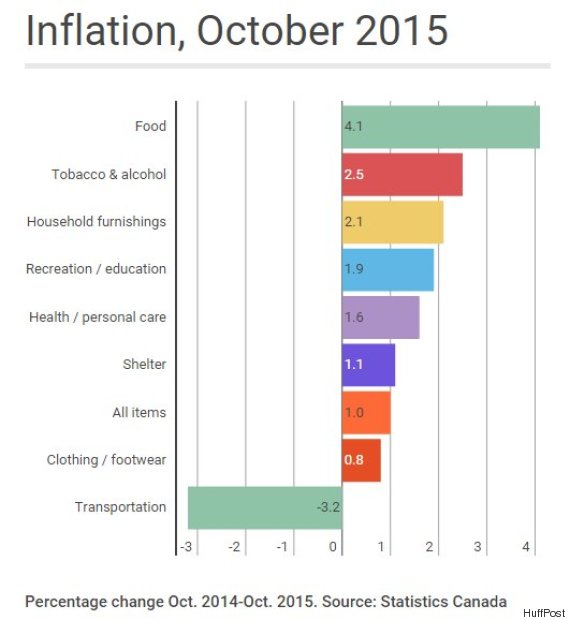 Offsetting the increase was the transportation index, which fell 3.2 per cent compared with a year ago due to a drop in the price of gasoline. The gasoline index was down 17.1 per cent compared with a year ago.
Overall prices rose in nine provinces compared with a year ago, with Manitoba posting the largest increase with a gain of 1.9 per cent. Saskatchewan and Alberta followed as they both posted a 1.4 per cent increase.
The consumer price index in Prince Edward Island posted its 11th consecutive year-over-year decline. The island province saw a drop of 0.8 per cent compared with a year ago.
The latest read on inflation came as Statistics Canada also reported that retail sales fell 0.5 per cent in September to $43.3 billion.
Sales were down in eight of 11 subsectors as retail sales in volume terms edged up 0.1 per cent.