OTTAWA — A former Senate finance clerk is back on the stand at Sen. Mike Duffy's criminal trial.
Nicole Proulx testified in April but her appearance was cut short after legal wrangling over the admissability of internal Senate reports on residency requirements.
But last week the judge ruled that the audits were protected by parliamentary privilege, and so Proulx is now being grilled by Duffy's lawyer on a public report reviewing internal Senate audits.
The 2009-2010 audits revealed several flaws in financial oversight, noting many policies were outdated and inadequate, and recommended several changes.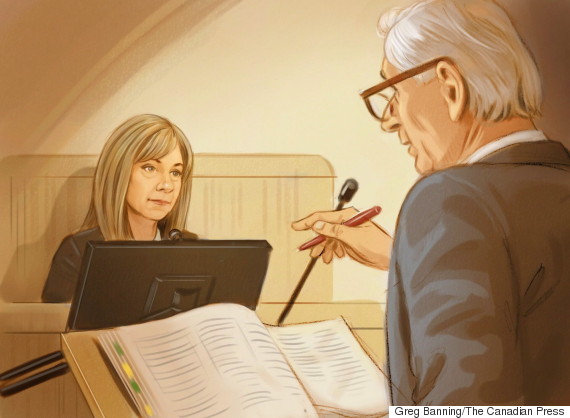 In this court artist's sketch, Donald Bayne, Mike Duffy's lawyer, cross-examines Senate finance official Nicole Proulx in April. (Photo: Greg Banning/CP)
A key line of Duffy's defence is that he did nothing criminal by his handling of his expenses and contracts, and was a victim of muddy rules.
Duffy's lawyer pressed Proulx on whether she agreed there were flaws — and she did.
Lawyer Donald Bayne also asked why the auditors said improvements would benefit senators and their staff.
Bayne suggested they would have done so in order to keep people out of the accused's position at the criminal trial, as they shouldn't be faulted if there weren't clear rules.
Also on HuffPost
Mike Duffy Trial: Artist's Sketches