Samantha Jackson and Farzin Yousefian could have had a huge, lavish wedding, as so many couples do.
Instead, they took the tens of thousands of dollars it would have cost them and put it to a good cause: sponsoring a family fleeing the war in Syria.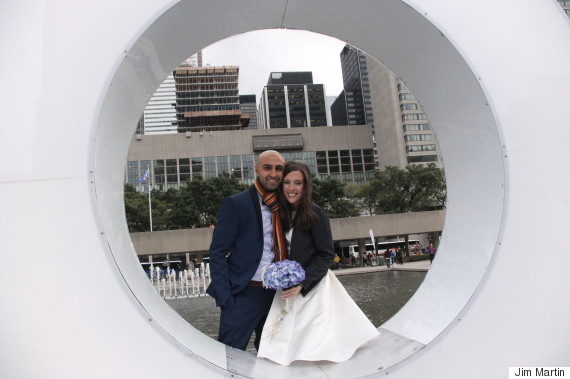 Farzin Yousefian and Samantha Jackson at Toronto City Hall. (Photo: Jim Martin)
The couple's decision was made in September, when they saw the photos of young Alan Kurdi, washed up on a beach in Turkey after his family fled the fighting, CBC News reported.
"We thought this really has to be an opportunity for us to really use our wedding as a platform, as a way to make a difference alongside our friends and family in what has obviously become an absolutely outstanding humanitarian crisis," Jackson told the network.
Jackson, an immigration and settlement studies graduate and PhD student, had been a volunteer with the Ryerson University Lifeline Syria Challenge, an initiative that sees teams of fundraisers try to raise money to helps to settle Syrian families in Canada.
Despite having a venue and caterer ready to go for a March ceremony, they took the money and put it toward their fundraising efforts, ABC News reported.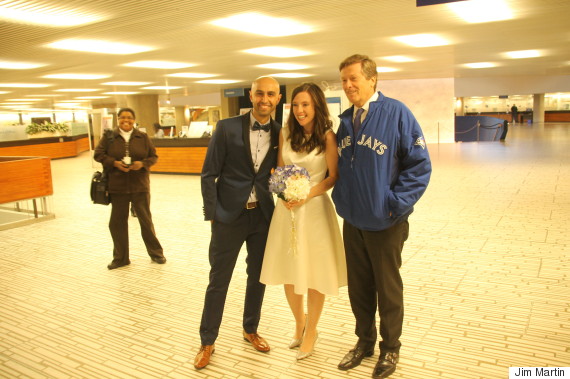 Yousefian, Jackson and Toronto Mayor John Tory on their wedding day. (Photo: Jim Martin)
Instead of gifts, they asked their friends and family to make donations to their campaign.
Their decision to forgo their original wedding plan helped them raise $17,500 toward an ultimate goal of $27,000. That's precisely the money required to support a family of four in Toronto, noted ABC News.
Anyone who wishes to donate to their fundraising campaign can do so right here. Just go to the drop down menu where it says, "Select a designation for your gift." Then look for "Samantha Jackson & Farzin Yousefian."
Samantha Jackson and Farzan Yousefian tie the knot. (Photo: Jim Martin)
As for their actual wedding, Jackson and Yousefian tied the knot at Toronto City Hall last month and had a small dinner following the ceremony, using bouquets made by friends. They had a reception that a bar hosted at no cost, BuzzFeed reported.
"We feel like we made the right decision," Jackson told the website. "After our civil ceremony, we felt like it was very true to what we wanted our marriage to symbolize and how we wanted to start new life as a couple."
Like Us On Facebook

Follow Us On Twitter

Also on HuffPost:
These Are The Terrifying Syrian Refugees Coming To The U.S.