OTTAWA — In the lead-up to the Paris climate talks at the end of the month, Prime Minister Justin Trudeau and premiers will sit down together for the first time Monday, hoping to present a new image of Canada to the rest of the world.
The meeting — the first First Ministers' conference in nearly seven years — will take place at the Canadian Museum of Nature and will be webcast to the public. Government scientists will present irrefutable evidence of climate change before Trudeau and the premiers head behind closed doors for a working dinner focused on reducing greenhouse gas emissions and on the Nov. 30 UN climate change conference.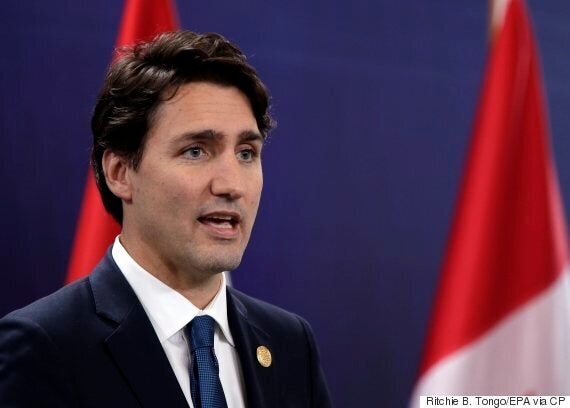 Prime Minister Justin Trudeau takes part in a plenary session at the APEC Summit in Manila, Philippines on Nov. 19, 2015. (Photo: Sean Kilpatrick/CP)
The politicians are also expected to discuss the federal Liberal plan to welcome 25,000 Syrian refugees to Canada by Dec. 31. Several provinces want to hear more details about security screenings, and are seeking a federal commitment to provide millions of dollars more to help settle the newcomers.
Trudeau is expected to address the media late Monday evening.
Before their meeting with Trudeau, some premiers will also take part in a Council of the Federation meeting.
The UN climate change conference, also known as COP 21, will conclude Trudeau's foray onto the international scene before Parliament resumes. He is expected to be accompanied by B.C. Premier Christy Clark, Alberta Premier Rachel Notley, Saskatchewan Premier Brad Wall, Ontario Premier Kathleen Wynne and Quebec Premier Philippe Couillard.
The new Liberal government has been working behind the scenes to make Canada's appearance at COP21 a success by rallying and reassuring the provinces that it wants to see real action on climate change.
The goal is to show that "Canada is back," a senior Liberal, who insisted on anonymity, told The Huffington Post Canada. "The government has changed, and we want to make a real contribution to solving the biggest issue facing the planet."
That Liberal aspiration will get a boost Sunday when Alberta's NDP government unveils its climate change policy. Notley is expected to announce a higher price on carbon, hard reduction targets, action to reduce emissions from coal-fired electricity plants and support for renewable technology.
"Canada is back. The government has changed, and we want to make a real contribution to solving the biggest issue facing the planet."
"We have said over and over again, especially in opposition, that the government in Alberta was not doing enough and [that], in order for us to gain access to other markets and improve our reputation, we really have to do something meaningful," Notley spokeswoman Cheryl Oates told HuffPost.
"So we are hoping that people see that our government, and the rest of the world also sees, that we're doing something meaningful while still working with our industry to do that."
Without disclosing details of Notley's announcement, a Liberal adviser suggested she probably would not have presented such an ambitious plan if former Conservative prime minister Stephen Harper was still leading the country.
"There is no way Rachel Notley does what she is about to do if Stephen Harper was still in power…. He would kick the crap out of her and campaign to defeat her for doing it."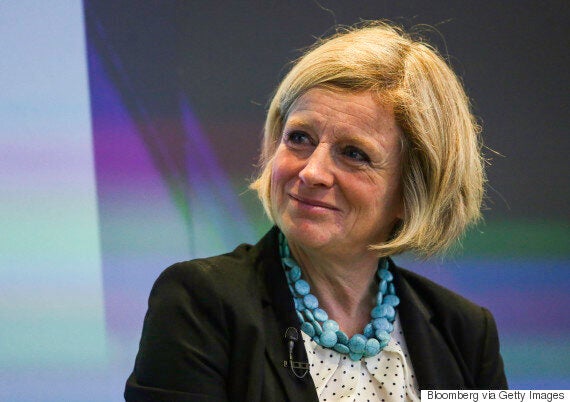 Alberta Premier Rachel Notley listens during an interview at the Canadian Fixed Income Conference in New York, U.S., on Wednesday, Sept. 30, 2015. (Photo: Bloomberg via Getty)
British Columbia, Ontario and Quebec all suggested this week that they are pleased by the new tone from the Liberal government in Ottawa and the opportunity it presents to tell a different story internationally about Canada and its resource sector.
"What we have had is the absence of a federal government going out there on the international stage and touting the advancement made by British Columbia … our carbon tax, our revenue-neutral government, all the great things Ontario has done on coal [plant] closures, all the great things Quebec has done," Ben Chin, Clark's executive director of communications and issues management, told HuffPost.
Chin said that absence left an impression Canada was not active on the environment, so the contrast of the current prime minister seeking consensus on national emission targets and recognizing the leadership shown by the provinces is welcome.
B.C. has a good story to tell as a "real climate leader," the premier's adviser added. The province introduced the first carbon tax on the continent with a $30 per tonne price on carbon emissions. Its economy has grown faster than the average in Canada while its emissions have gone down.
"There is no way Rachel Notley does what she is about to do if Stephen Harper was still in power…. He would kick the crap out of her and campaign to defeat her for doing it."
Quebec Premier Philippe Couillard told reporters after a speech at a Canada 2020 conference Friday that his counterparts and Ottawa should focus on rebranding Canada's image in Paris.
"Yes, we are a major oil-producing country. But we are also one of the most important producer of renewable energy in the world and this is has to be part of the story," he said. Quebec generates 97 per cent of its electricity through renewable sources, mostly hydroelectric power.
Couillard pointed to Quebec's and Ontario's cap and trade market and B.C.'s carbon tax to note that nearly 70 per cent of Canadians live in a province with a strong price on carbon.
"This is not known abroad," he said. "And it should be known, and be part of our identity as well as our message in Paris."
With less than two weeks before the UN climate meeting, Couillard told reporters, there is no time to renegotiate emission targets, but he said he looks forward to collaborating with the federal government after Paris to review the targets, see how they were established and how effort will be spread across the country.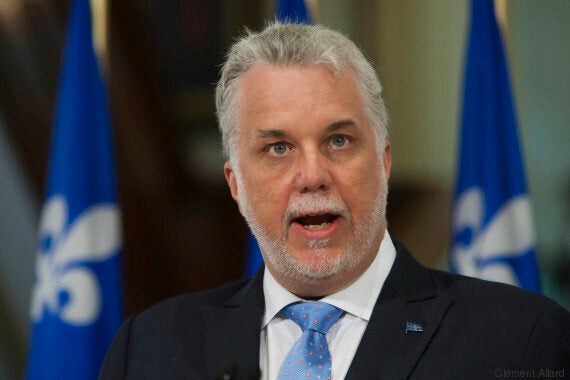 Quebec Premier Philippe Couillard thinks provincial premiers and the federal government need to partner together to change Canada's image in Paris. (Photo: Clement Allard)
The Canadian delegation heads to Paris bearing the previous Conservative government's pledge of cutting emissions 30 per cent below 2005 levels by 2030, although the Harper government never made clear its plan for achieving that target.
Ontario Premier Kathleen Wynne, who attended the Canada 2020 conference with Couillard, said she hoped Ottawa wouldn't try to impose some kind of "unilateral" standardized regimen across the country and would support actions the provinces and territories have already taken.
Speaking at the same conference, Environment and Climate Change Minister Catherine McKenna promised the Liberals would put a price on carbon and would reduce carbon pollution — although she didn't say how or when.
Her government will not set "arbitrary targets without a corresponding plan, without adequate consultation and partnerships, and without the commitment and the will required to make those targets achievable," she told a Liberal-friendly audience.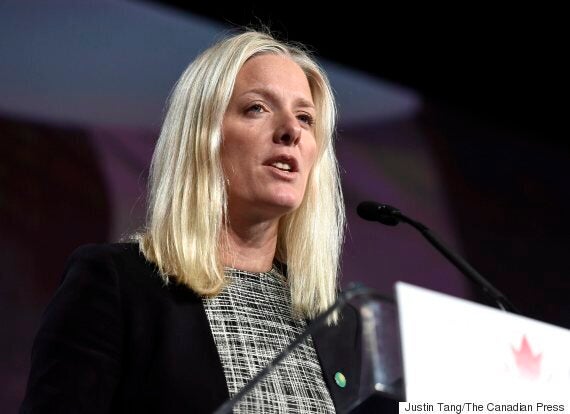 Environment and Climate Change Minister Catherine McKenna promised that a Liberal government would reduce carbon emissions, but hasn't said how or when it will do so.
McKenna's chief of staff and a former official with the Pembina Institute, Marlo Raynolds, said COP21 is important because for the first time 169 countries, including the world's largest emitters — China, India, the United States and the EU — have provided domestic targets (known as an INDCs, Intended Nationally Determined Contributions,) against which countries can be held to account.
"The Paris agreement is not actually about the targets," Raynolds told HuffPost. It's about ensuring all countries are committing to a framework with consistent reporting, he said, as well as support for less developed countries to adapt to climate change and transform their energy system.
The big challenge in Paris, Raynolds said, is to ensure that countries accept binding reporting mechanisms on a regular cycle, likely five years, and do not backslide in their INDCs — something, he said, that Canada fully supports.
But the goal for the First Ministers' Conference, Raynolds suggested, is much more modest.
"On Monday, we need to have them generally agree that over the next three months, their staff and their ministers of climate and energy are actually going to engage in a process to figure out how as a nation we are going to fulfill our fair share of reductions," he said.
"If over the next 10 years, Canada doesn't take material action at home, we're not going to position ourselves for the clean technology and renewable energy growth, and we will not make the changes in energy efficiency and renewables that we need to make at home."
With files from the Canadian Press