The University of British Columbia is being accused of failing to help women who were allegedly sexually assaulted and harassed by a PhD student.
The school took over 18 months to act on complaints against a history scholar named Dmitry Mordvinov, according to an investigation by CBC.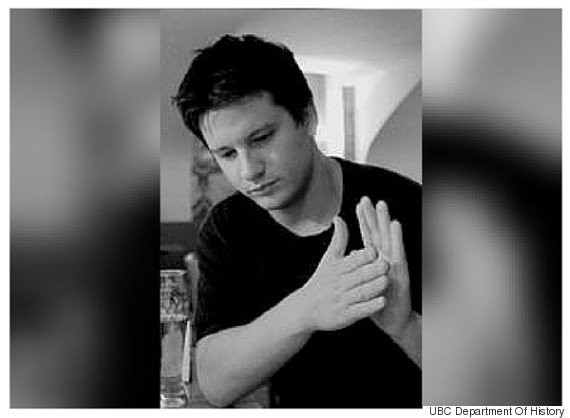 Dmitry Mordvinov is seen in a photo from a now-deleted page from the UBC's Department of History website.
The allegations are set to air on an episode of "the fifth estate" that will stream at 7 p.m. PT (10 p.m. ET) on Monday.
Mordvinov, a 28-year-old student from Russia, has been named in allegations by at least six women who say he harassed or assaulted them.
As many as four women came forward with complaints about him in 2014, reported CBC News. According to The Ubyssey, Mordvinov was expelled this week.
Lack of follow-up alleged
One of them who remained anonymous alleged that he left her "in pain" and "bleeding" following an assault.
But the university reportedly dismissed this woman's complaint because the alleged incident didn't happen on campus.
Mordvinov admitted he should have "left her alone," and said "what I have done is wrong" in an email obtained by CBC.
Caitlin Cunningham also told university officials that Mordvinov had assaulted her. But she later grew exasperated with, she claims, a lack of follow-up from UBC.
"I wanted the university to know because I thought they would know what to do," she told the network.

UBC's Main Library. (Photo: UBC Library/Flickr)
Earlier this week, This Magazine quoted a letter by student Glynnis Kirchmeier in which she said she reported Mordvinov's alleged "unprofessional, sexual harassment behaviour" to UBC as early as January 2014.
Speaking with CBC News, Kirchmeier said she took her complaint to UBC's Equity Inclusion Office, where a conflict manager allegedly advised her to stay quiet.
"When members of our community who have been sexually assaulted come forward, UBC will support them in every way possible."
A number of women with complaints about Mordvinov approached history professor Paul Krause. He later criticized UBC's response to the allegations, accusing the school of "non-efforts" in an essay for alternative publication The Talon.
In an interview with The Vancouver Sun on Friday, Krause said students were "traumatized" by the ineffective response from UBC.
"The reluctance of the administration to move more expeditiously and forthrightly to protect the interests of students, especially women students, when it was known that this person behaved inappropriately, not just in this case, but in other multiple cases and venues. … is unacceptable to me and unacceptable to students who are my colleagues and my charges," he told the newspaper.
Protecting victims' privacy
Only five sexual assaults were reported to UBC campus security in 2014, according to an annual report. But Ashley Bentley of the AMS Sexual Assault Support Centre at UBC says many victims don't come forward, partly because the school lacks a clear sexual assault policy.
She told The Ubyssey that clients and survivors of violence have told her that omission makes it seem like UBC doesn't care about tthem.
"It's not necessarily to say that a policy solves everything, but what I do think it does is it has clear set guidelines and processes in place which at least make survivors feel like they have options," Bentley told the campus newspaper.
UBC response
In response to the CBC investigation, UBC spokeswoman Susan Danard said in a statement:
"It is important to understand that BC privacy law prevents us from disclosing information about or responding to specific cases mentioned in the media. What we can say is we continuously strive to improve our collective response to sexual violence through education. We can do better and we will do better."
She added, "When members of our community who have been sexually assaulted come forward, UBC will support them in every way possible.
Danard said protecting the privacy of victims is important to help create a "confidential process that will enable survivors to feel safe when reporting sexual violence and to ensuring a fair, impartial process for everyone involved."
Offensive chant
The allegations come two years after students in UBC's Sauder School of Business were criticized for participating in a chant that condoned non-consensual sex with underage girls.
The business school later committed $200,000 for sexual assault counselling and education for students.
Like Us On Facebook

Follow Us On Twitter

Also on HuffPost: